Spring Cleaning & Recycling With A Purpose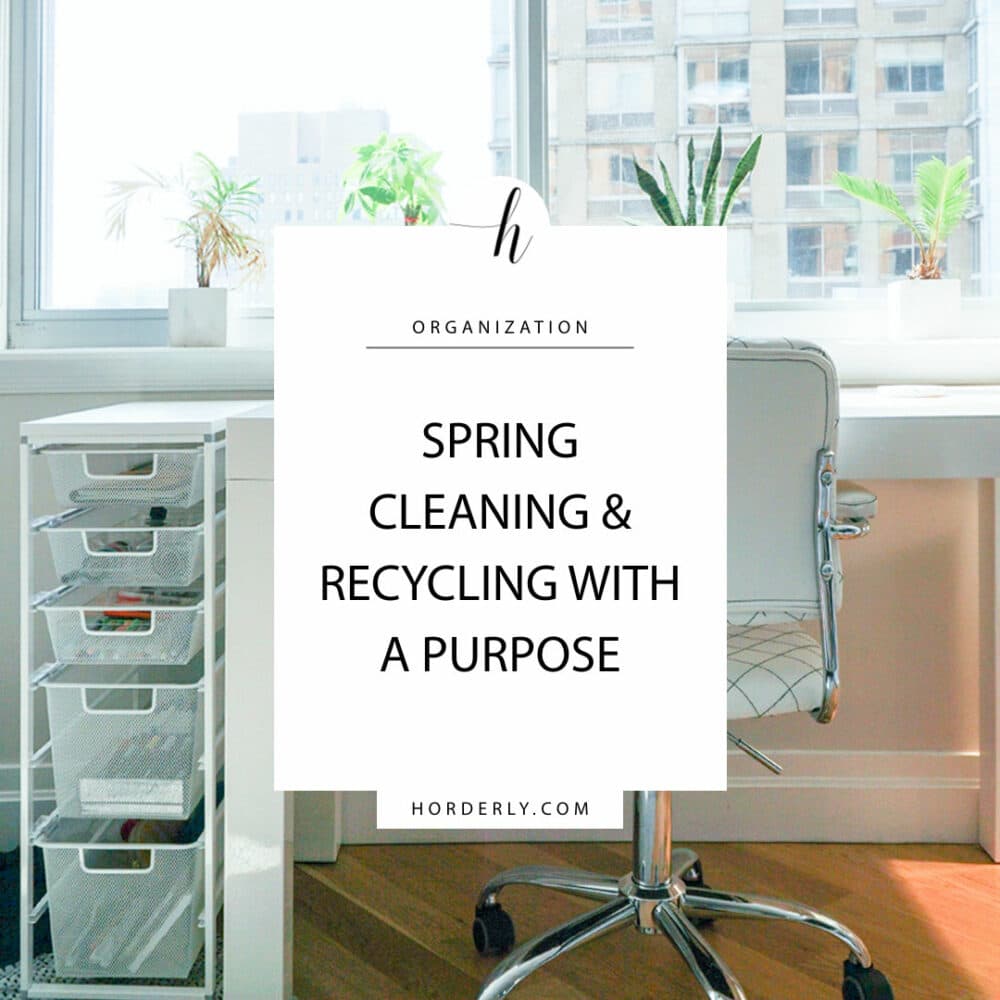 Here at Horderly, decluttering is a huge part of our 11-Step Organizing Process. We make sure all of our professional organizers are trained to set up your space in a functional way that also keeps sustainability in mind.
With the help of Recycling Simplified, Horderly professional organizers can help you "Know What to Throw" to set your household up with a functional, eco-friendly system.
Clothes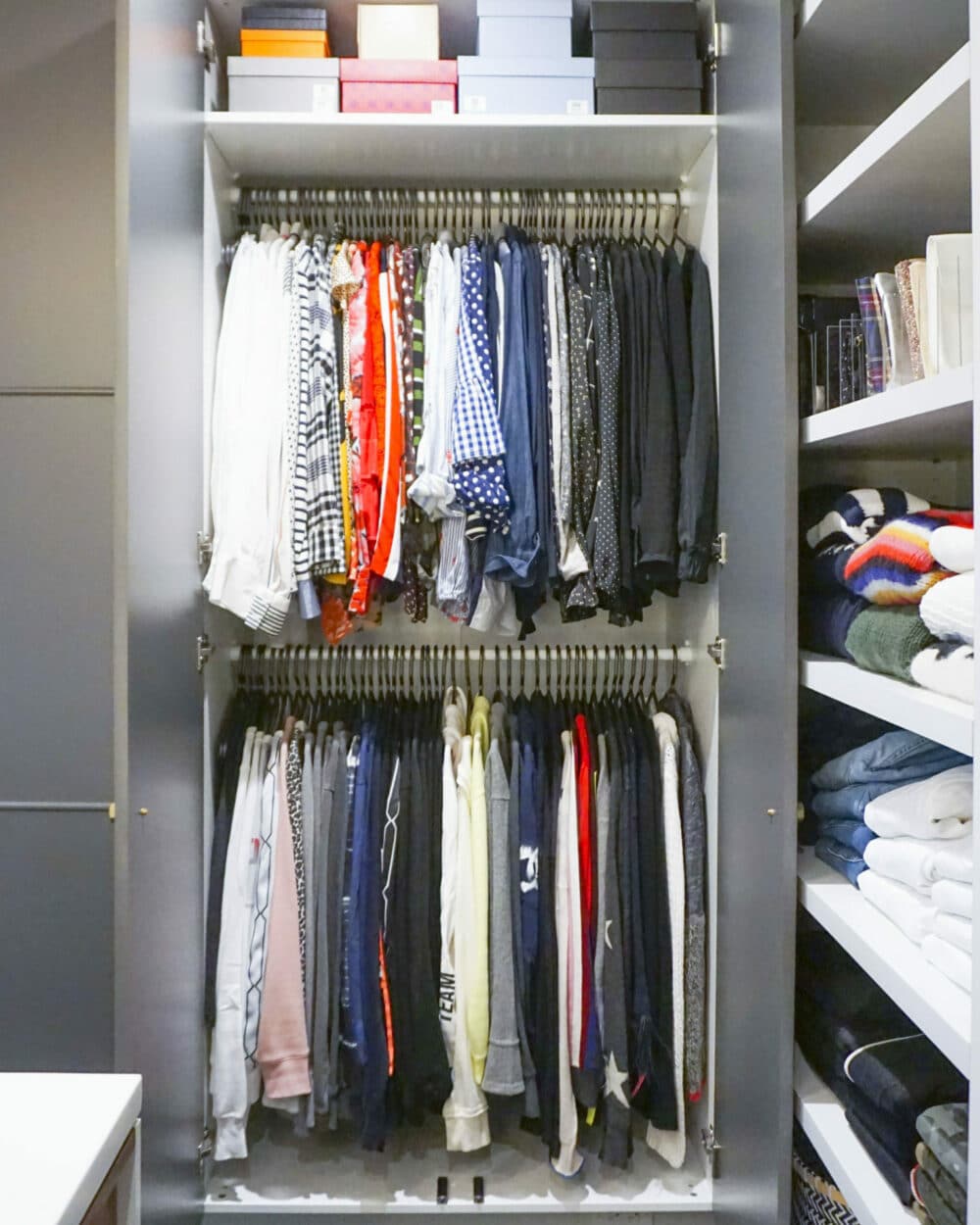 When decluttering clothes, there are a few strategies that can help you minimize waste and keep your closet neat and tidy!
The first step is to borrow, don't buy! Borrowing clothes or using services like Rent the Runway or Stitch Fix lets you keep your wardrobe fresh, while saving space and money! At the end of the day, you may even be surprised by how good it feels to return the item, instead of finding closet space to permanently store it.
Shopping second-hand is an alternative option that is not only easier on your wallet but also benefits the environment by reducing water consumption and CO2 emissions.
If you have clothes you no longer need or want, instead of throwing away, consider donating to Goodwill whose locations double as recycling facilities where their teams sort, bundle and distribute unsold goods.
Don't let Goodwill and donation centers being closed stop you from decluttering and making those donation piles! We spoke to VP of Marketing for Goodwill NY and NJ, and they are currently offering to send out pre-paid mailer bags to fit donations in and will store in their warehouse in the NY and NJ areas. (email donations.department@goodwillnjny.org for more information). Other donation companies are getting creative as the circumstances change so be sure to look into the donation centers near you.
Electronics, Toys & E-Waste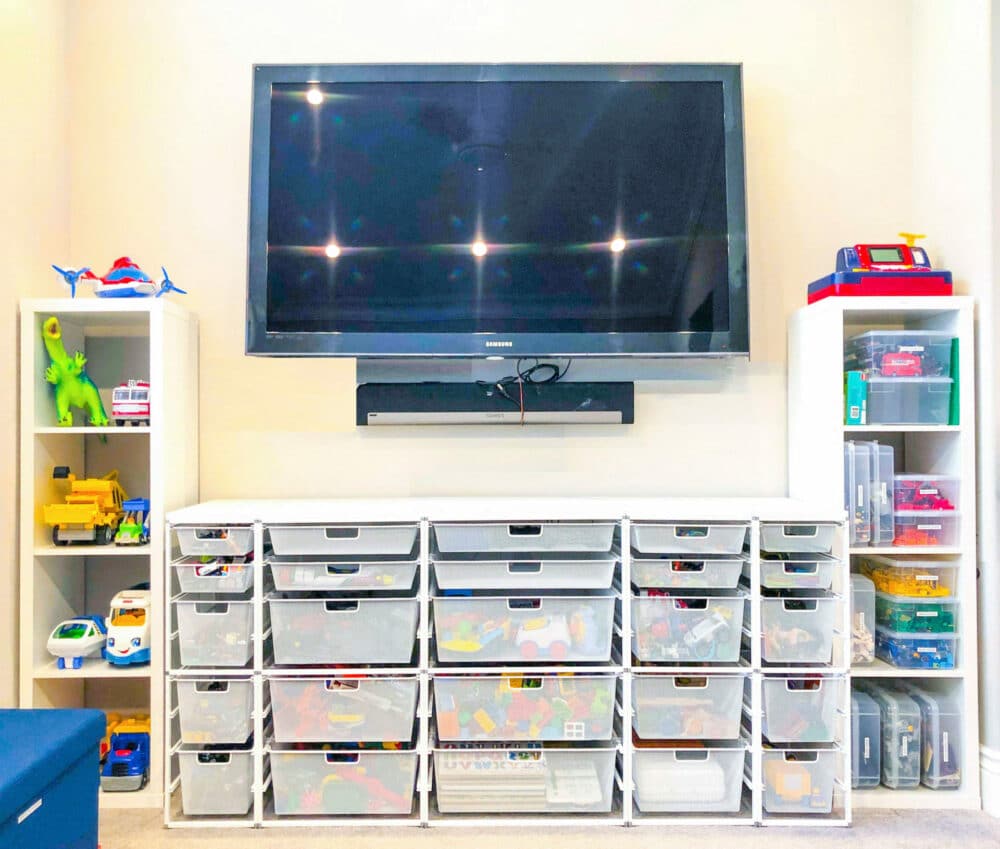 Putting battery-powered electronics and toys in the garbage or recycling bin is not only an environmental no-no, it could be dangerous, too. It's important to recycle old electronics the right way. Did you know that even those fun singing greeting cards from the drugstore are considered electronics because they contain tiny batteries?
The biggest danger about recycling electronics improperly is the potential to cause a fire. Many electronics and toys use lithium batteries. If you dispose of these items in your normal garbage or curbside recycling, these batteries can be easily punctured when compressed in the back of a truck or at the recycling center. Punctured batteries can spark and ignite fires, putting lives at risk.
If your electronics are still working, consider donating them! Many electronic stores also have drop-offs for unwanted items, including household batteries, where they will recycle responsibly so you don't need to worry about it! Republic Services also has a great program called Box Mail-Back – a quick and easy-to-use solution to ensure safe recycling. Using a prepaid, pre-addressed mail-back box, all you need to do is put your items in the box and send off your devices for recycling at your convenience.
What's easier than that?
Keep It Going by Precycling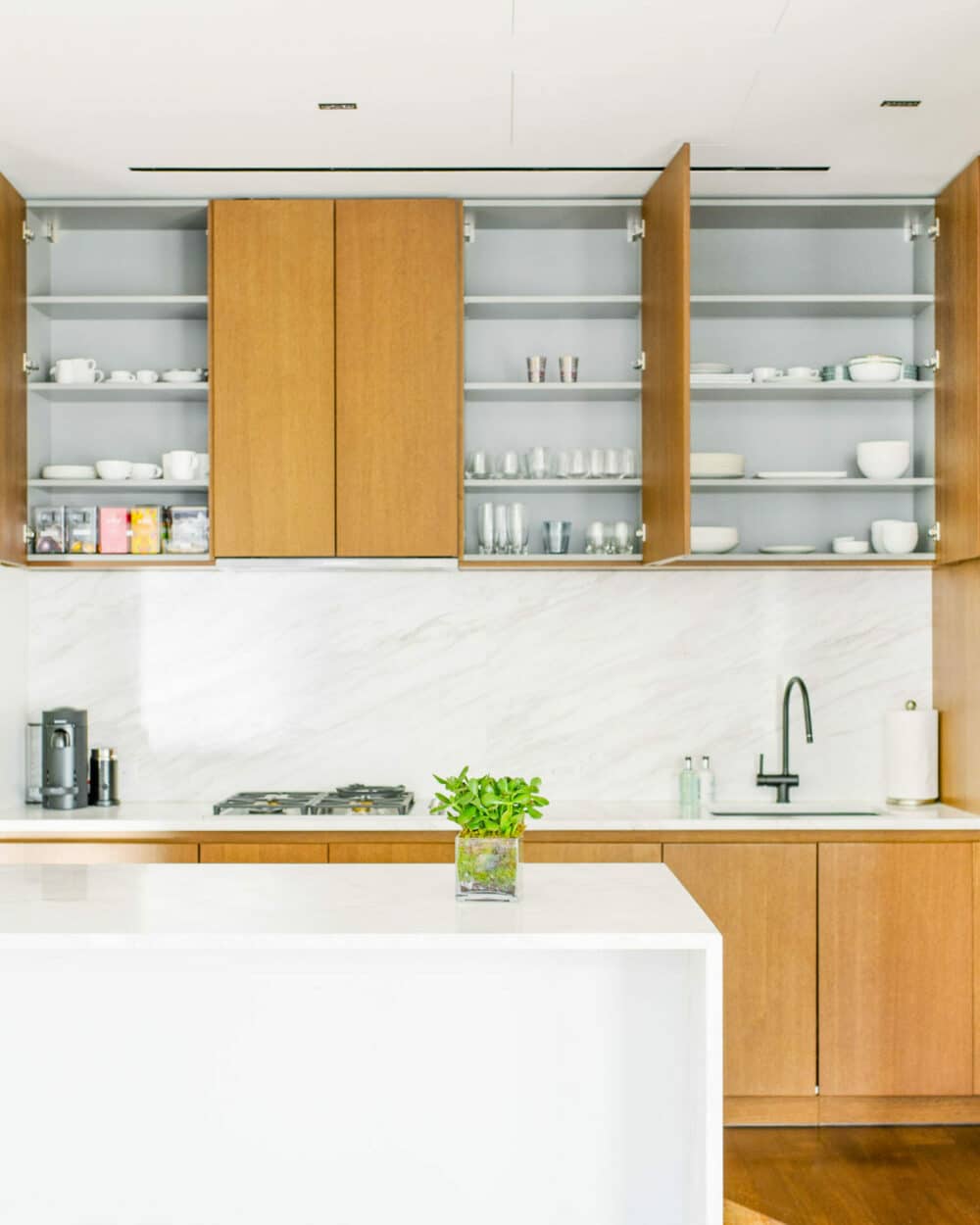 Precycling is about reducing your impact on what goes into the waste stream by purchasing and using items that are unpackaged, reusable or recycled. Creating a low-waste lifestyle has a multitude of benefits, for both the global environment and your wallet!
Depending on your lifestyle, precycling may be easier for some than others, but here are some great baby steps to take! Implementing these processes as you operate your daily routine will help make you more conscious about what you're bringing into your home and help you save money in the long run.
Maintaining a Low-Waste Lifestyle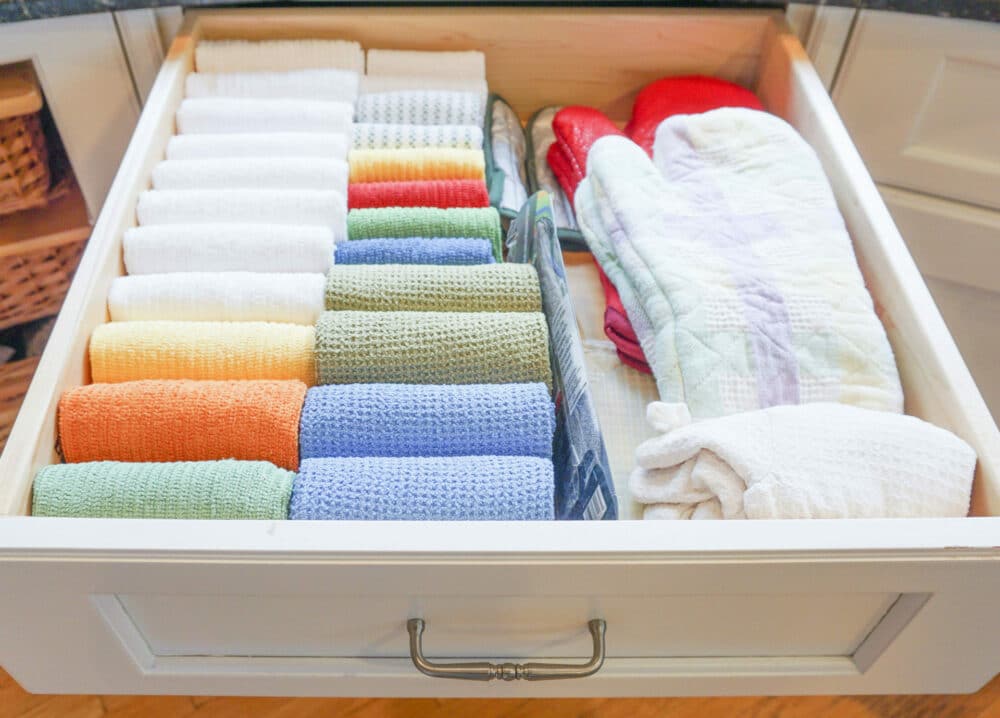 Bring Your Own Bottle & Bag – Switching to reusable water bottles and grocery bags is one of the easiest adjustments you can make!
Repurpose & Give Products A New Life – Instead of throwing old towels away, consider cutting them up and using them as hand towels or cleaning rags.
Shop Your Closet (Or Your Friend's) – As we mentioned above, try to buy fewer clothes this year! Think of something else you could do or a trip you could take with the money you'd spend on clothes and set a goal to buy less!
Purchase & Recycle Materials with Impact – Did you know that some materials are easier to be recycled via curbside programs than others? Clean and dry aluminum cans, paper and cardboard are your go-to items to recycle. But plastic bags, film and wrap can't be recycled through residential programs. Shop with a purpose and consider the packaging before buying a product!
Say "No" to Freebies – It's super, super easy to get enchanted by freebies or travel-sized items at the grocery store. They seem convenient at the time, but when you get home, those tiny sample-sized bottles end up everywhere and anywhere they can fit! When's the last time you actually used an entire sample bottle? Have you ever found yourself buying the same travel size over and over for a trip? Instead of purchasing travel size items, purchase reusable travel containers once, refill them and use them over and over!
If you don't know what can be recycled, visit Recycling Simplified to learn more – it's better to know what to throw than contaminate other recyclables! Changing your lifestyle to consider safe, healthy recycling techniques can be an adjustment. However, with the help of Republic Services, Horderly can help put functional systems in place for you and your family and help educate you on proper recycling techniques.
Do you have more questions about recycling? Let us know in the comments!
For more information on all things Horderly – including lots of great tips, tricks and other #HorderlyHabits – check out our blog or reach out for more information!