10 Guilt-Free Sustainable Products That Work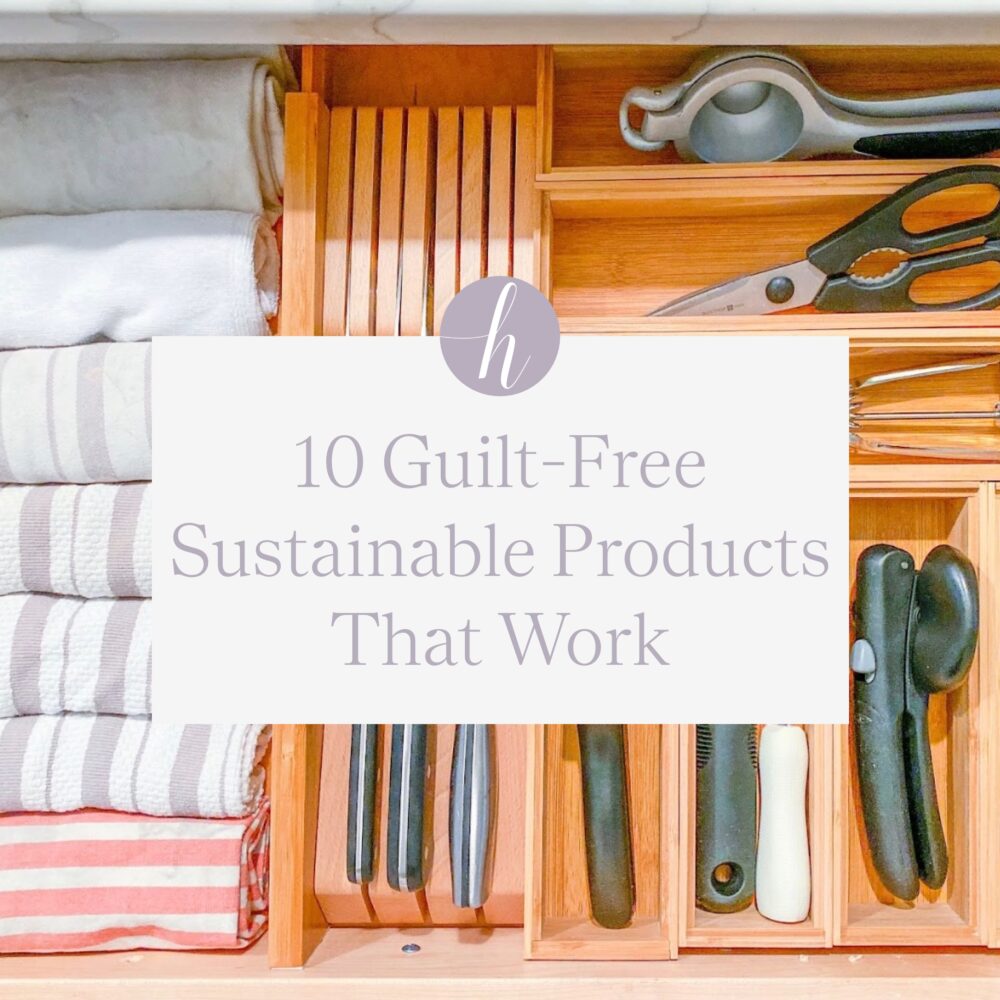 As Earth Day approaches, now is the best time to survey your home to take inventory of any and all items that could be swapped or replaced to decrease your carbon footprint and make your impact more sustainable.
At Horderly, we always love using sustainable products when it makes sense for our clients' space and budgets.
Here are a few of our favorite sustainable products to implement across your home:
This expandable bamboo utensil tray features three large fixed compartments and two adjustable compartments. It's designed to expand to reveal additional compartments for storing large utensils, serving pieces, spoons, and spatulas, keeping them organized, visible and accessible. If this expandable tray doesn't fit in your drawer, use drawer organizers to create a custom look with similar functionality.
Spring-loaded bamboo drawer dividers allow you to create custom organization inside your kitchen or bathroom drawers. Tension keeps them in place, yet they are easy to adjust as your needs change. Use them to separate categories of items in your drawers, to keep things neat and tidy. These dividers also come in a deep option for deeper drawers.
Keep your kitchen knives safely stored in a drawer – while freeing up valuable space on your countertop. At Horderly, we love keeping countertops as clean and clear as possible, so creating a knife drawer is a perfect solution to clear your space and keep knives out of sight.
This bamboo lazy susan is perfect for the inside of kitchen cabinets, your pantry, or even in bathroom cabinets or shelves! A small lip around the edge keeps items in place. Bamboo lazy susans also come in a two-tiered option to maximize height on taller shelves.
If your spice collection is too abundant to fit on a lazy susan, use a bamboo expanding shelf to beautifully display your spices. This expanding shelf stretches from 12 to 23 inches to custom fit your cabinet space or shelves.
If you want to take your spice collection one step further, transfer spices into beautiful but functional glass jars with bamboo lids. The lid has a hidden gasket seal – simply twist close to lock in freshness for dried herbs and spices.
Glass food storage containers allow for food to travel from the freezer or refrigerator to the oven or microwave, to the table and dishwasher – all without worry. Plastic food storage increases the risk of BPA exposure and other harmful toxins. This glass storage set features tempered glass, a material proven to withstand extreme temperatures without shattering and engineered to resist staining. Each glass dish includes a locking plastic lid with a silicone gasket to seal in flavors.
This hamper is handmade from bamboo, with a solid bamboo lid that keeps contents out of sight (and dust-free). A removable divided liner allows you to easily and quickly sort and separate laundry. The liner is made of coated canvas and can be easily wiped clean. You can even take the liner out and use this hamper to store things like seasonal linens, pillows or other bulky household items.
These bamboo bins are perfect for any space – whether it be to sort games and toys in a child's playroom, on display in the living room to sort household items, or even in your bathroom to sort different categories of products. Like the hamper, this also features a coated liner for easy cleaning.
If you need some extra help but aren't sure where to start, reach out to Horderly to schedule an in-home or virtual organizing session.
For more information on all things Horderly – including lots of great tips, tricks, and other #HorderlyHabits – check out our blog or reach out for more information!
This content is independently curated by Horderly and may earn us a commission.