How to Organize A Linen Closet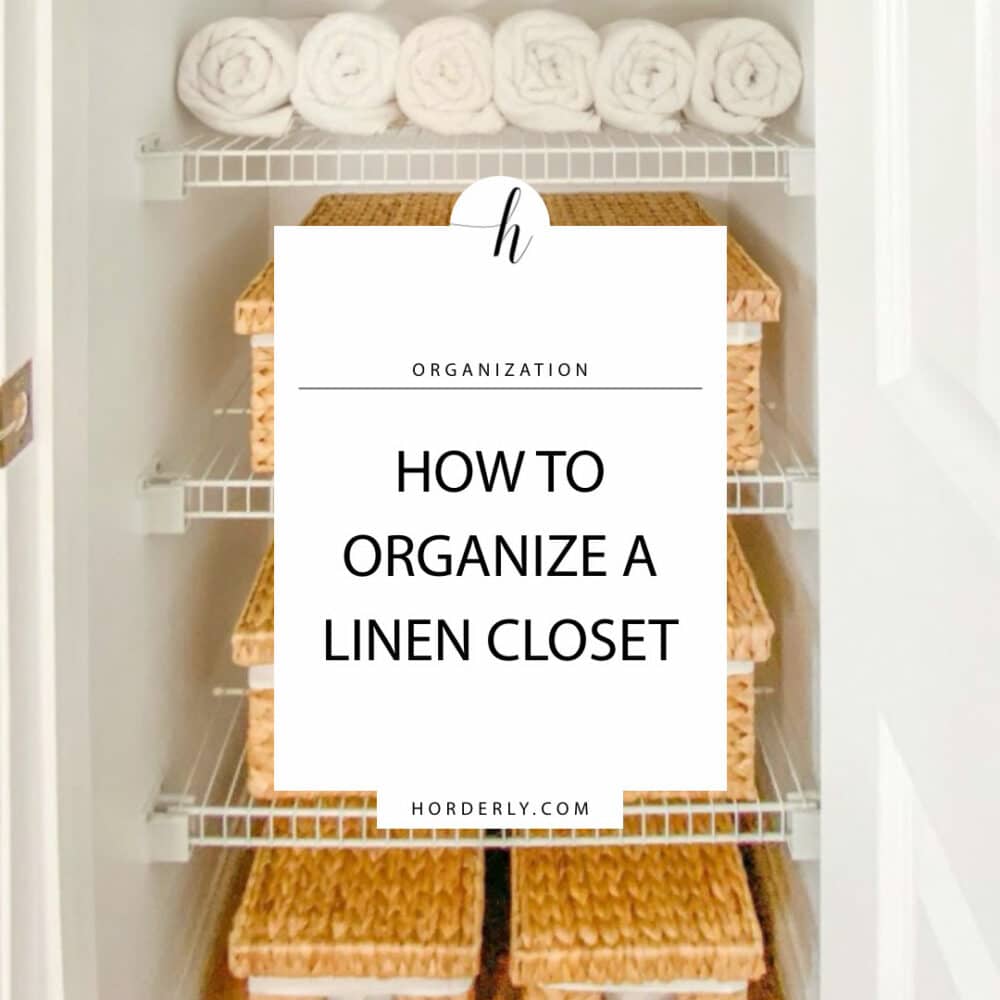 There are many ways to organize your linen closet – here are three different ways to to get your linen closet organized, with some design ideas inspired by today's looks and trends:
First, Prep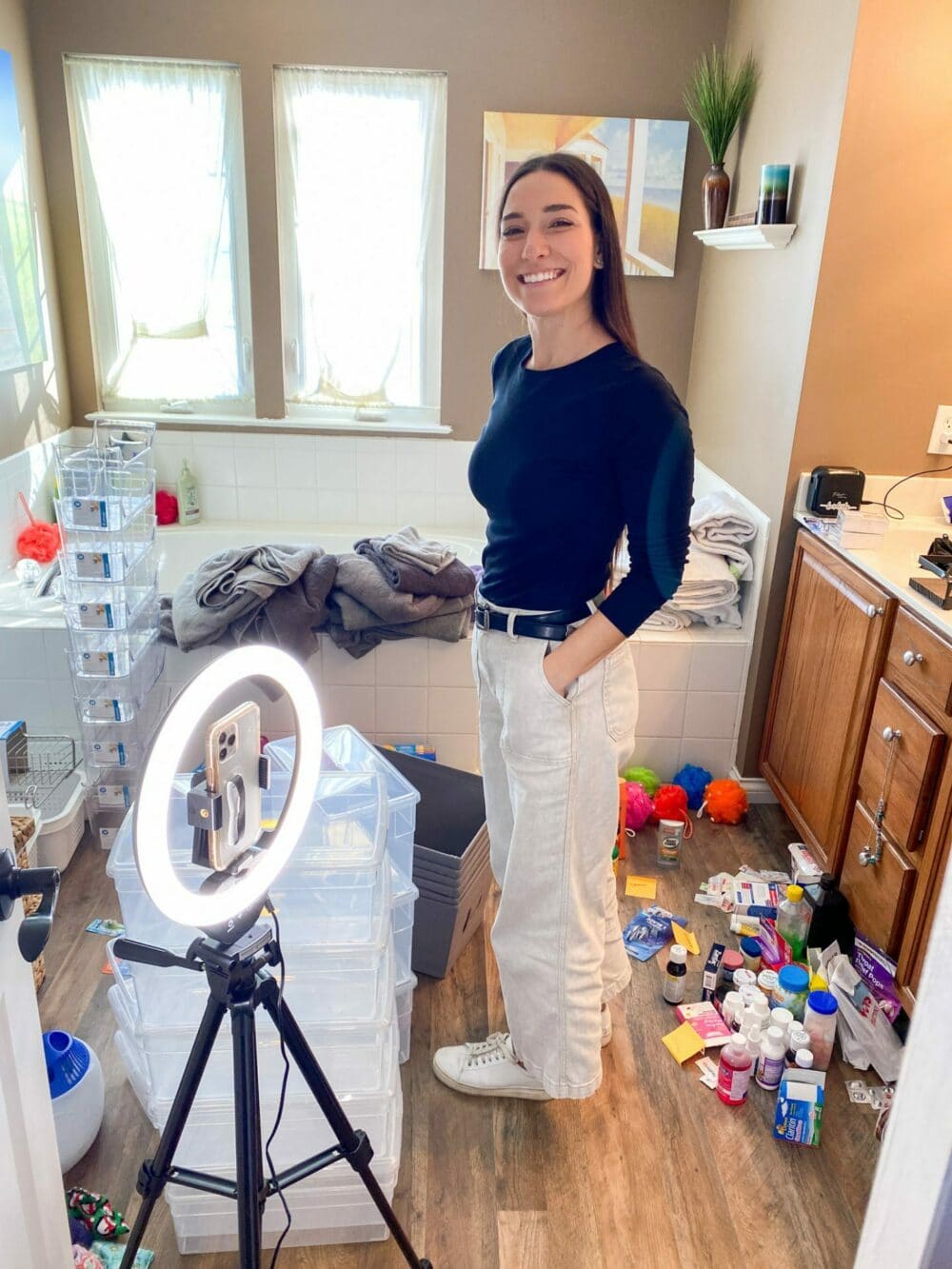 The first step in getting your linen closet organized is to first pull out and sort all items into categories, then declutter and edit through your closet to make sure you're only keeping and storing the items you need and use.
After that, take measurements of the closet shelves to ensure you're buying the right bins and products to fit the space.
Farmhouse Style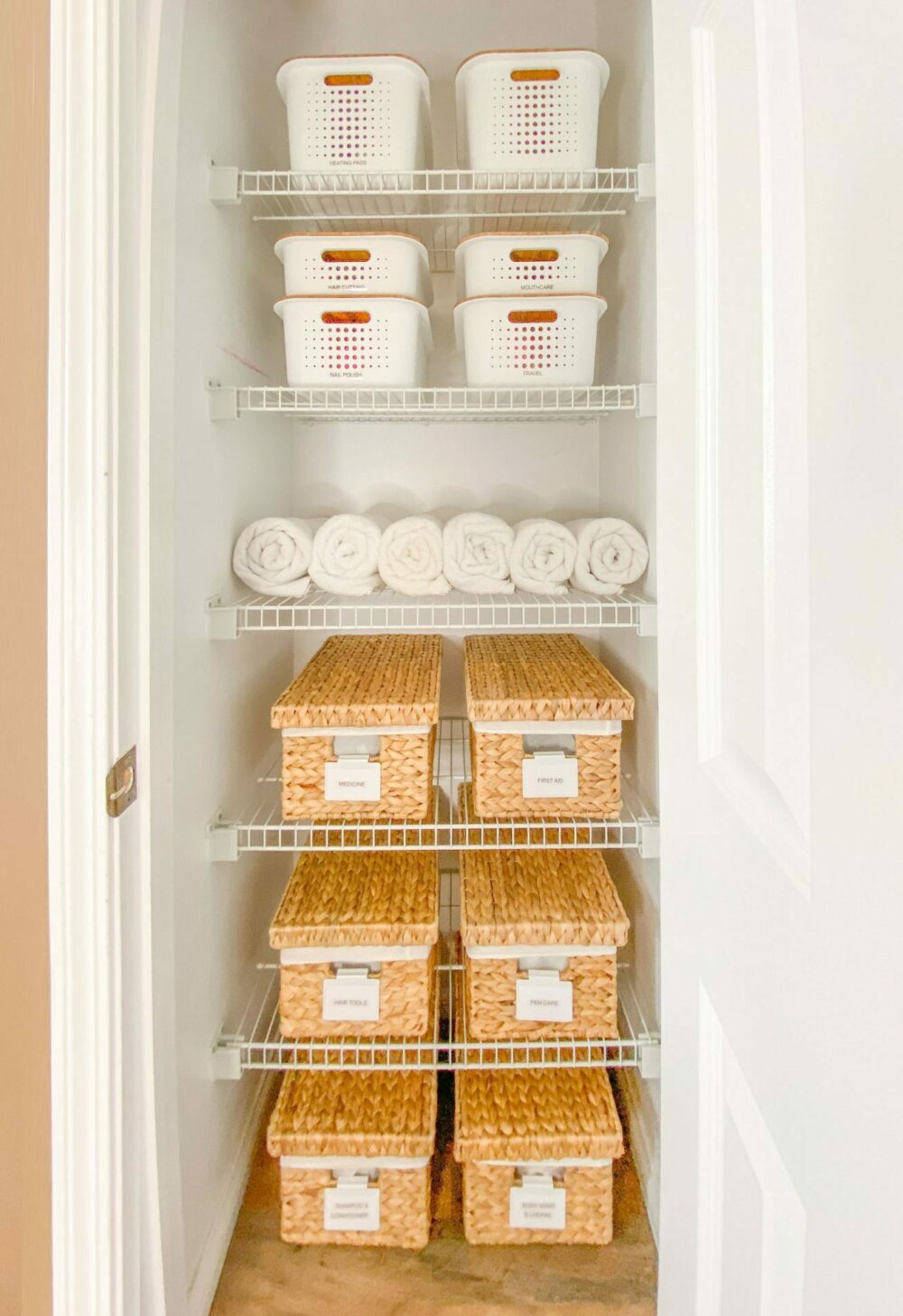 At Horderly, we're all about the modern farmhouse vibe that's all the rage in homes across the country. Here are a few simple steps to get the farmhouse feel in your linen closet:
Roll Towels – Rolling towels gives a fun, elevated look to your towel collection. The tight, rolled method also allows for more storage space because your towels are folded in a compact way.
White Nordic Storage Baskets – These storage bins are great for storing everything from cleaning supplies, to toiletries to extra items for guests. The white base allows for a clean, clutter-free look. The Nordic Storage Baskets come in multiple sizes and colors, and have matching tags for you to hook onto the handle and add labels to. Using bins with lids is great because you can stack them to maximize the height of the shelf – but don't stack more than two, if possible!
Water Hyacinth Box with Lid & Liner – Water hyacinth bins are the ultimate combination of beauty and function. We love that these bins come with a lid, to keep all of your items neat and tidy – and to make sure you don't fill the bin to the point it overflows! Bins with lids are great because they keep you mindful of how many items you're collecting. Don't let your bins overflow! Be mindful that putting the lids back on top of the bins is an added step, so if you know you or your children won't put the lids back on, consider using open-top bins or baskets instead!
Modern Style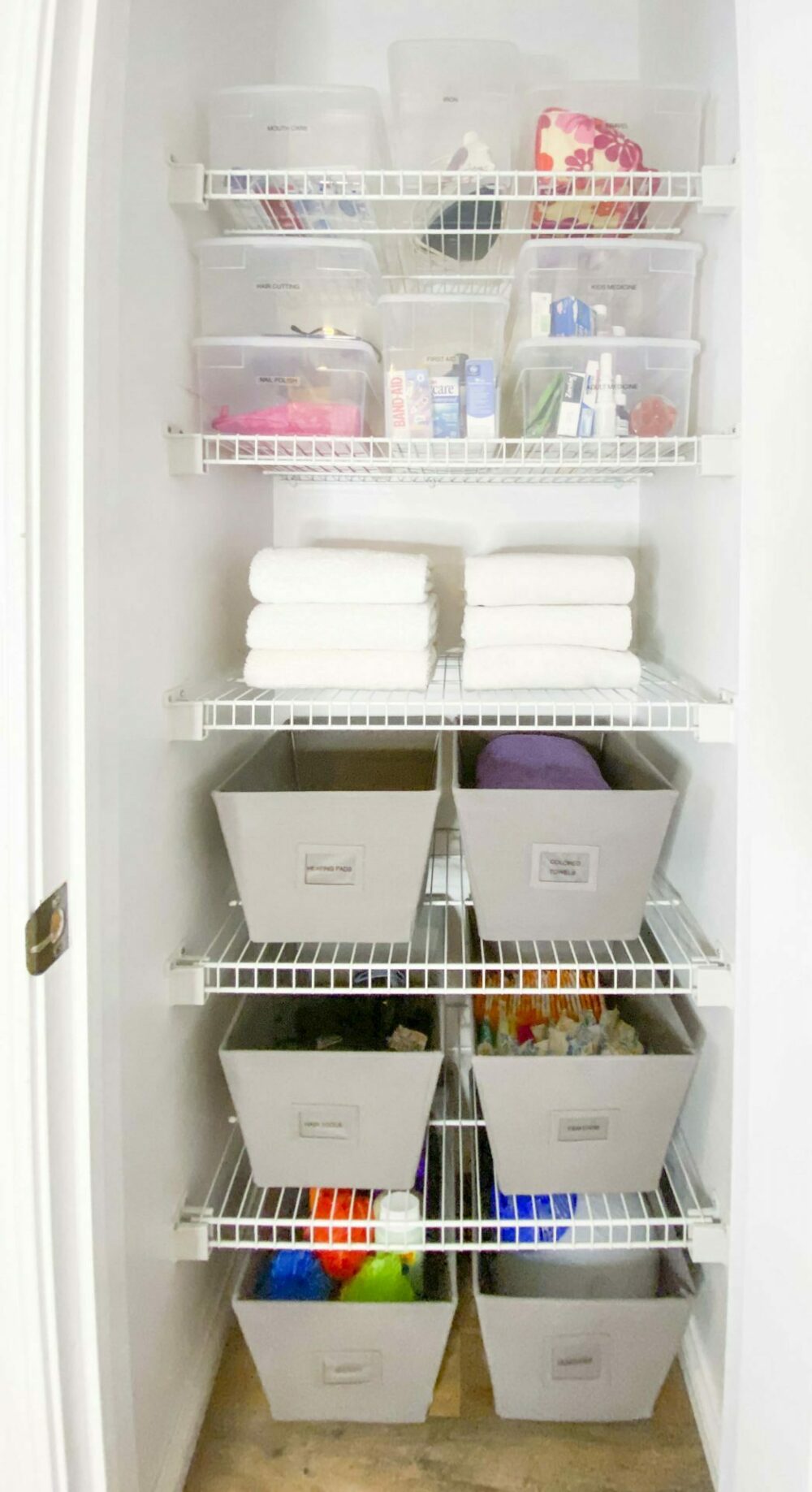 For a more modern look, we love Grey Open Canvas Storage Bins and Clear Storage Boxes to hold everything from towels, to other linen closet necessities. Open bins are great because the bins act as makeshift drawers, allowing you to pull the bin out, quickly grab what you need, and slide it back! The clear boxes allow you to easily see what's inside, and take inventory if you're running low on any supplies.
For towels, flat-fold each towel in a pile with the seams facing the back of the closet, so that family members and guests can easily grab and go when they need a fresh towel.
Budget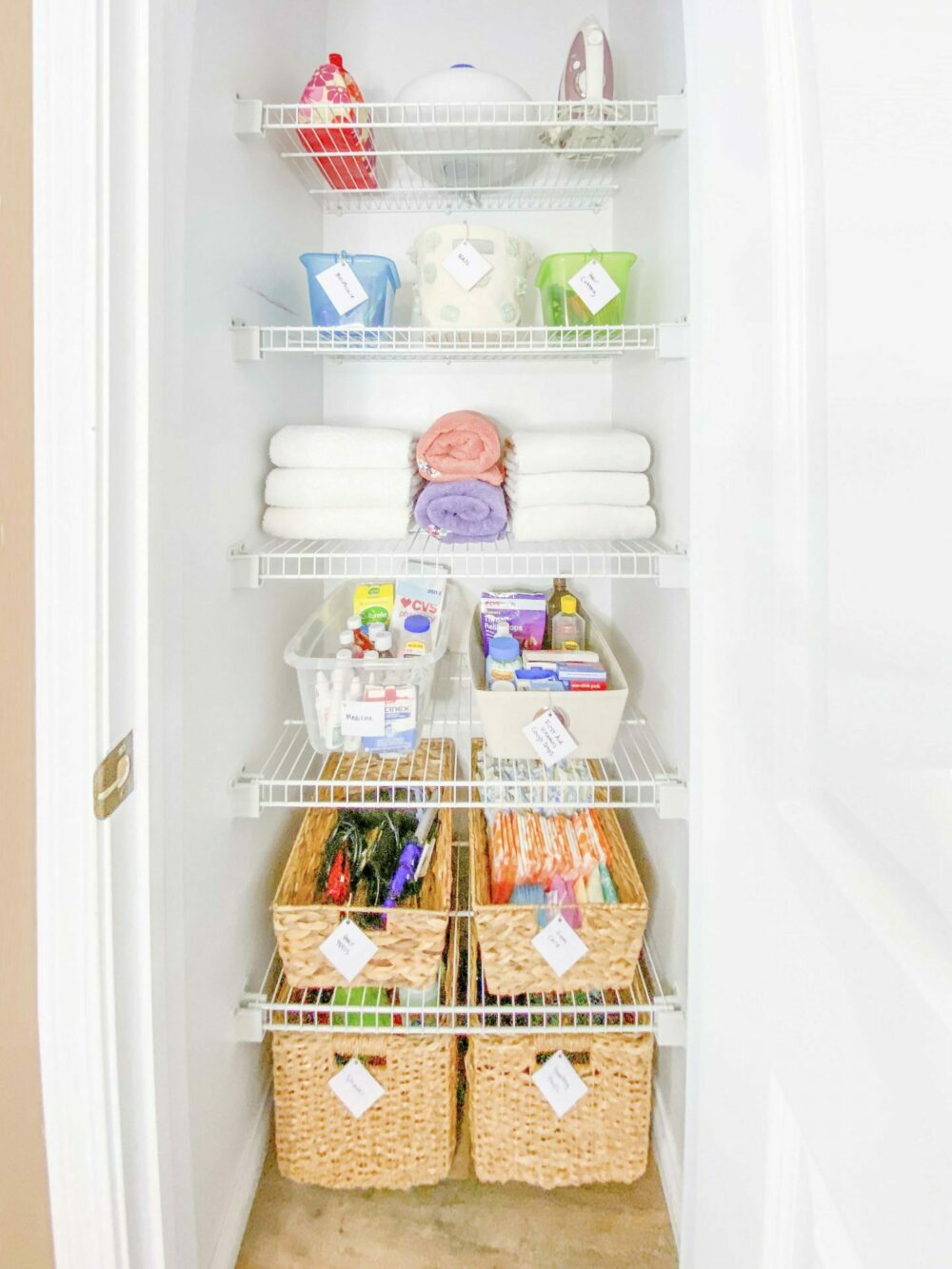 You can design a beautiful, functional linen closet without spending any money on products and supplies! Organization is all about setting up a functional space that works best for you – and your budget!
For containment, look around your home for bins and baskets that can be repurposed for your linen closet – it's okay if they don't match, but try to streamline them as much as possible!
For labels, cut recycled paper and use string to tie your homemade label to the storage bin, and a permanent marker to name each label.
If you need some extra help but aren't sure where to start, reach out to Horderly to schedule a virtual consultation, or for in-home or virtual organizing sessions.
For more information on all things Horderly – including lots of great tips, tricks, and other #HorderlyHabits – check out our blog or reach out for more information!
This content is independently curated by Horderly and may earn us a commission.