Hord Home Renovation: Mudroom, Powder Room & Gym Reveal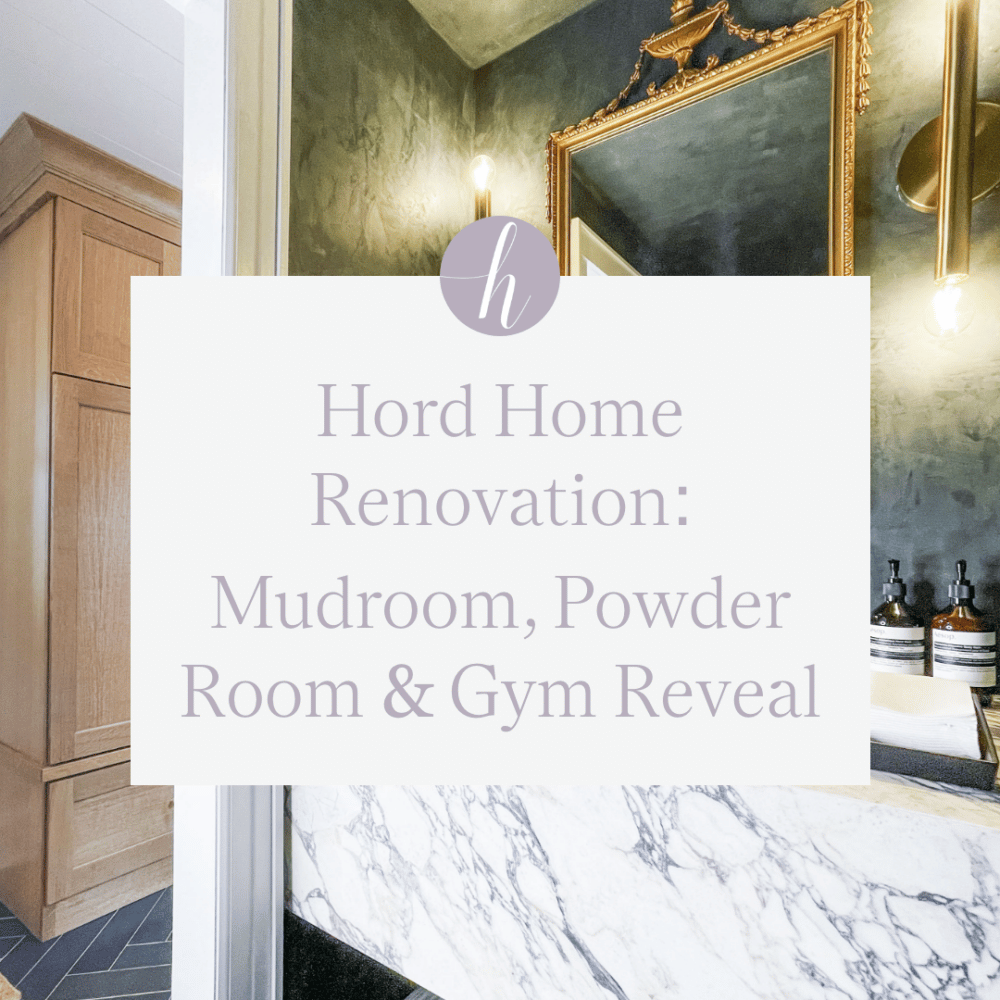 If you've gone through any renovations since the pandemic began, I'm sure you understand the setbacks with doing work on your home and material availability right now! That being said, our mudroom, powder room and gym reveal is finally here and we are excited to show you how it turned out!
Mudroom
We added a doorway in Fillip's office and replaced what used to be our garage with a much needed mudroom, powder bathroom, and storage area. (see our garage transformation here).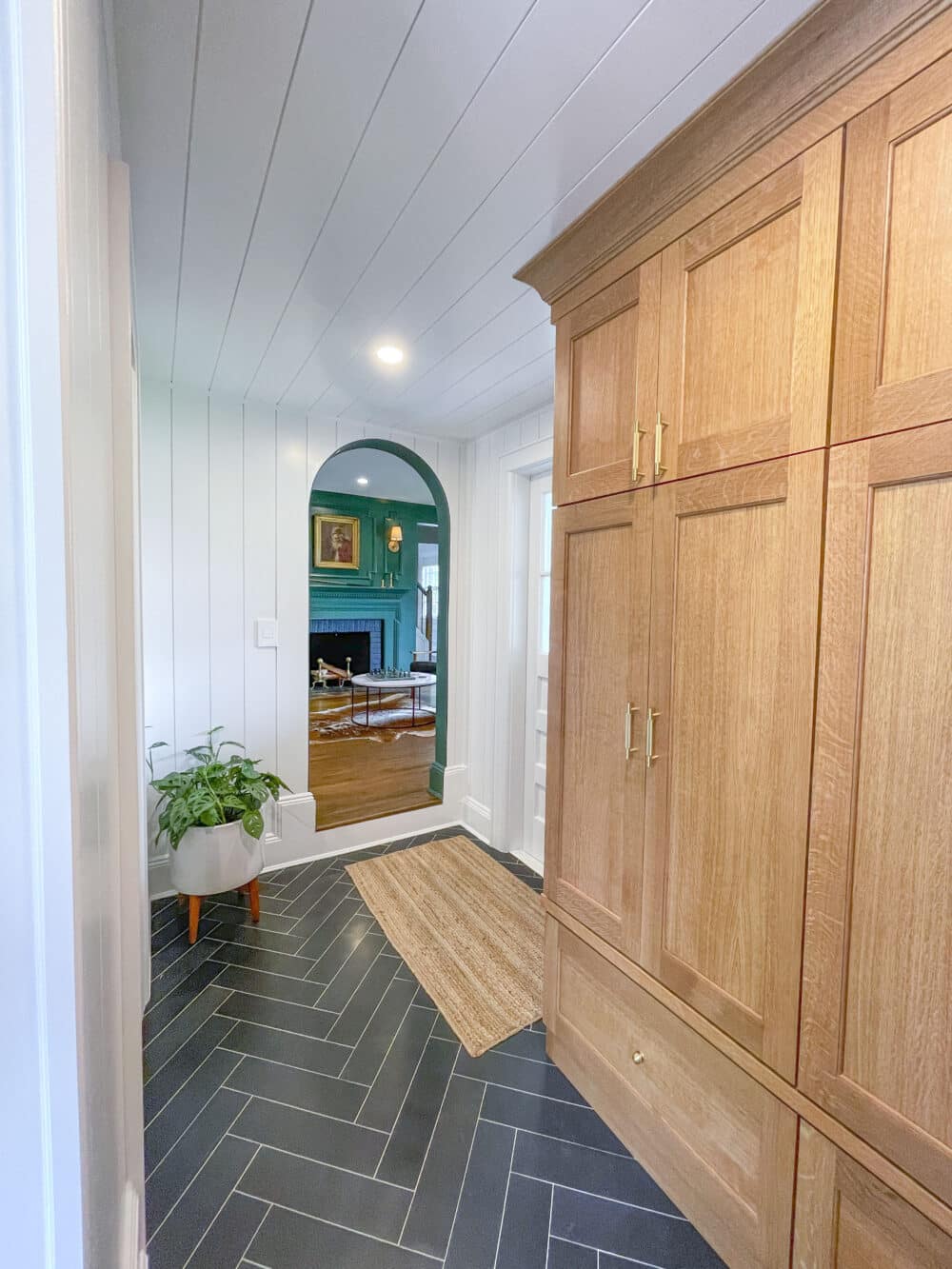 Our house was built in the 30's and doesn't have any front closet so the mudroom is where we now keep our shoes, coats, outerwear and essentials like our everyday bags and diaper bag. We also have some high storage here where we keep Horderly merch and our oversized tech items that we use when we shoot content. Before we had this space, we were keeping all of these items in the closets upstairs but we really needed this additional space to accommodate our newborn, Palmer.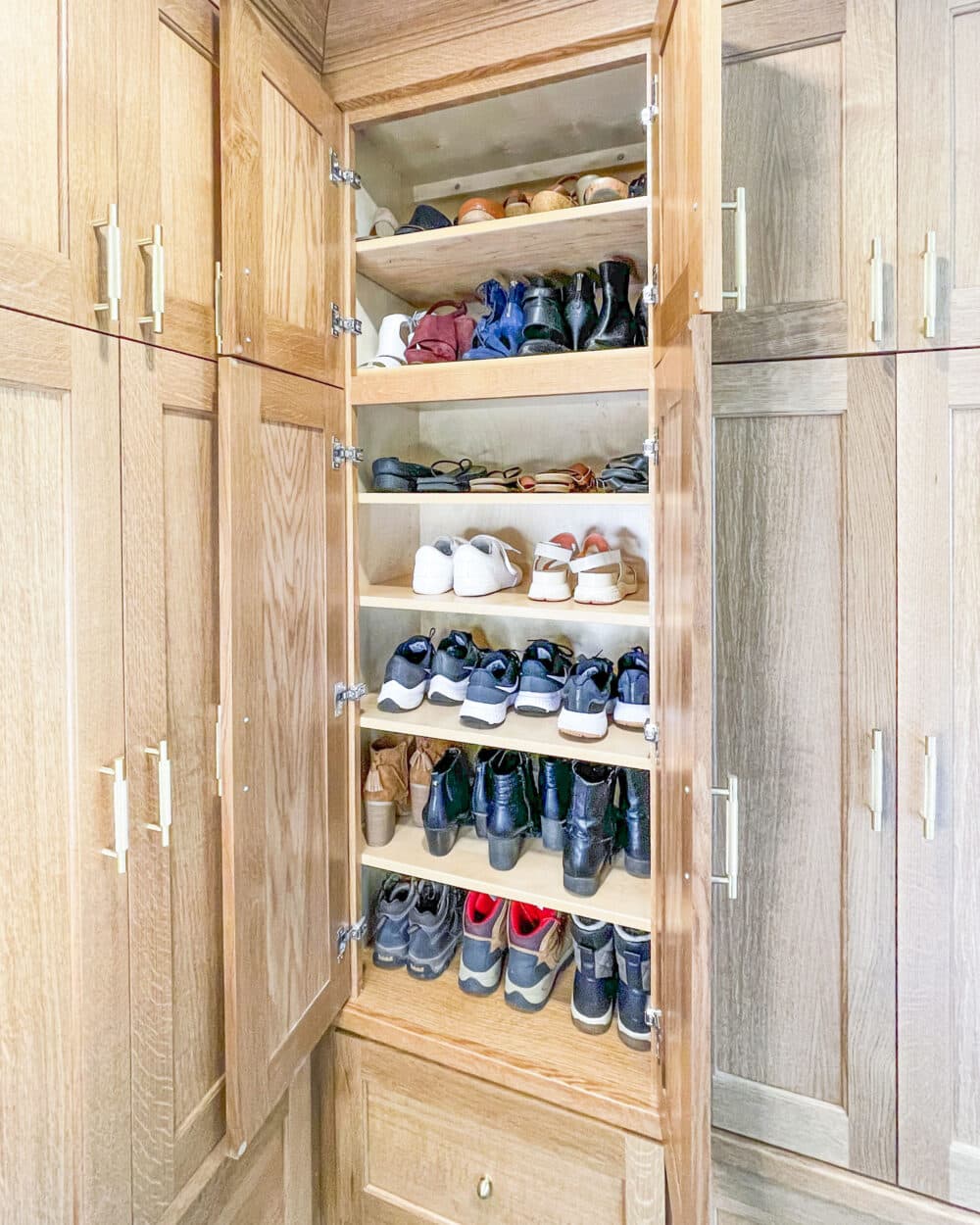 When I created the layout for this space, the first thing I had to consider was the window. We wanted to keep the window, so we had to work around it. I decided to incorporate it into the mudroom and create an "L" shape space. This window also brings in natural light to the mudroom, which I would rather have in the mudroom than in the powder bathroom. We finished off the window with a beautiful shade from Smith and Noble.
Because of the "L" shape layout, I did shallow cabinetry on 1 side to hold our shoes and deep cabinetry on the other wall to accommodate hanging our coats and jackets. The room isn't very tall but we were able to put drawers underneath and cabinets for storage above. It's all about maximizing the space you have! In the drawers we have Fillips outerwear, my outerwear, my work items, and a drawer for baby Palmer. We worked with Scott from Autograph Kitchens to create this custom cabinetry design. We worked with Scott when we designed our kitchen and I knew I wanted to work with him again any chance we could in this second renovation!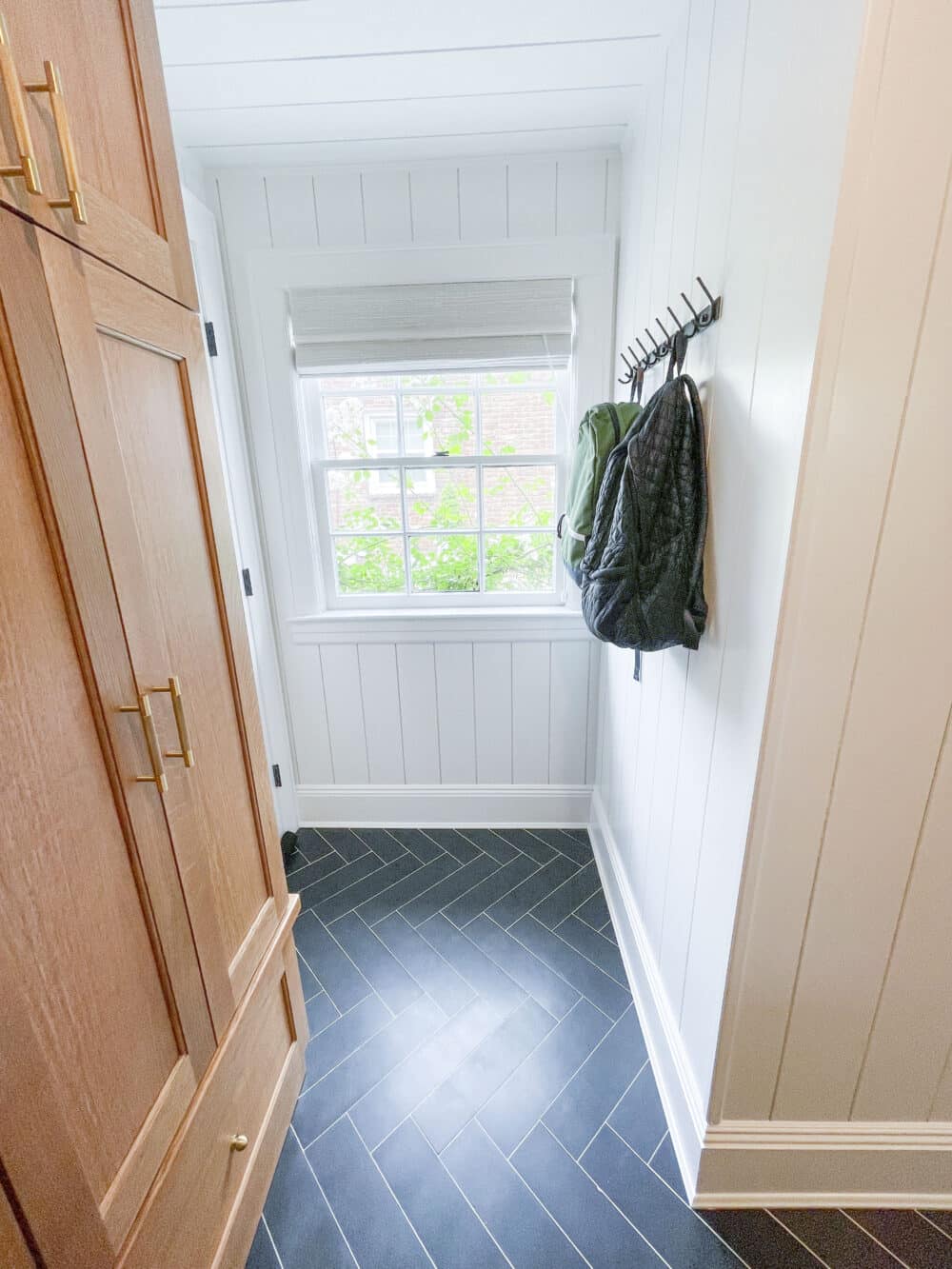 I've always wanted a room with shiplap on both the walls and ceiling and this was the perfect space to make my dream a reality! My initial design had a beige tile that I really wanted to use, however the order never came (which was very frustrating!) so we ended up getting something that we could install ASAP so that we could complete this space before baby Hord arrived. We ended up going with a classic black tile in a herringbone pattern which also spans through the powder bathroom.
We topped this space off with brass handles and knobs for the cabinets and drawers, black door knobs from Kwikset to match the rest of the door knobs in our house, a potter/plant, wall hooks and a rug. (thanks everyone on Instagram for helping me pick a rug for this awkward space!)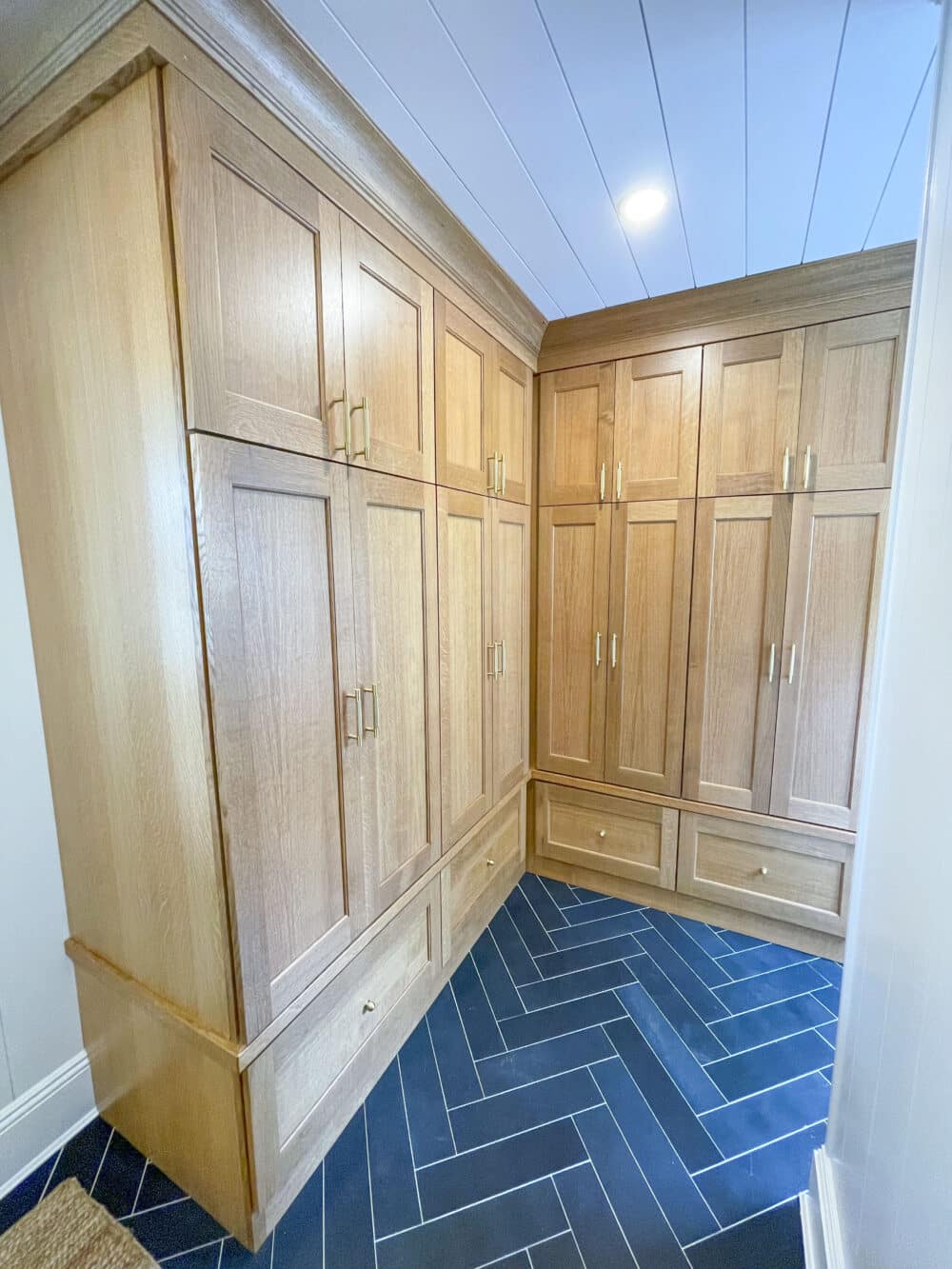 Powder Room
The powder room was one of my favorite projects! Our entire house only had one bathroom (which was upstairs) so we were in desperate need of adding a powder room which we designed tucked in the corner of the mudroom. I had a bold vision for this powder room and I love how it turned out! Now it feels like you're at a fancy hotel!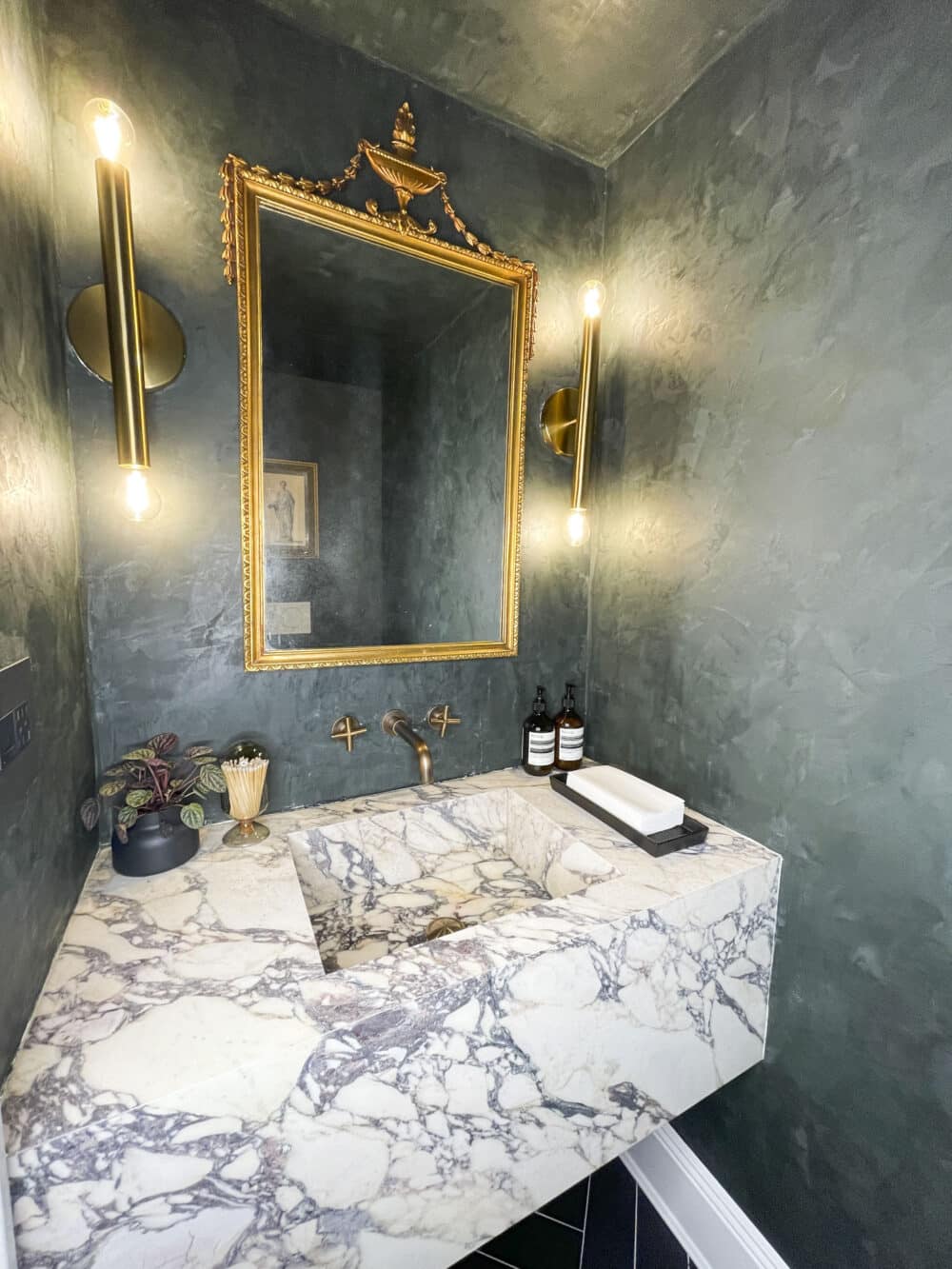 I've always wanted to use roman clay paint in a space and I thought why not this tiny powder room. I'm all about going bold in a small space, because it's a great opportunity to push your own boundaries. We ended up using "Nitty Gritty" roman clay paint which ties into our green office. Fillip applied the clay himself and it sure wasn't an easy job!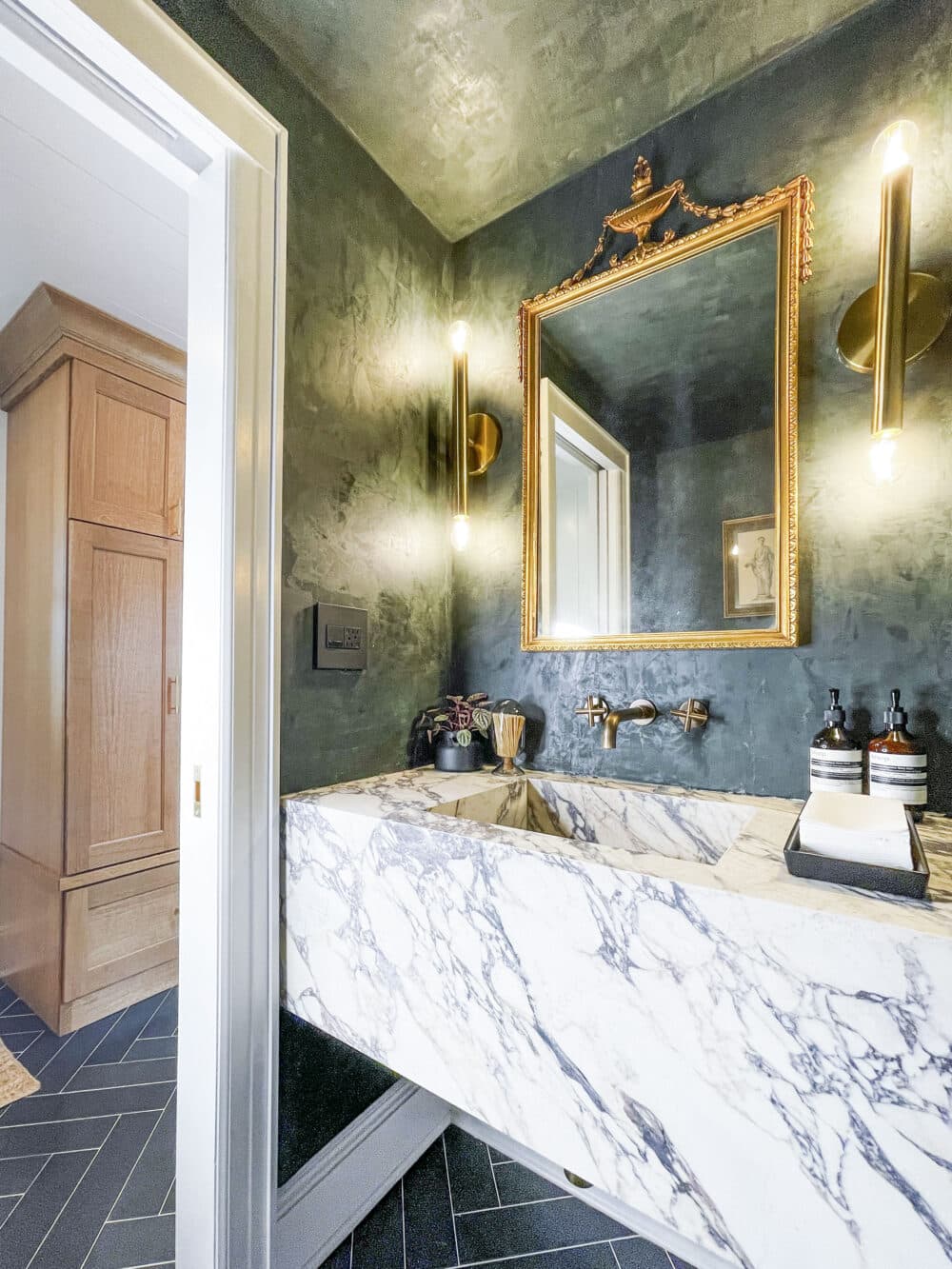 I fell in love with this Calacatta Monet marble that we used for our custom floating sink. We even got coasters made out of it! I'm definitely going to be sad to leave this piece the day that we move but we are sure enjoying it now.
If you've been following along our renovations, you know we love gold hardware so we went with a brass faucet, sconces and toilet paper holder.
This space was all about the details so we styled it with a match cloche, Aesoap hand soap and lotion (my fave!), hand towels in a tray and matching black toilet accessories. Fillip and I love to go antiquing so we went on a hunt to find the mirror and picture.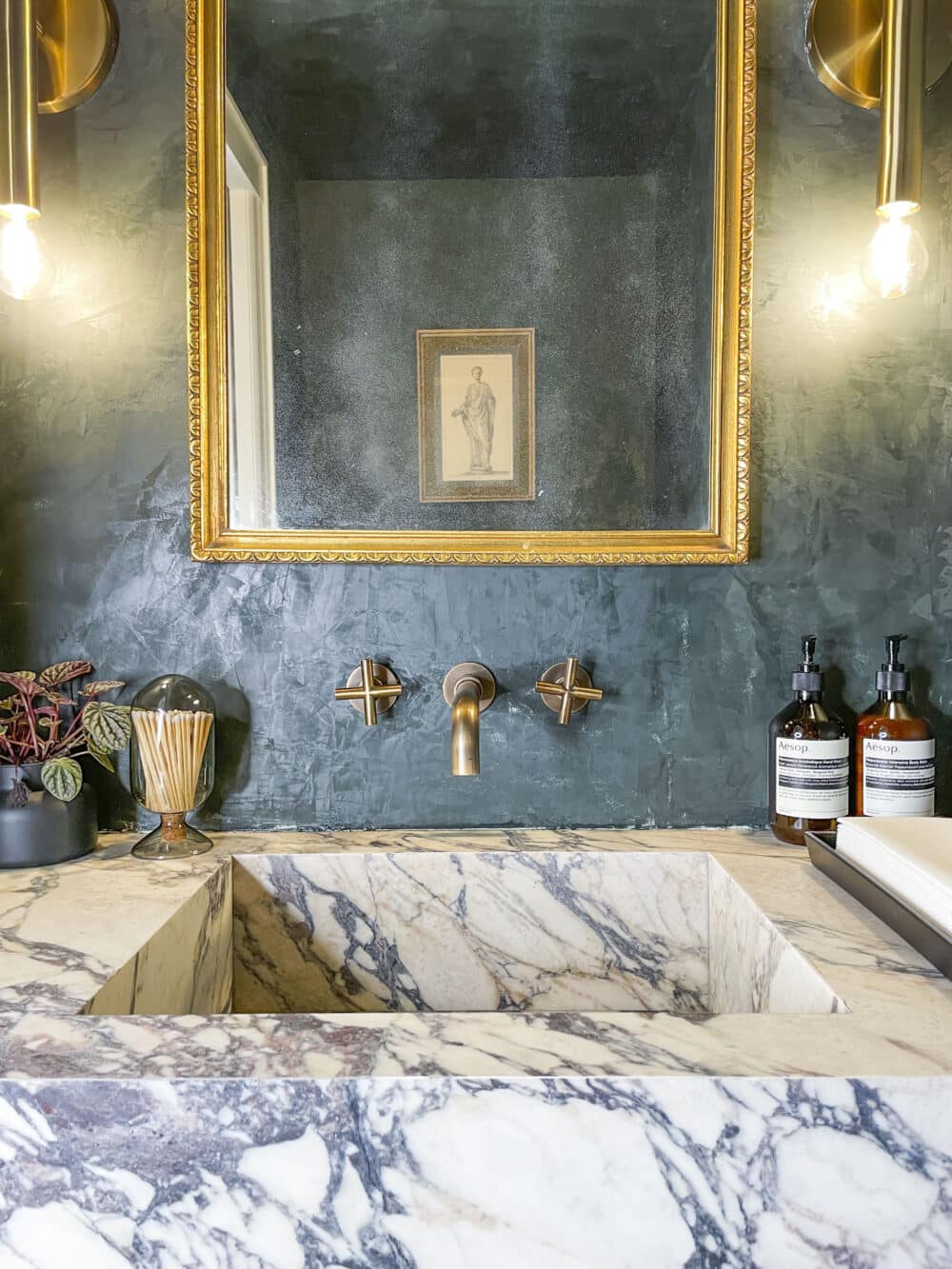 Gym
Welcome to our gym. We had this "3 seasons" room as a gym before our reno but I've never shown it! Before we renovated, you had to access this room from our garage. Now, you can access it from the mudroom so it actually feels part of the house! Fillip and I like to be active so a gym or "workout area" is a must in our house and this was the perfect space to create one.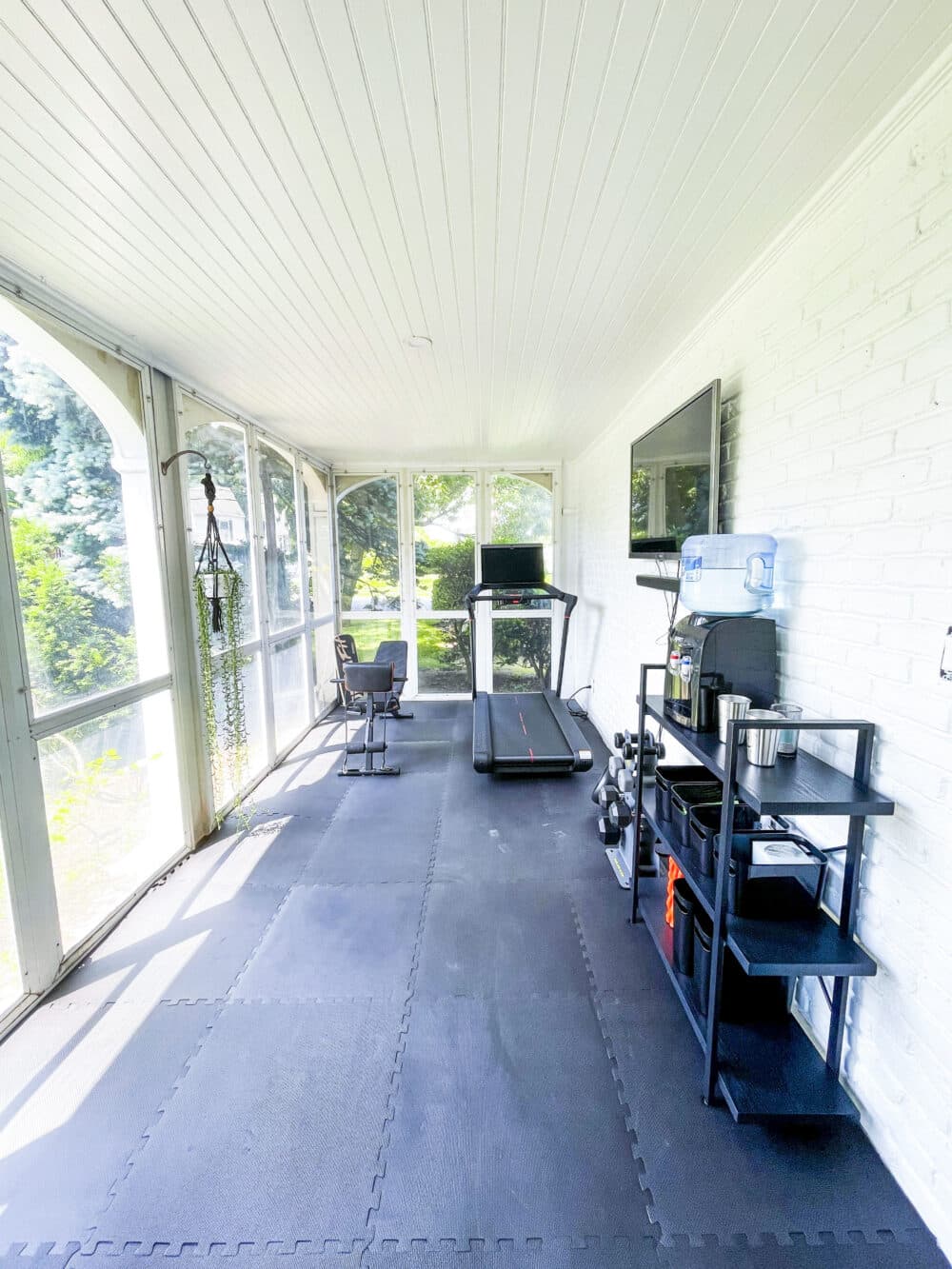 We considered putting some money into nice gym flooring but we ended up getting these inexpensive floor mats and they are great! It took us no time to put down ourselves.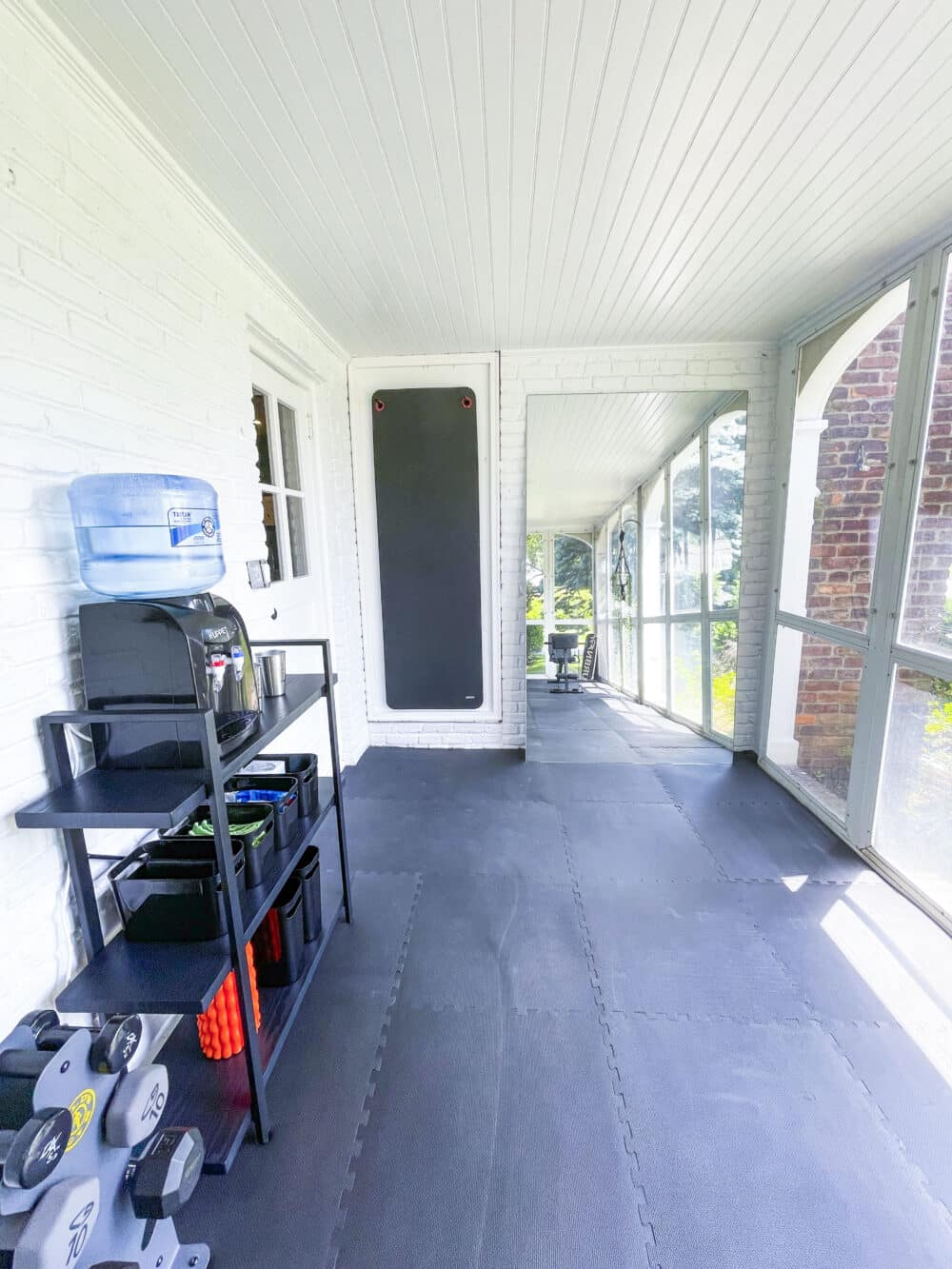 We have a TV in our gym to play music or watch workout videos, a Peloton, workout bench and weights. We hung our mats in the space where there used to be a doorway (that we closed up during our first renovation) and put a shelf with bins to hold items like hand sanitizer and mat wipes, sweat towels, trash, etc.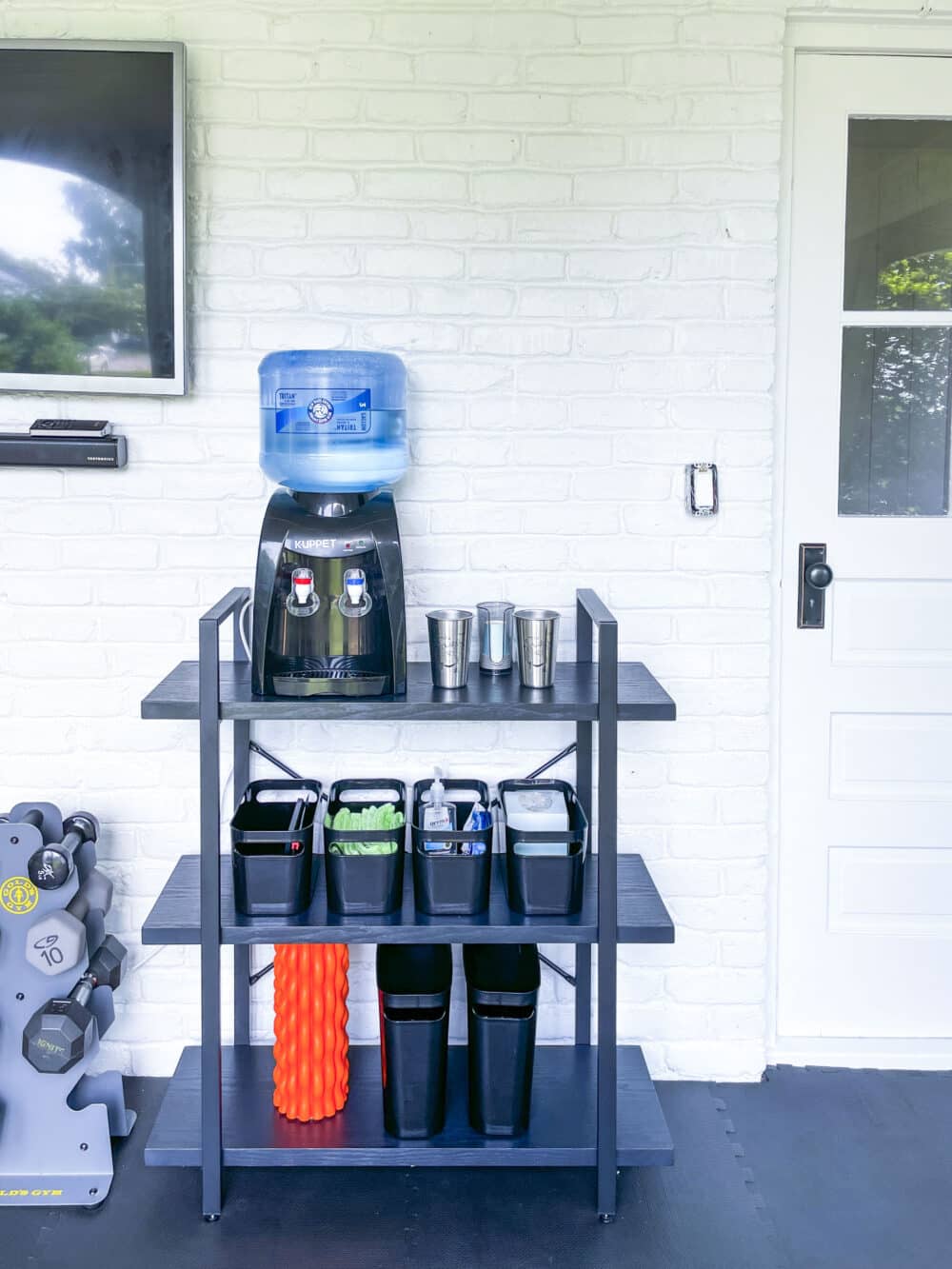 As much as I had such a blast with the renovation process, we are relieved that it is done and all in time before baby Hord arrived! Although, knowing me the projects never stop! 😉 Our next phase will be our landscape!
For a full walkthrough check out our reel: