Hord Home Renovations: Primary Bedroom & Bathroom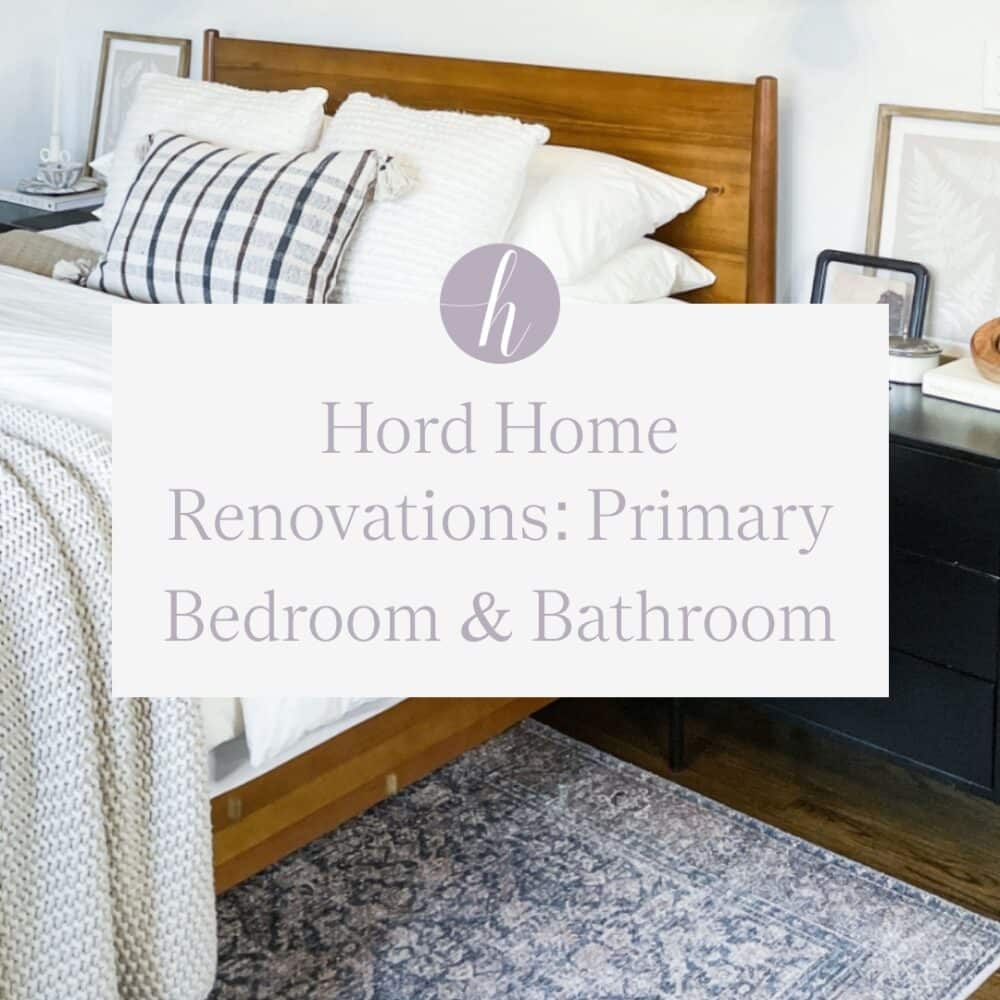 Primary Bedroom
Before: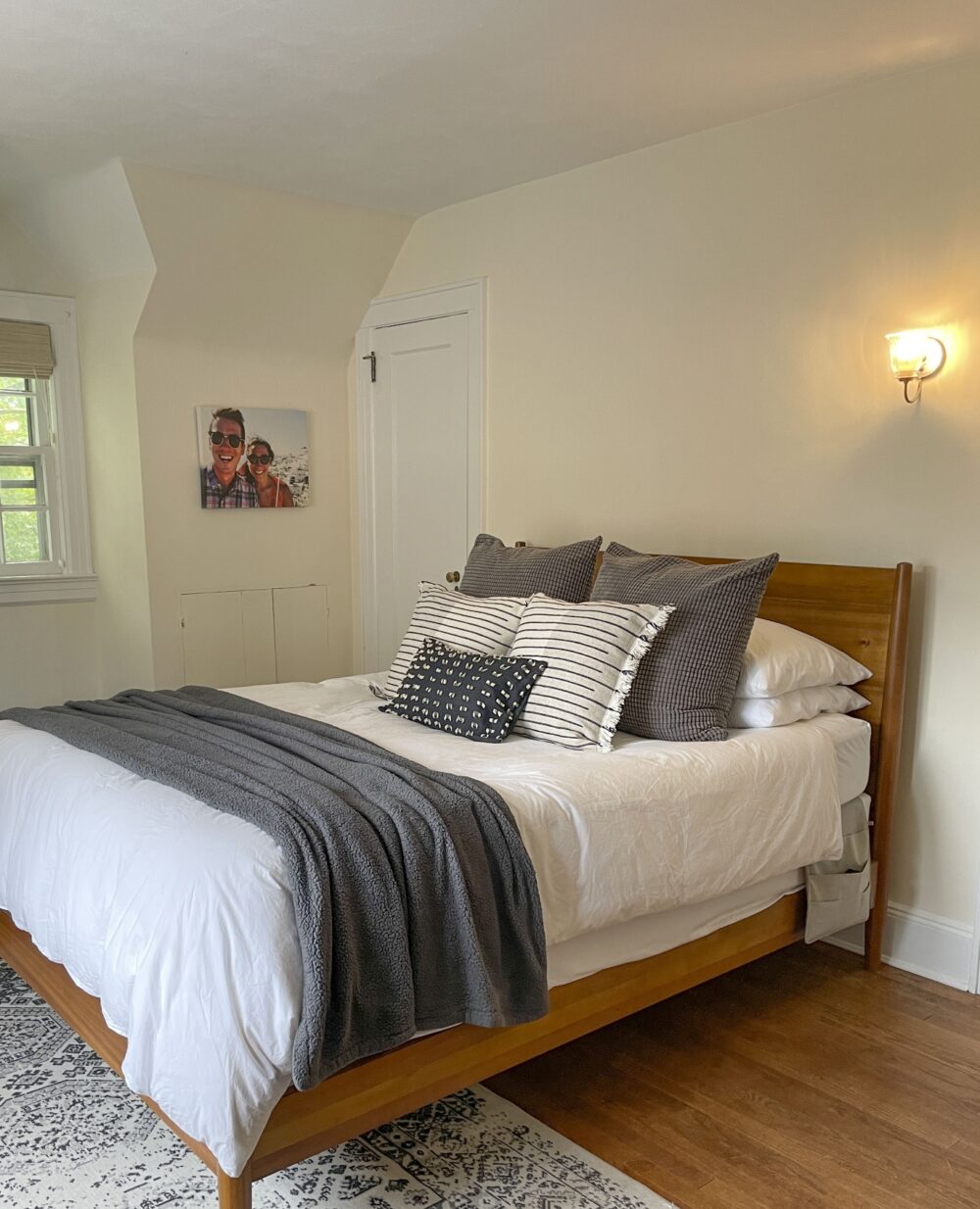 After: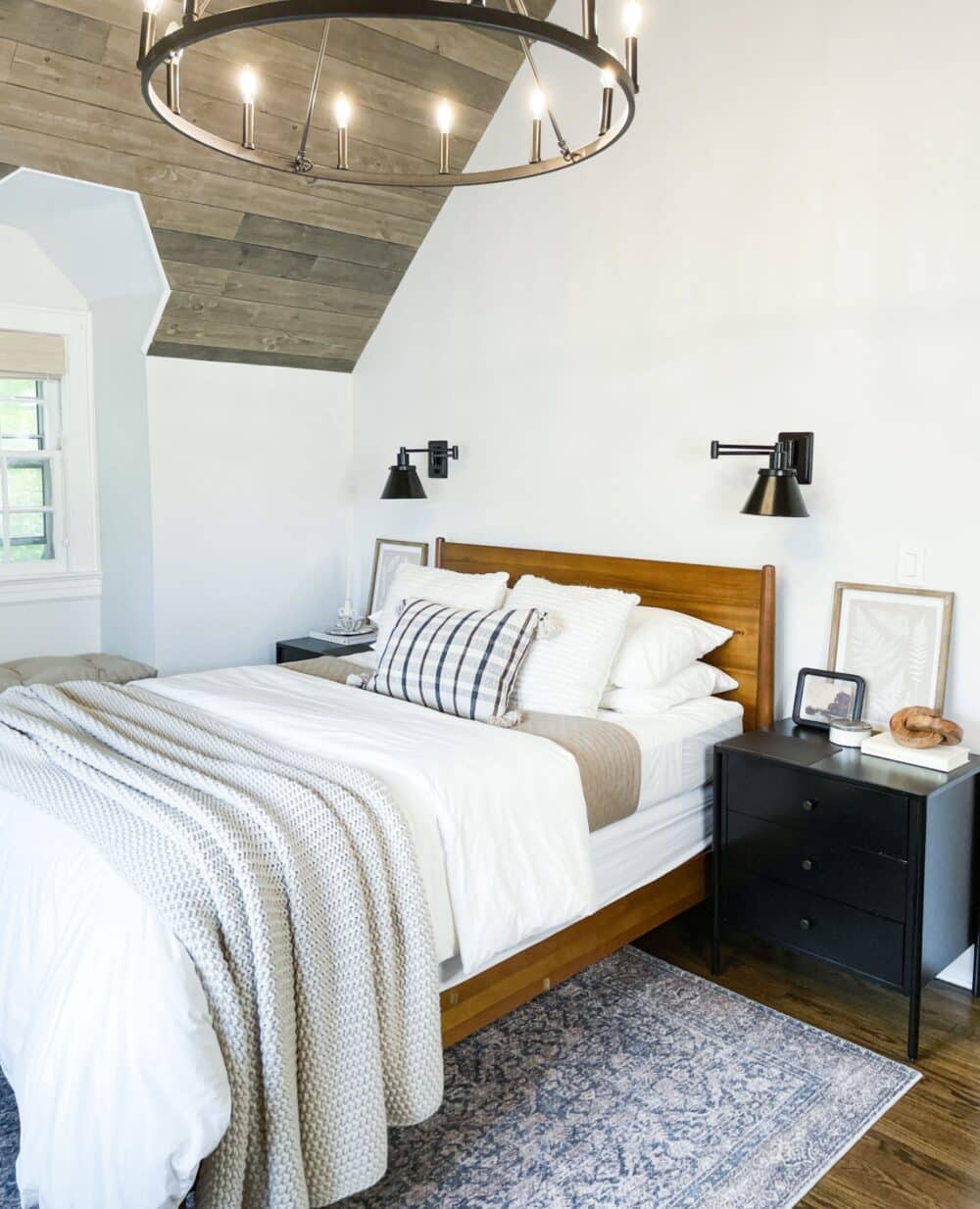 When starting our primary bedroom renovations, I knew the attic was above the ceiling in our bedroom which was dead space in my mind. So, we raised the ceiling to make it feel bigger. After much back and forth, I decided on this ceiling to give it a cozy, warm feel rather than just plain white shiplap. I tried to avoid brass in this room (since we are using it everywhere else in our house) and stuck with black/bronze fixtures and accessories like our chandelier, sconces, mirrors, and curtain rod.
Before: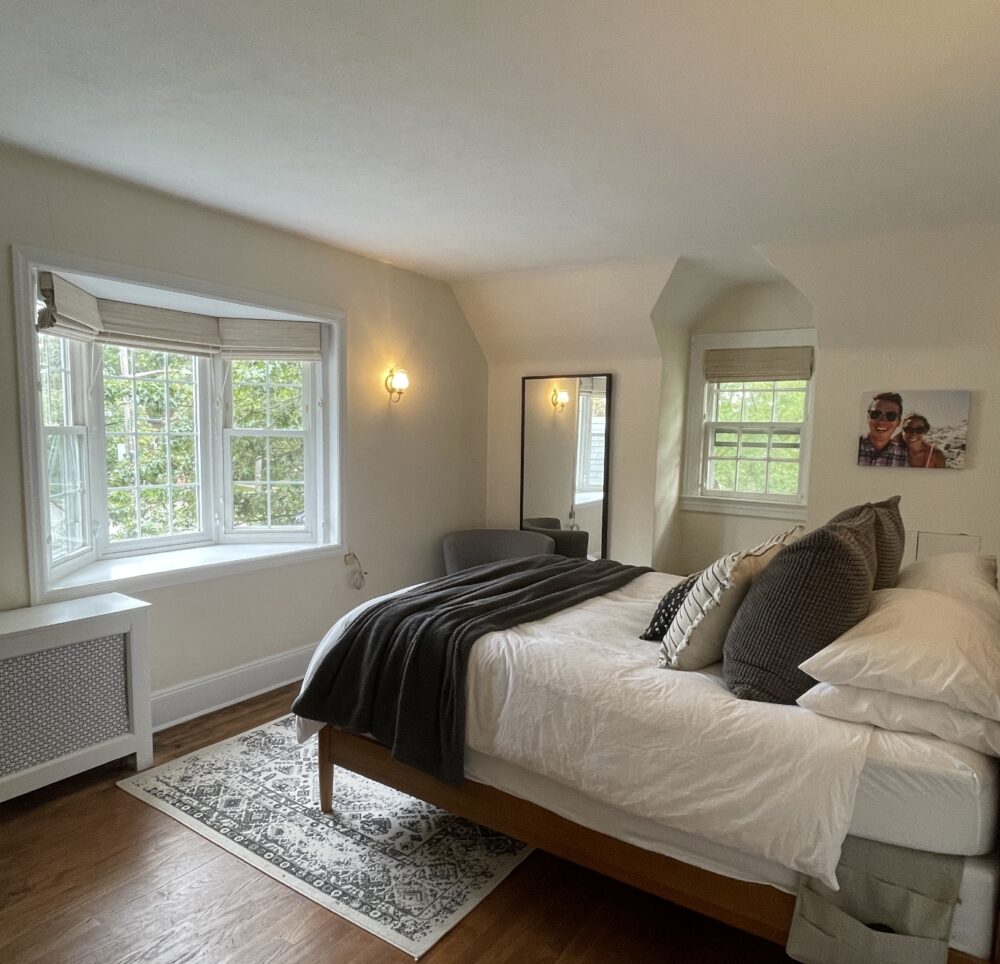 After: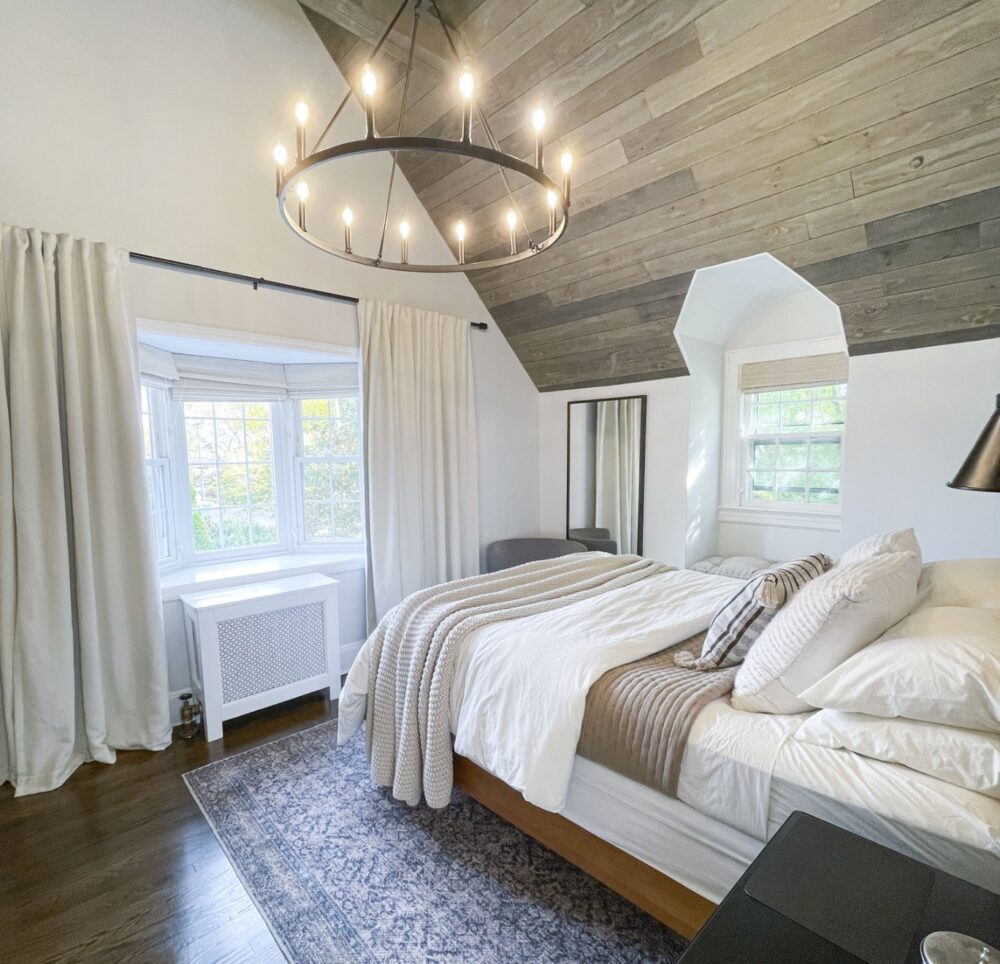 I went with these curtains and positioned them much higher and wider than the window to make the window look larger than it actually is. This is a hack that can really change the look and feel of a space! We used Smith and Noble for all of the shades in our house. The ones in our bedroom are "up/down" shades so they can go either way. These are much needed in this room since our neighbors house is close by!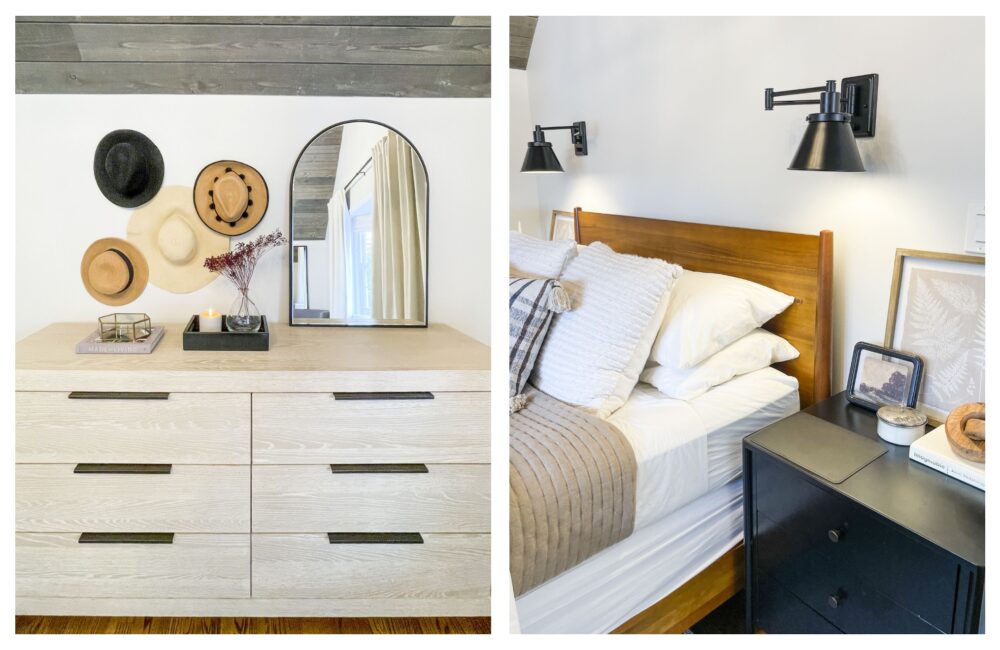 We got a larger dresser and new nightstands and we've had this bed for quite some time now. I styled the top of the dresser with this mirror, table book, candle and wick trimmer and some other items I already had. I also used my summer hats to style the wall so that I didn't have to purchase any new wall art.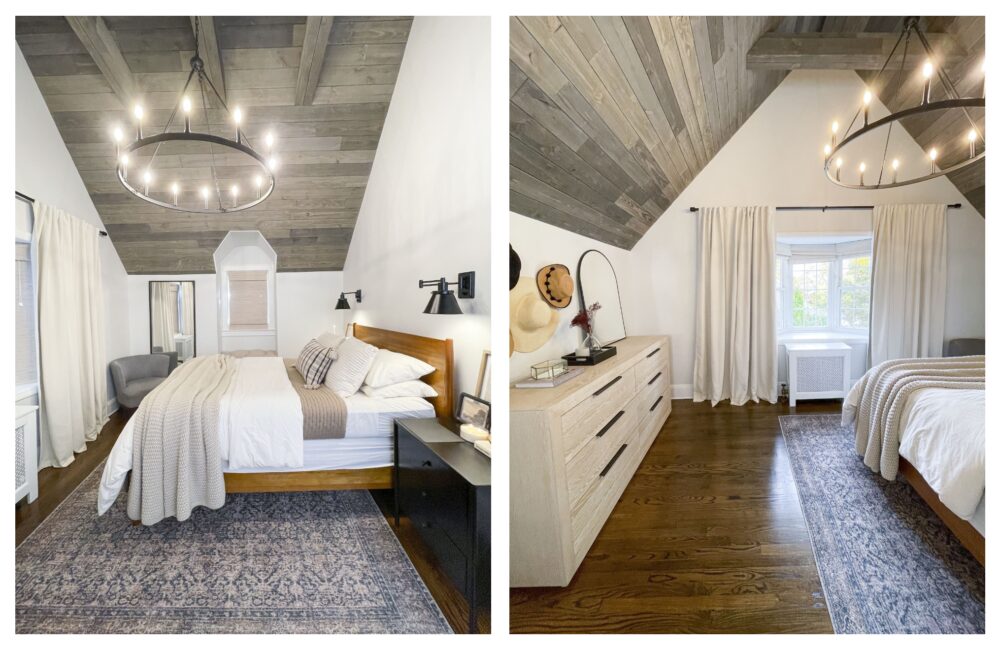 The rug we chose for this room is one of my favorite things in our house. Amber Interiors is one of my favorite designers and I was shocked at the price for the quality of this rug from Amazon! We are also using these rug pad grippers for the corners.
Primary Bathroom
Before: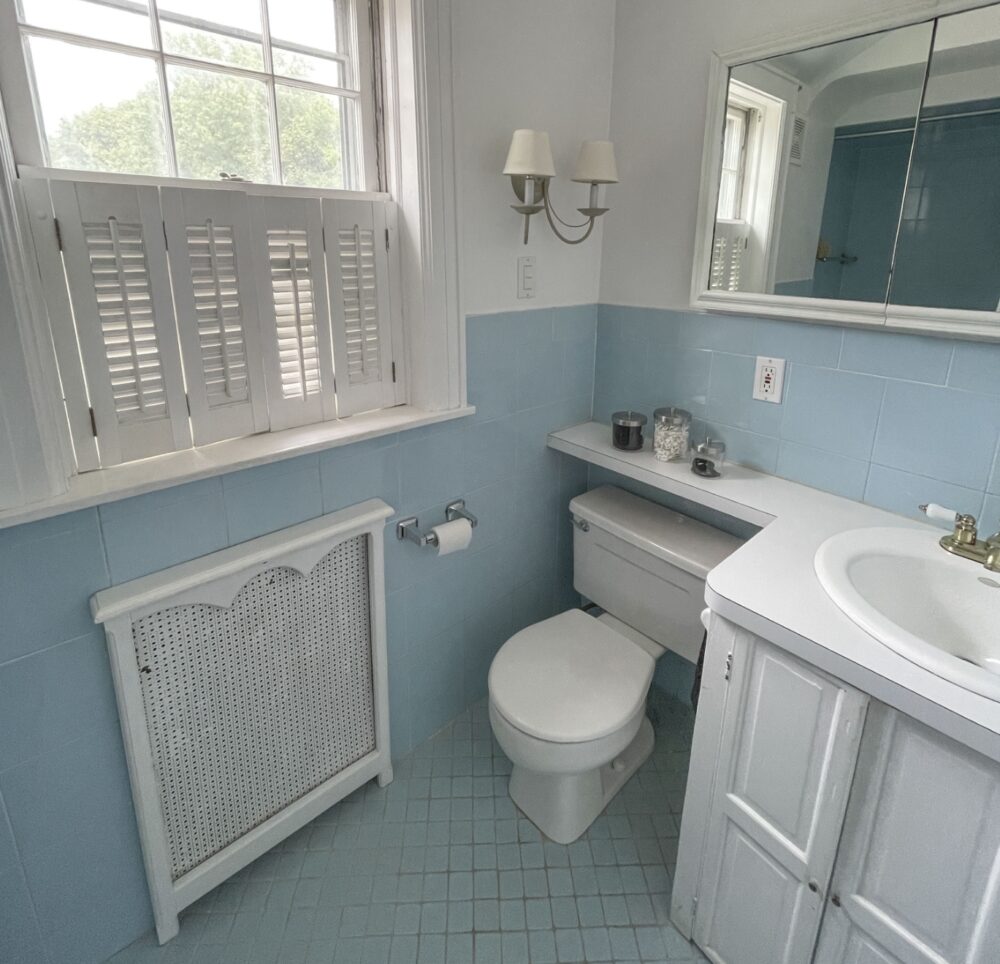 After:
The size of our primary bathroom is nothing special but redoing it made a world of difference! Before renovation, our old bathroom had grubby floor and blue tile everywhere. It screamed outdated!
Before: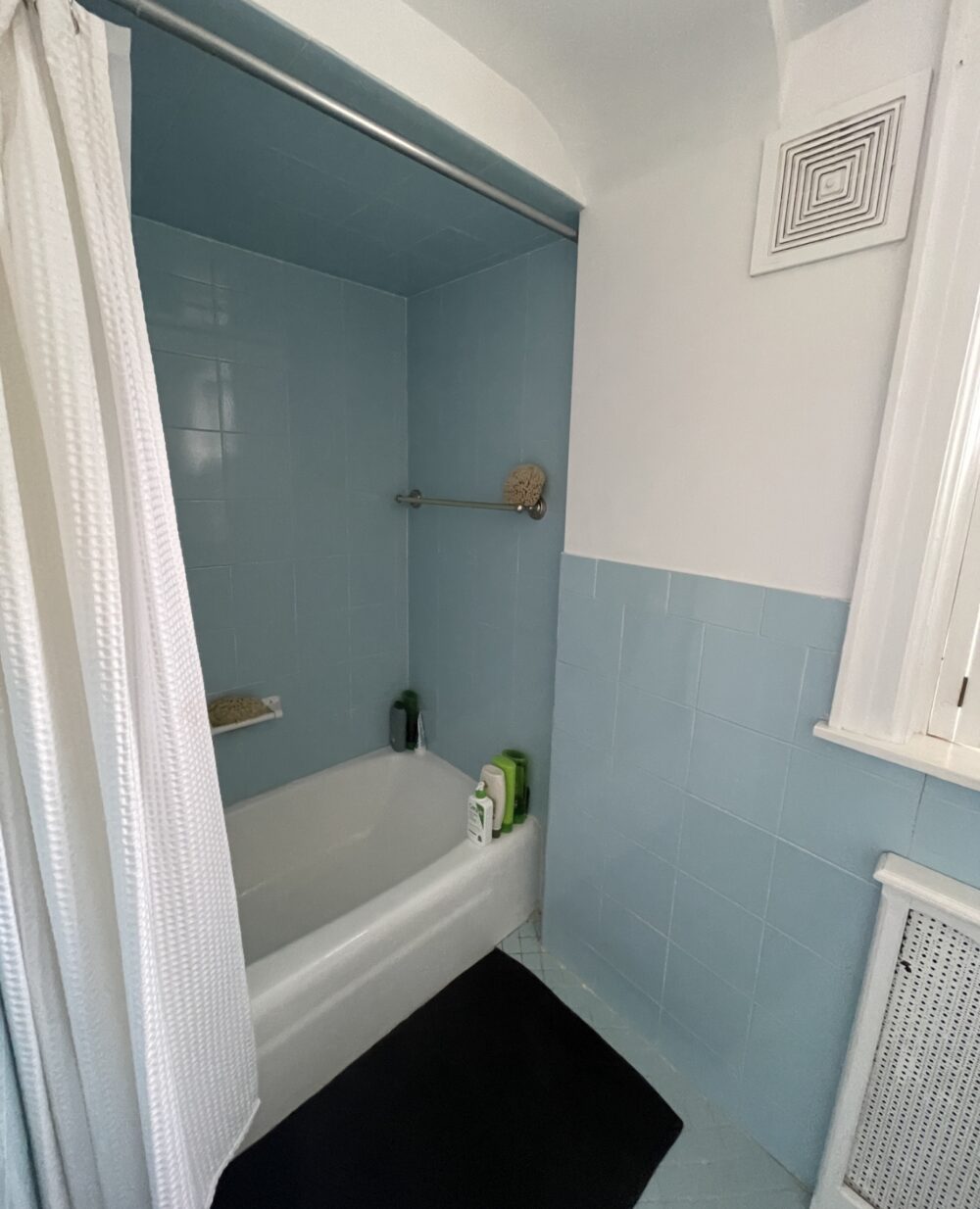 After: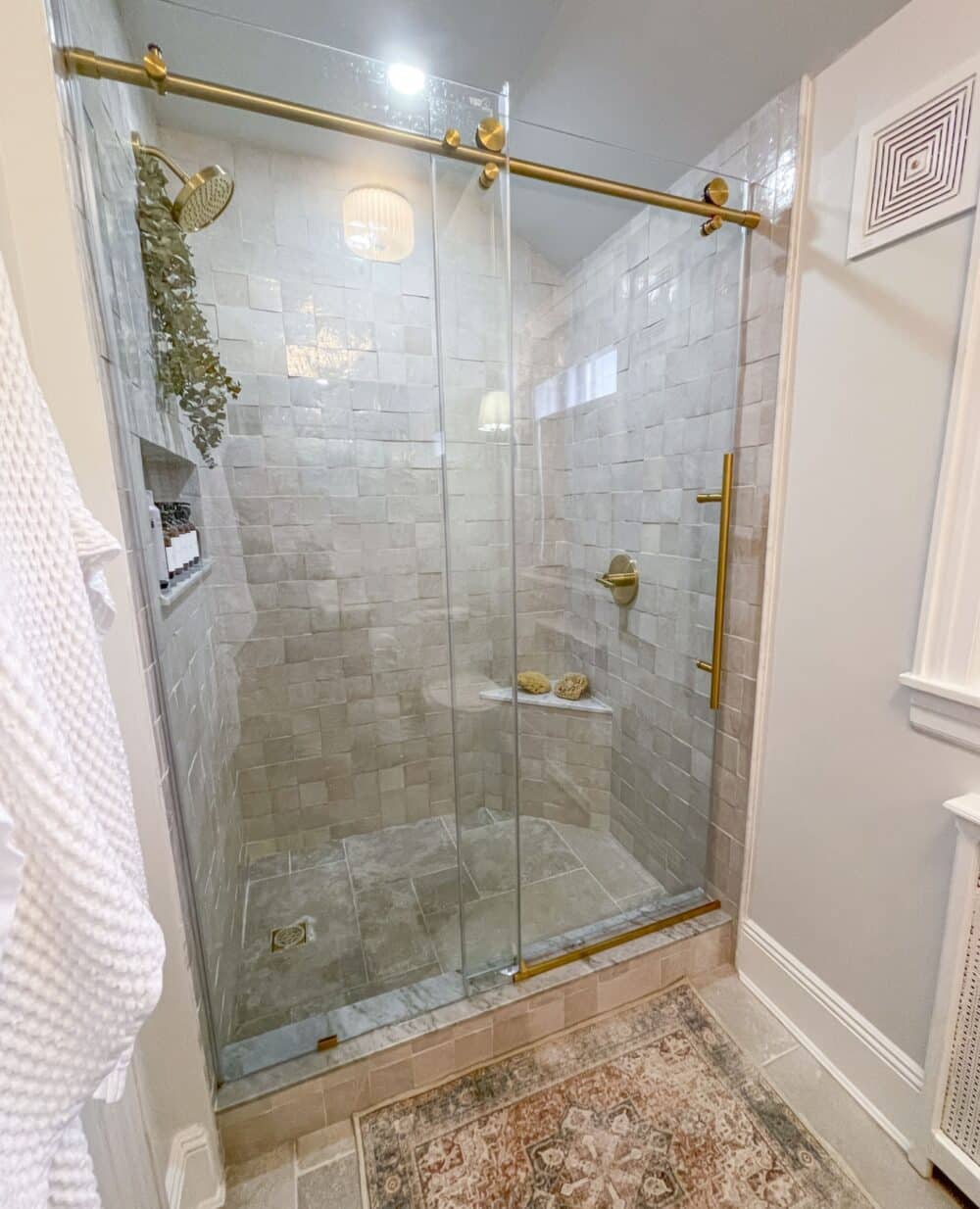 Let me first talk about my favorite part of the bathroom, the shower! We were able to knock out dead space and create a much larger shower than before. We ended up getting rid of the tub (which was a hard decision to make since this is the only shower in the house and we were expecting a baby at the time) but we are so happy with our decision and you could say it's my dream shower! I became obsessed with this Zellige tile from Riad Tile and it makes you feel like you're on vacation when taking a shower. We paired it with a brass shower fixture (ensuring that the lever was on the opposite side of the shower head so that you don't get wet when you turn it on) and a glass, sliding shower door. We're also using all matching bottles with custom Horderly labels for our shampoo, conditioner and body wash to really finish off the look and feel in here.
Before: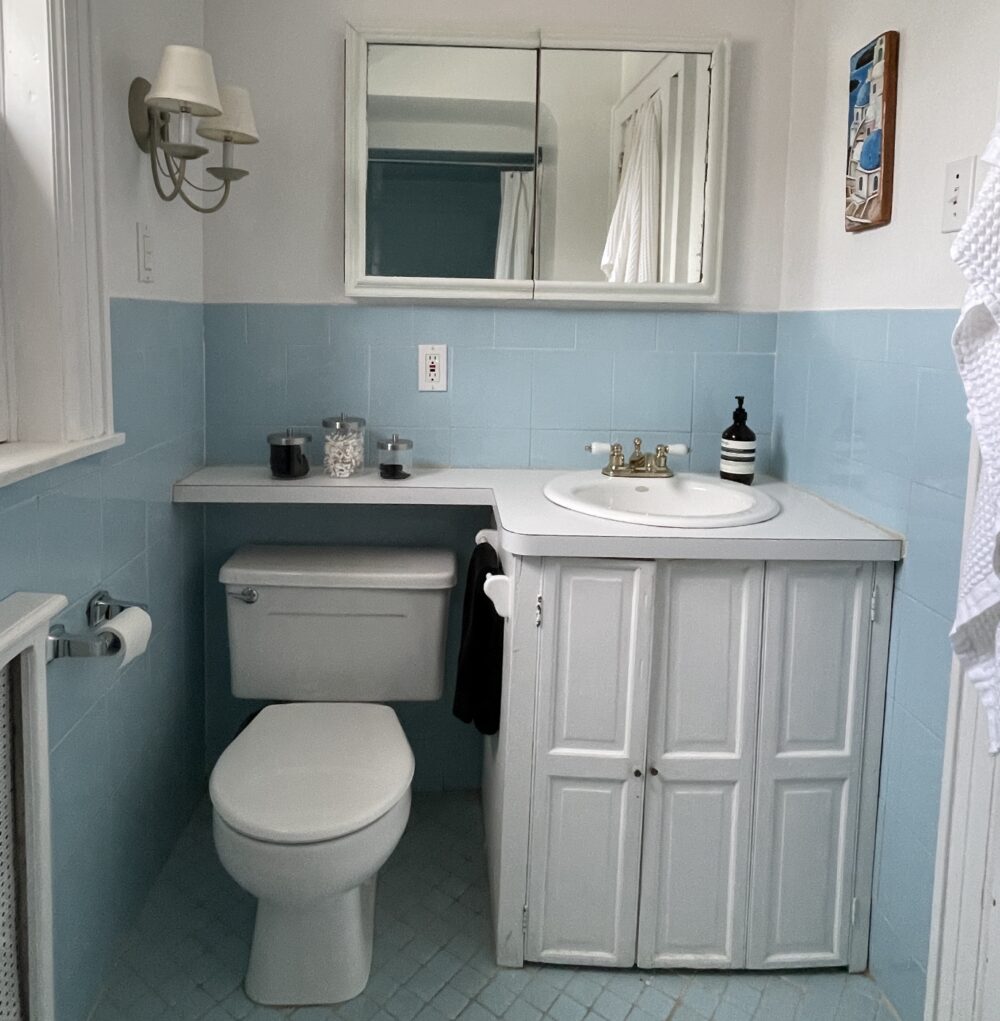 After: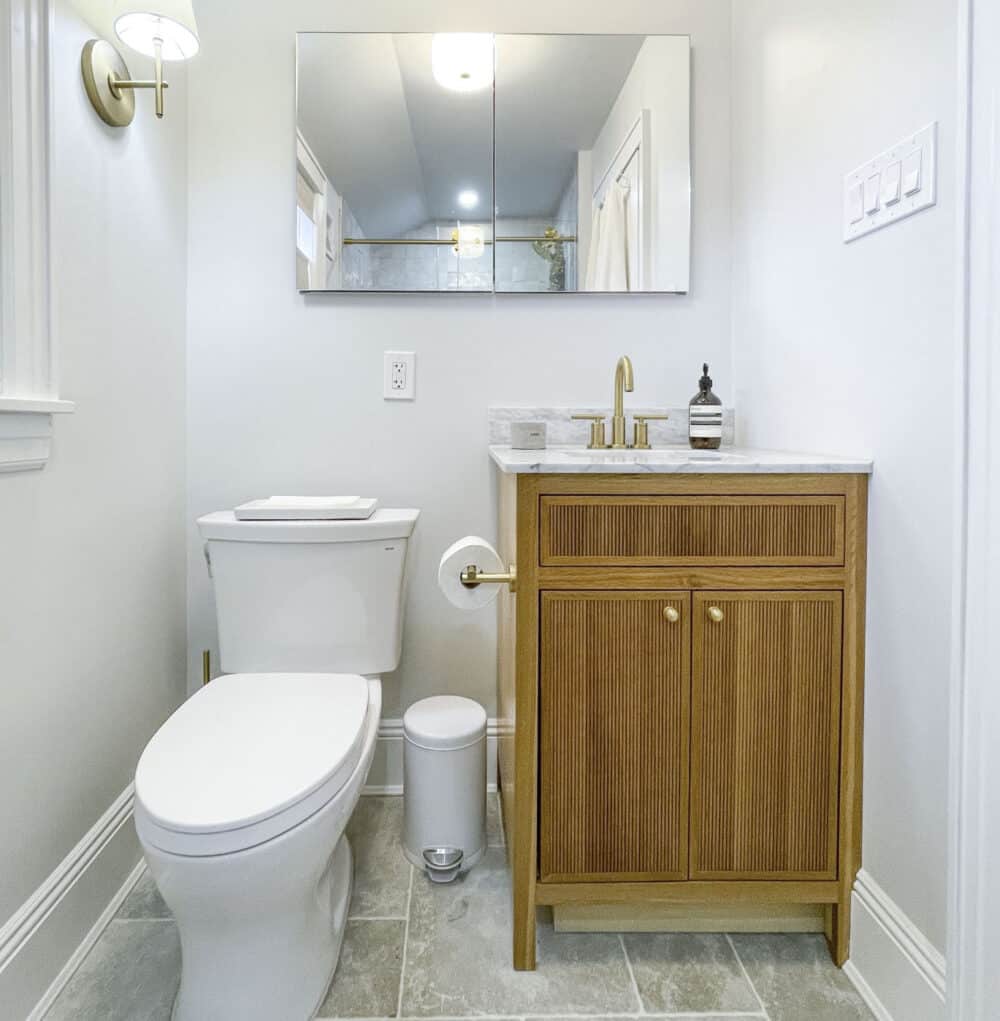 Ok, next, the vanity! We got this vanity custom designed and made by, once again, the amazing Scott Holcombe from Autograph Kitchens. I really wanted cabinet doors that had these grooves in it and Scott made it happen! We added the same brass knobs that we also have in our mudroom and paired it with this vanity top and faucet.
Since there isn't a lot of storage space in this bathroom, I knew we had to maximize the behind the mirror space so we got the largest mirror we could with inside storage. This holds most of our bathroom items and under the cabinet we store bulk products, personal care and first aid/medicine.
For the floor we went with limestone in a 4-piece pattern which also flows into the shower. We put a scone that we already had on the wall and decided on this main light.
We (or maybe not so much my husband) had so much fun with our renovation and while I'm happy we completed it before our baby arrived, I'm also sad it's over! I can't wait for the next project which will most likely be our landscape!