Hord Home Renovation: Before & After Major Office Reveal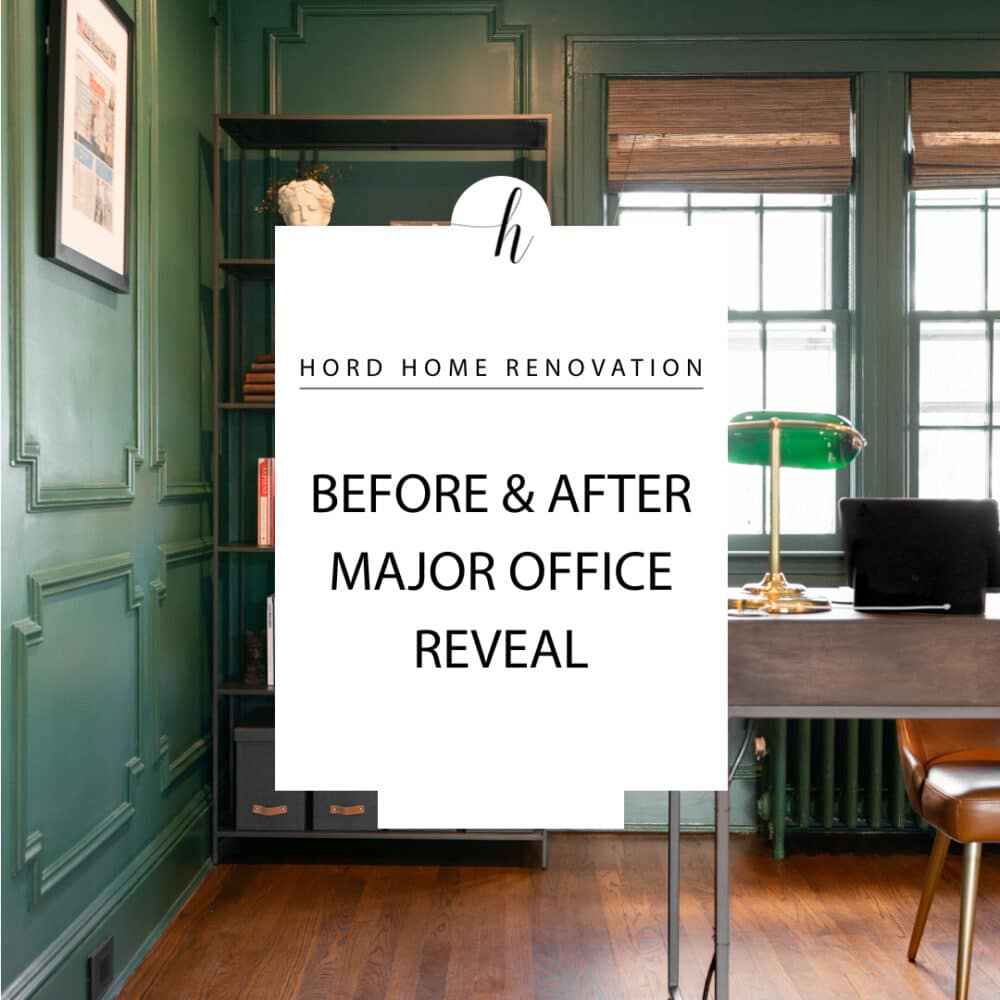 When you enter the front door of our house, to the left was the good room (at least this is what we called it when I was growing up). For example, the owners before us had it set up with nice furniture and a piano. We, however, had a different vision for this room and wanted to make it Fillips' office and Horderly's HQ!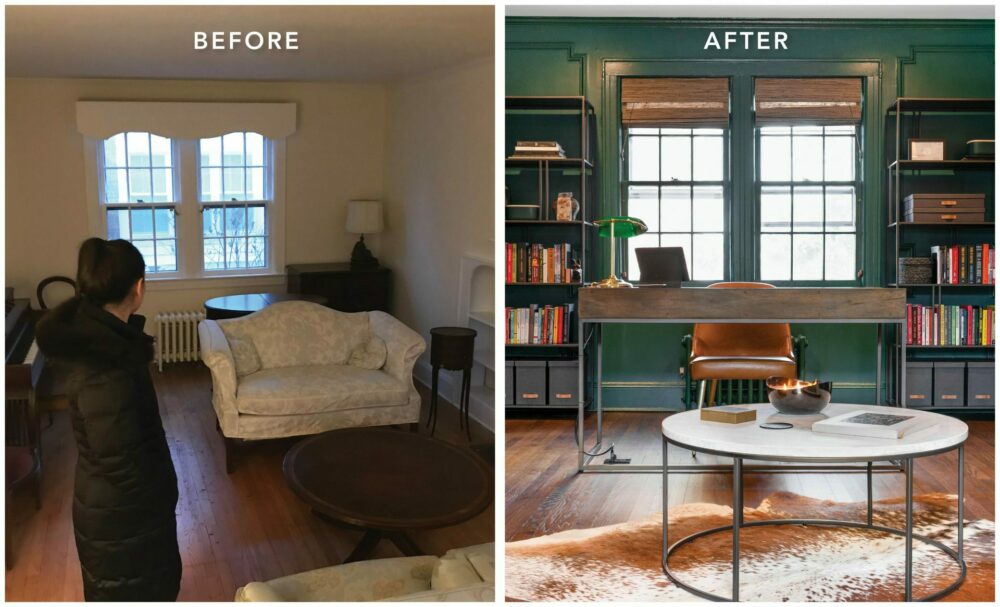 Paint
The design for this room was a bold move for us! We wanted this room to reflect Fillip who is very much inspired by books, golf, whiskey and Winston Churchill. For some reason, and I don't know why, @husbandofhorderly and I both envisioned it being a dark green color. Neither of us has a true love for green in any way, it just felt right to us and I knew I didn't want to go with the classic dark blue.
Don't get me wrong, it took me about four months to pick the paint color we ended up going with, but I feel like I made the right decision. Thanks for all of your help who voted on Instagram! You can see more from the beginning of our design ideas on our Instagram highlights here!
Additionally, we decided to paint the trim on the bottom and top, the radiators and fireplace green as well and painted the inside of the fireplace black. Just like the living room fireplace, we kept the andirons that came with the house.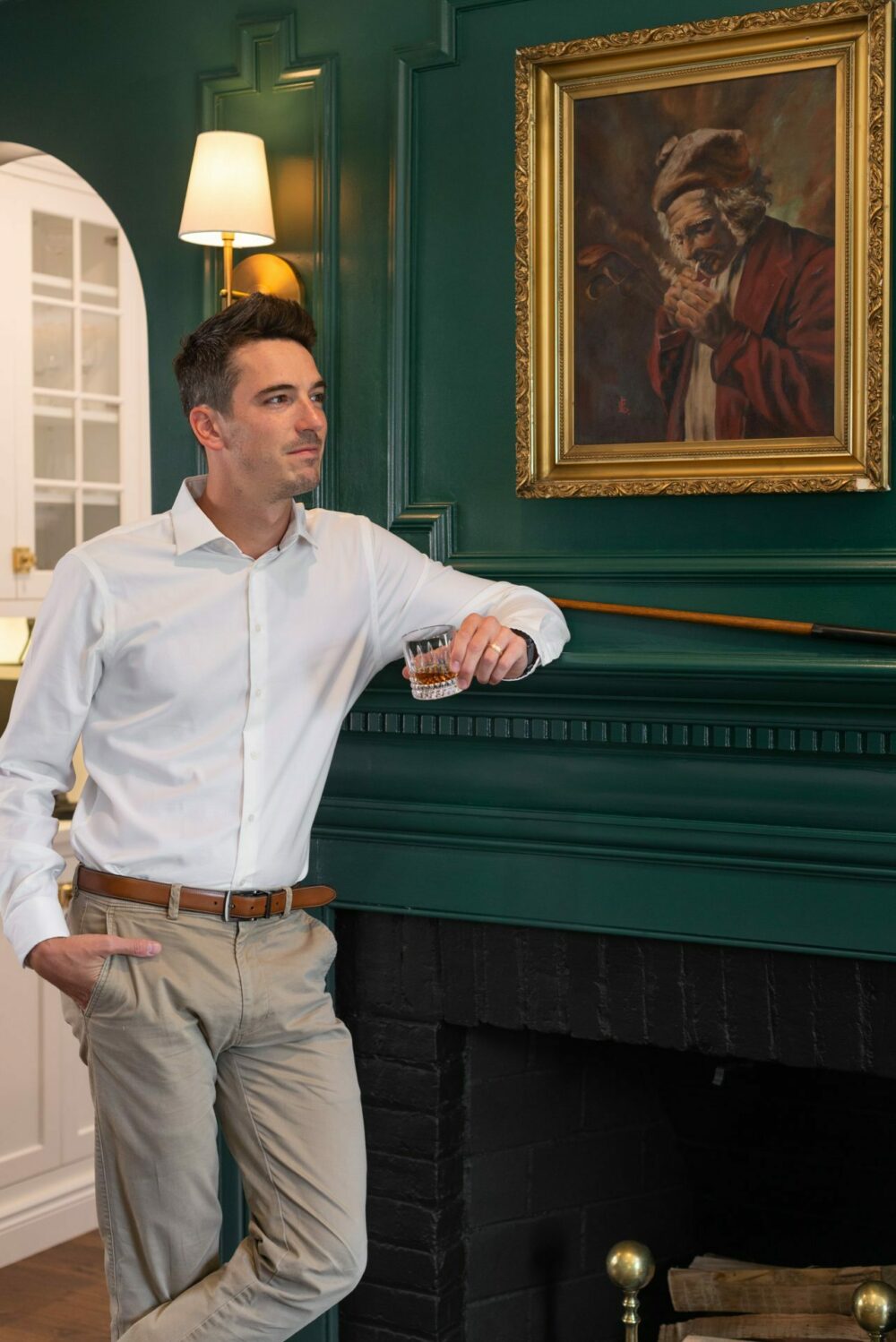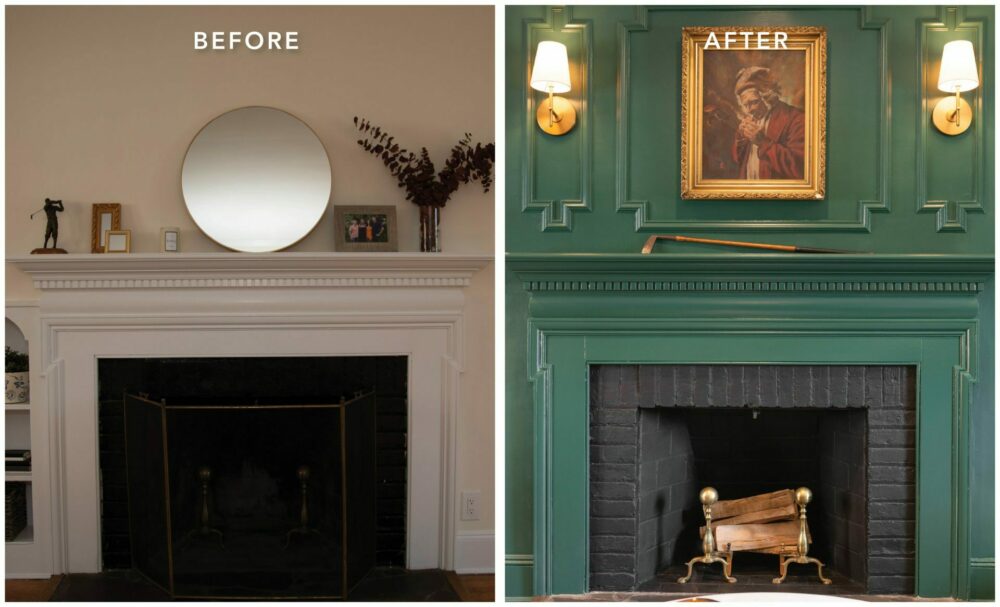 Grasscloth
I knew I wanted to use grasscloth somewhere in the house but I started doubting that it wouldn't be able to work anywhere. We got the brilliant recommendation to use it in our entryway from our good friend and interior designer Tyson Ness of Studio Ness (@studio.ness) and it is the PERFECT spot for it!
We needed to transition this bold green office into the rest of our house (which is very light) so we ended up going with this grasscloth that has a mix of both green and cream colors. We adore it!
I will tell you, this was not a cheap decision. We had to have our painters shave the entire wall and hire an additional tradesperson to apply the material. Overall, it was worth it because it really did blend the bold office into the rest of the home.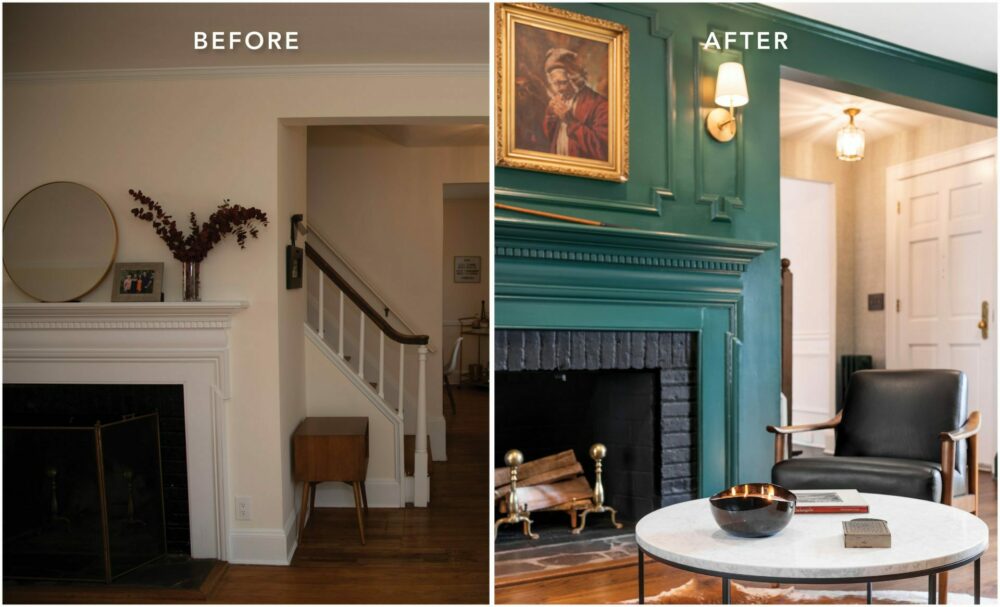 Demo & Cosmetic
Thankfully, there wasn't a ton of demo that this room needed. We had @strom_home take out the door that led to the three-seasons room, put in an arched walkway from the office to the kitchen, and add the framing to the walls which really gave the room depth and character! Right now, our three seasons room is our gym, and we eventually will be installing a door in a different spot in the office during our phase two renovation, stay tuned!
Other than that, redoing the floors and paint is all this room really needed to give it a facelift. You can see our initial design plans and demo video here!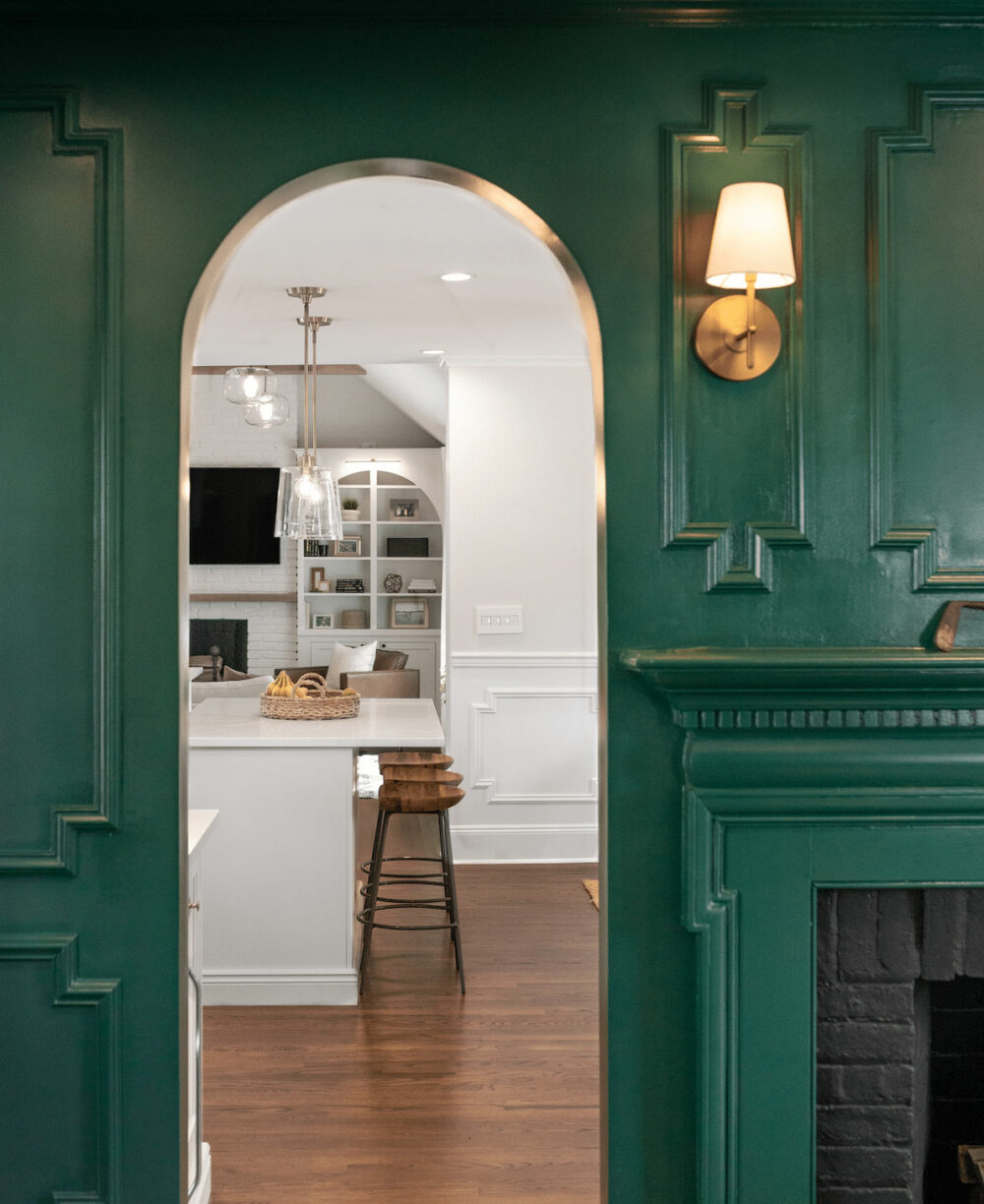 Lighting
This room had no lighting whatsoever so another small upgrade we made was putting recessed lights in the ceiling – which was a necessity since we went with the dark paint color – plus Fillip works here everyday!
We also upgraded our light switches and outlets to Legrand and we used a Docking Drawer at our desk. You can find out more on how we upgraded the tech in our home here!
We also knew that we wanted to put sconces on the walls anywhere we could so we put a picture sconce above the bench and two above the fireplace.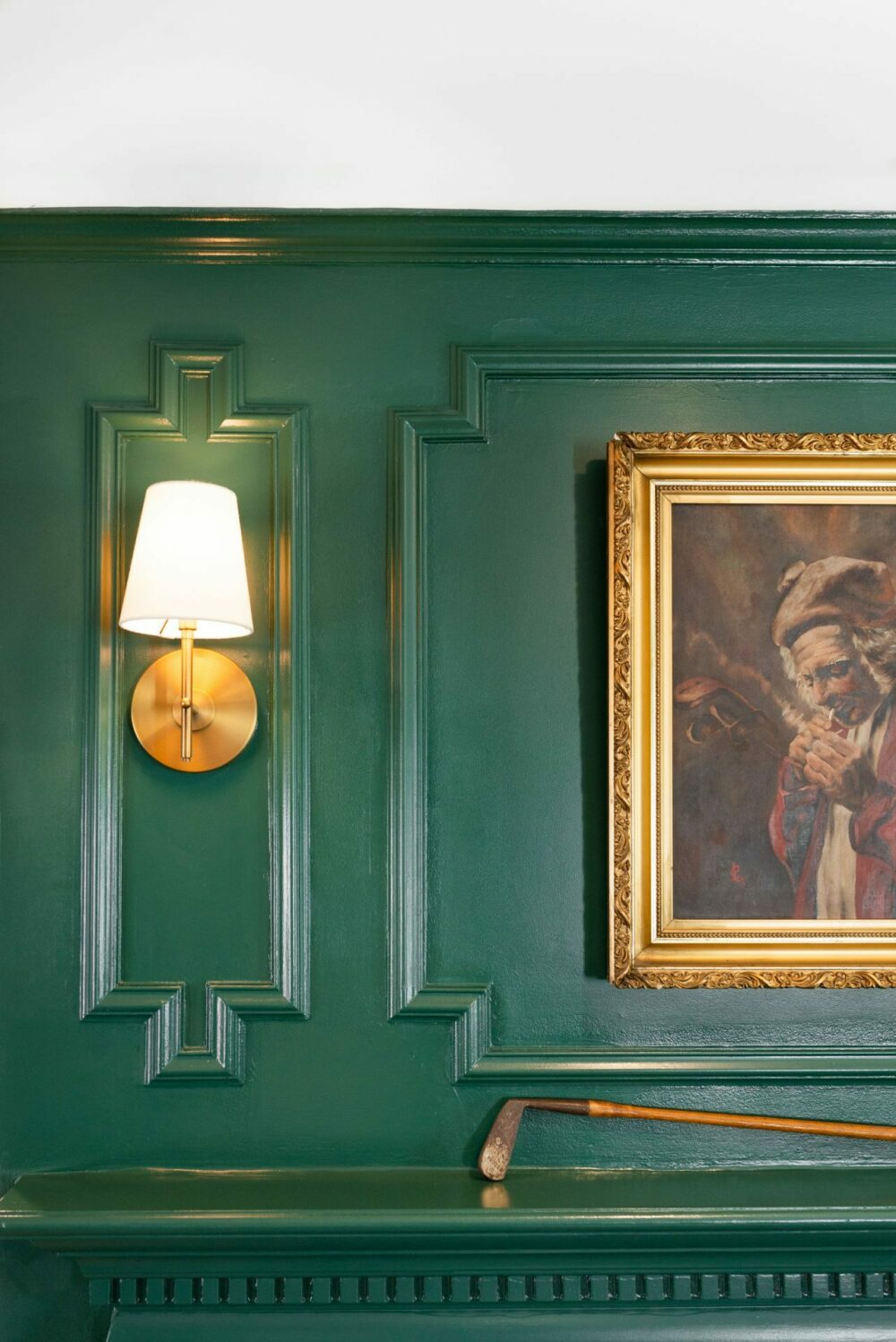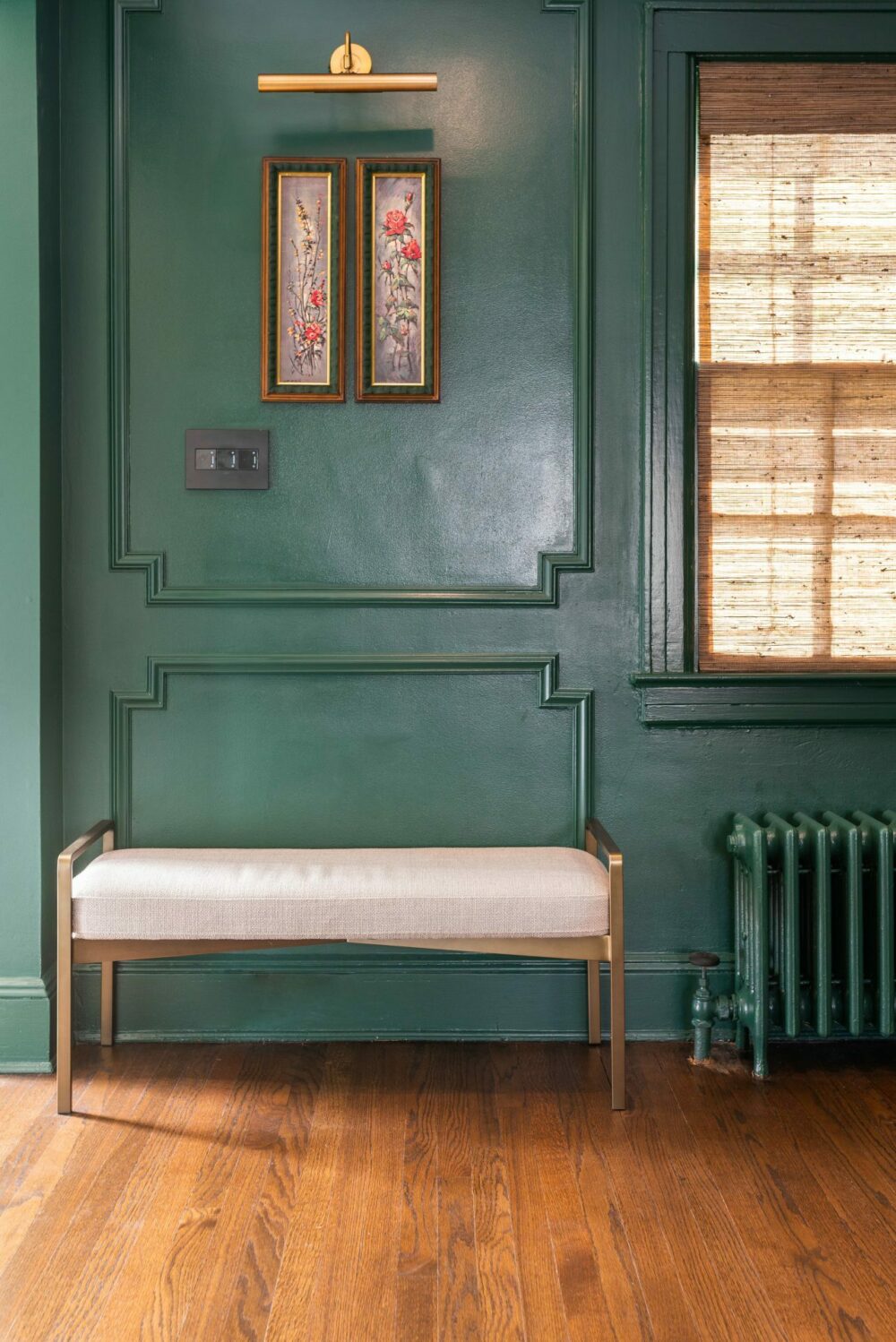 West Elm Furniture
All of our furniture in this room is from @westelm. The functionality of the room was well-thought-out before deciding on the furniture. We knew that we needed storage in the desk, behind the desk, and hidden storage for our printer and tech.
We ended up going with two bookcases behind the desk to create symmetry. Here, we store Fillip's books, our files, stationery, and Horderly merchandise. One day, I'd like to do custom built-in bookshelves here – green of course!
We knew Fillip needed a large desk, so we aimed to get the largest desk that would fit well in the space. We also knew we wanted a desk with some type of storage – always a Horderly recommendation!
We are obsessed with this desk – it's a perfect size, look and fit all of our needs and we ended up going with this chair for the desk. Tip: You don't have to go with an "office chair" for your desk chair! Try searching dining room chairs to give your office an elevated look.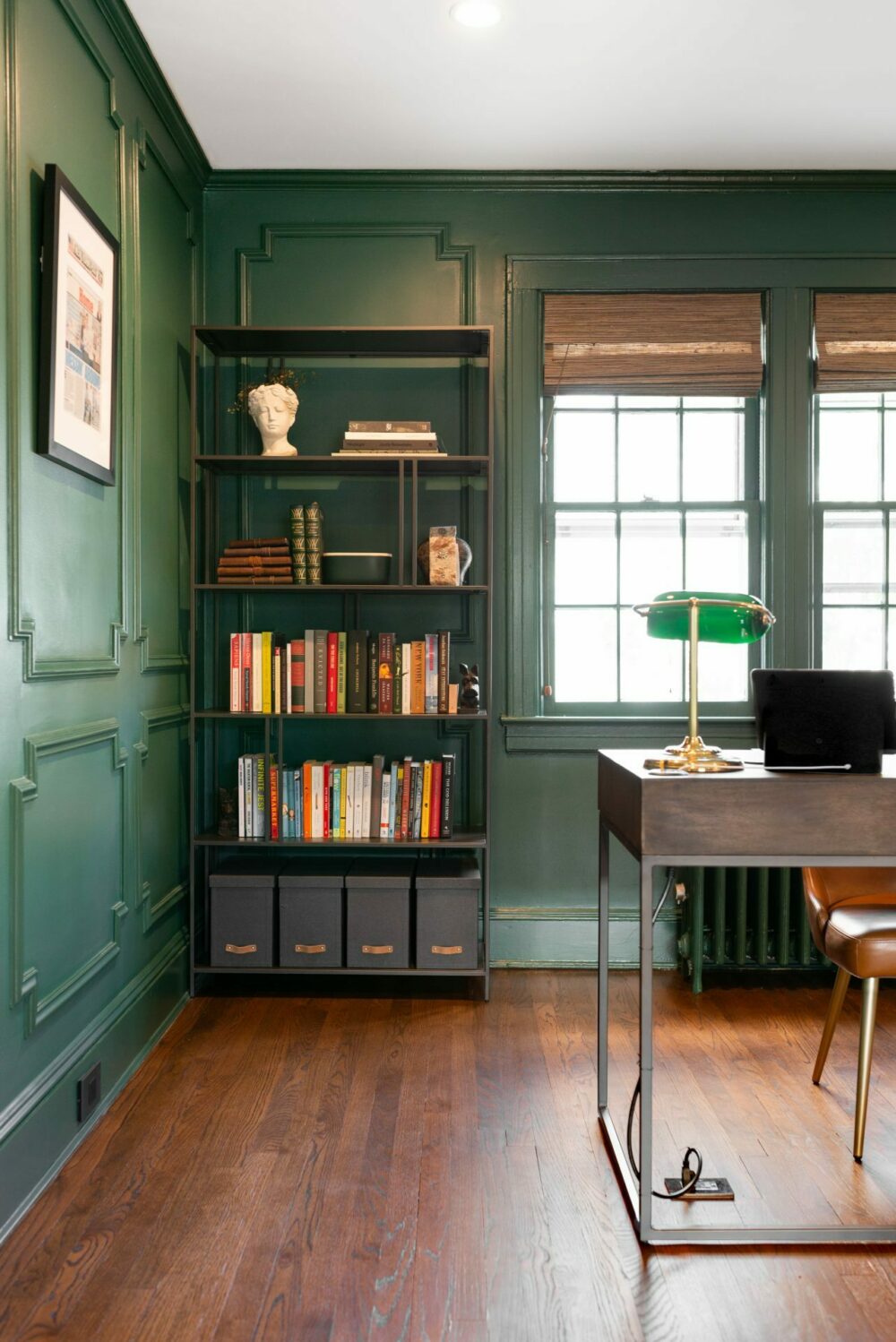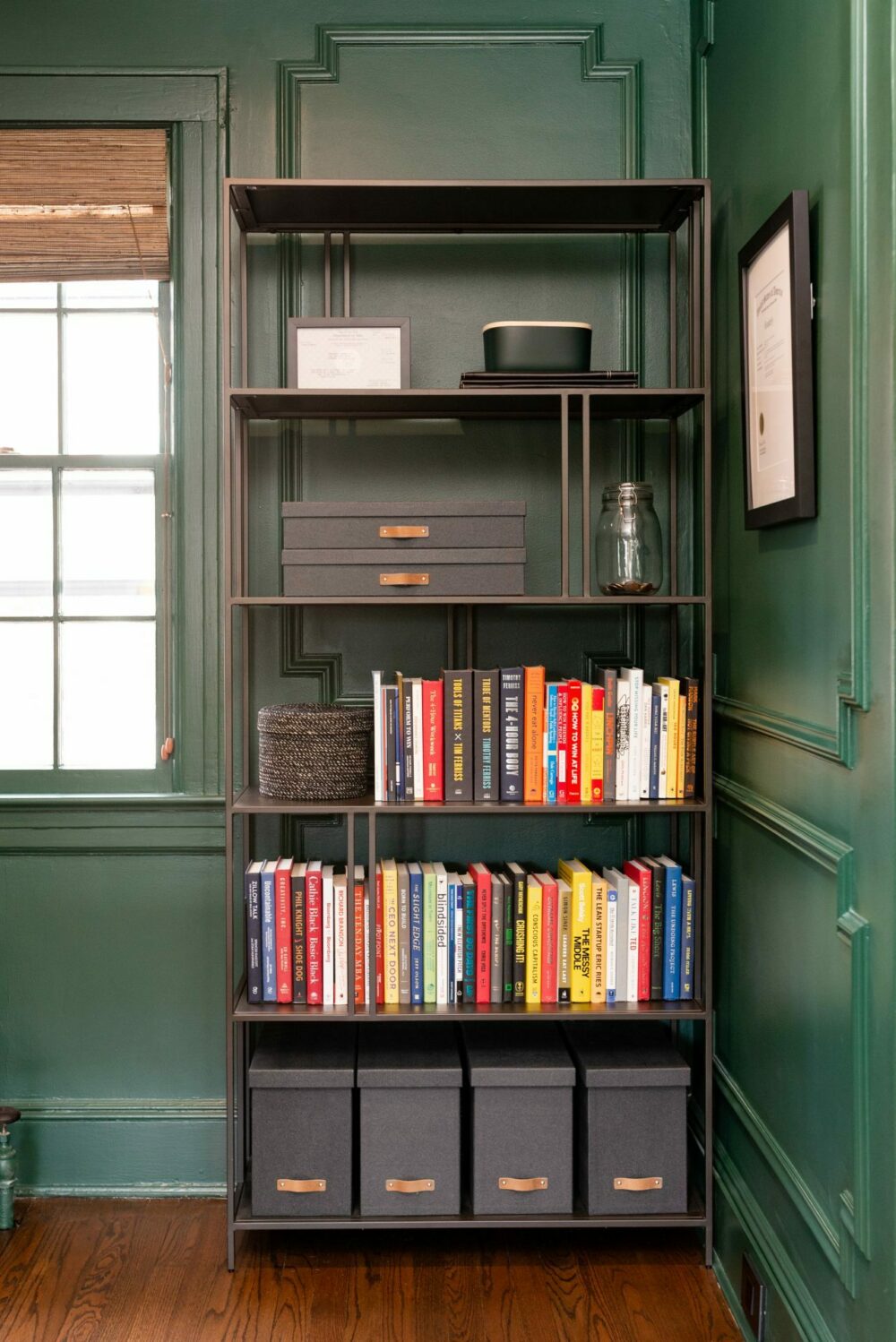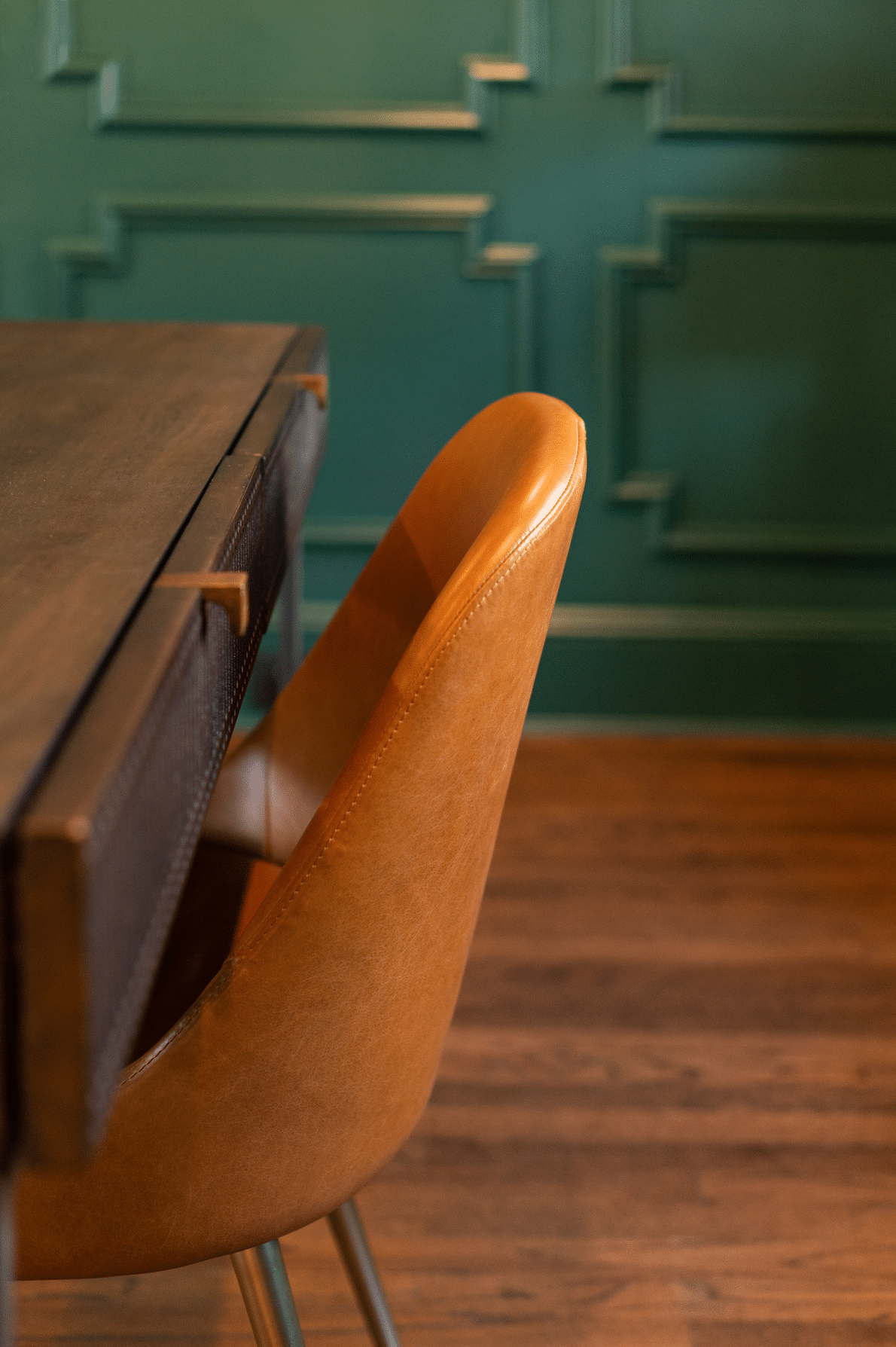 As for our hidden storage, we ended up going with this storage console for our printer and tech, which you can see more of here. Tip: You don't have to use a media console under a television! Use it as a buffet, entryway table, etc.
We initially wanted to fit a small couch in the office but realized this would have made the space a little too tight so we decided to go with two saddle chairs around this round coffee table. Fillip is very picky about his chairs so I was thrilled he liked these!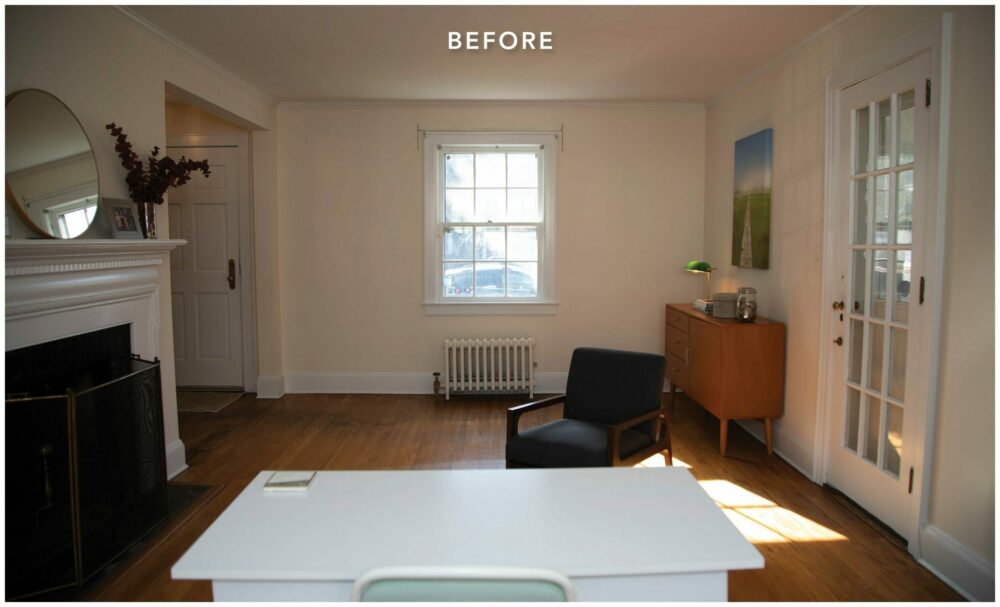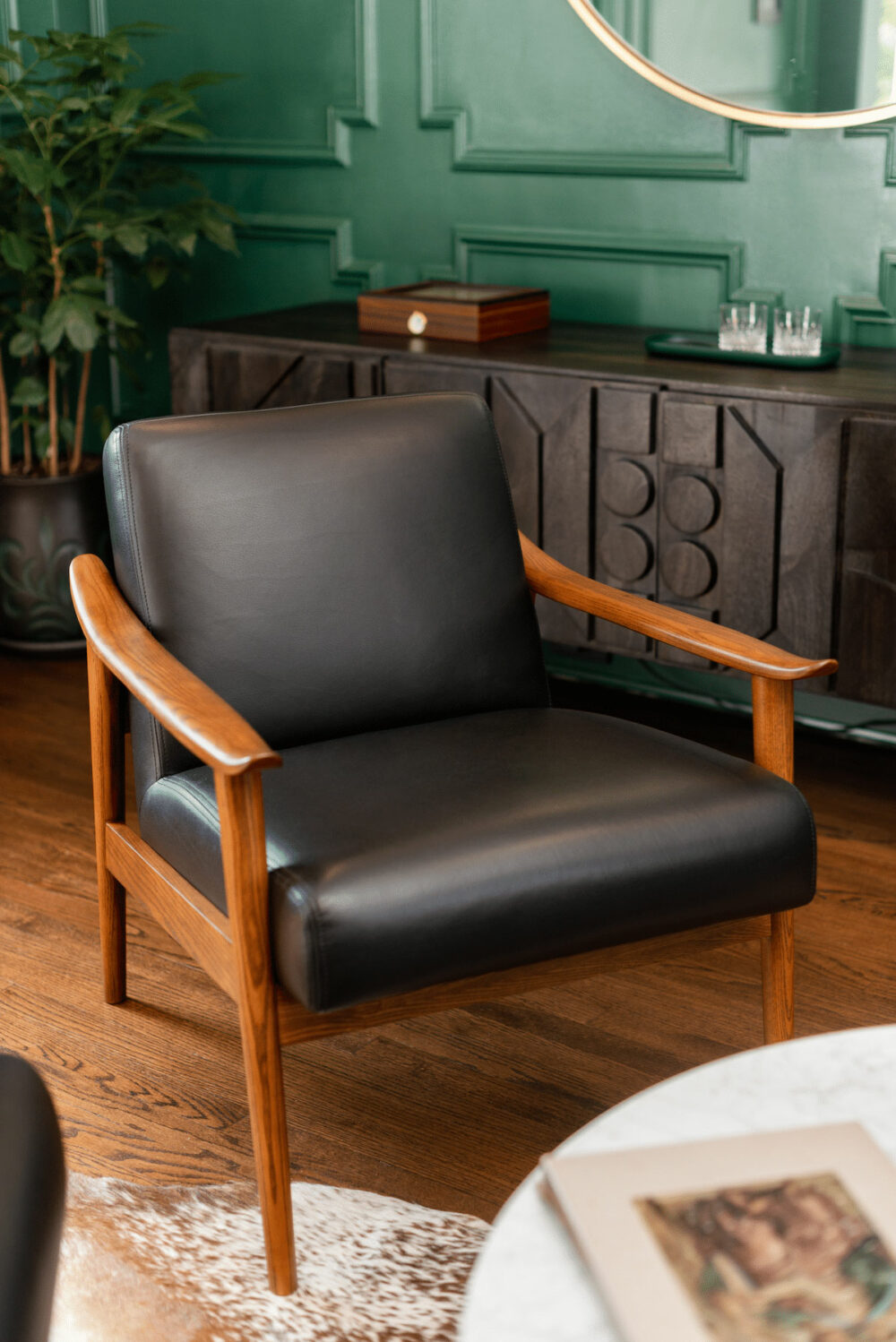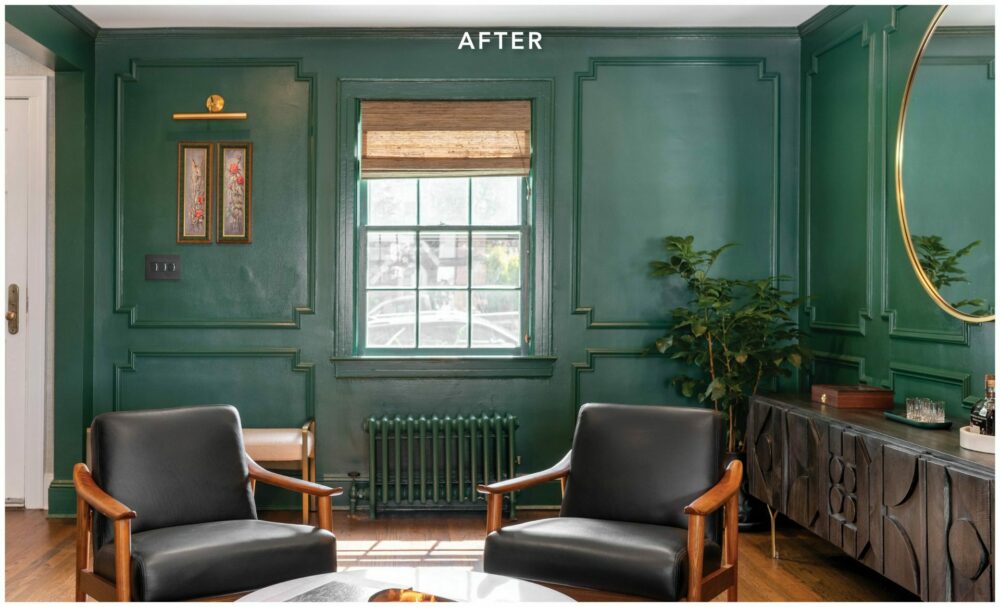 As for the decor in our office, the mirror really made this room look bigger, plus I also always love a mirror in the entryway! It also ties in the arches we have in the house, the coffee table and the globe.
Everything you see is something meaningful to us. The globe and items on the coffee table is Fillip's grandparents, decanters from our wedding, the longhorn rug is from a special Texas trip and the art is from antiquing trips.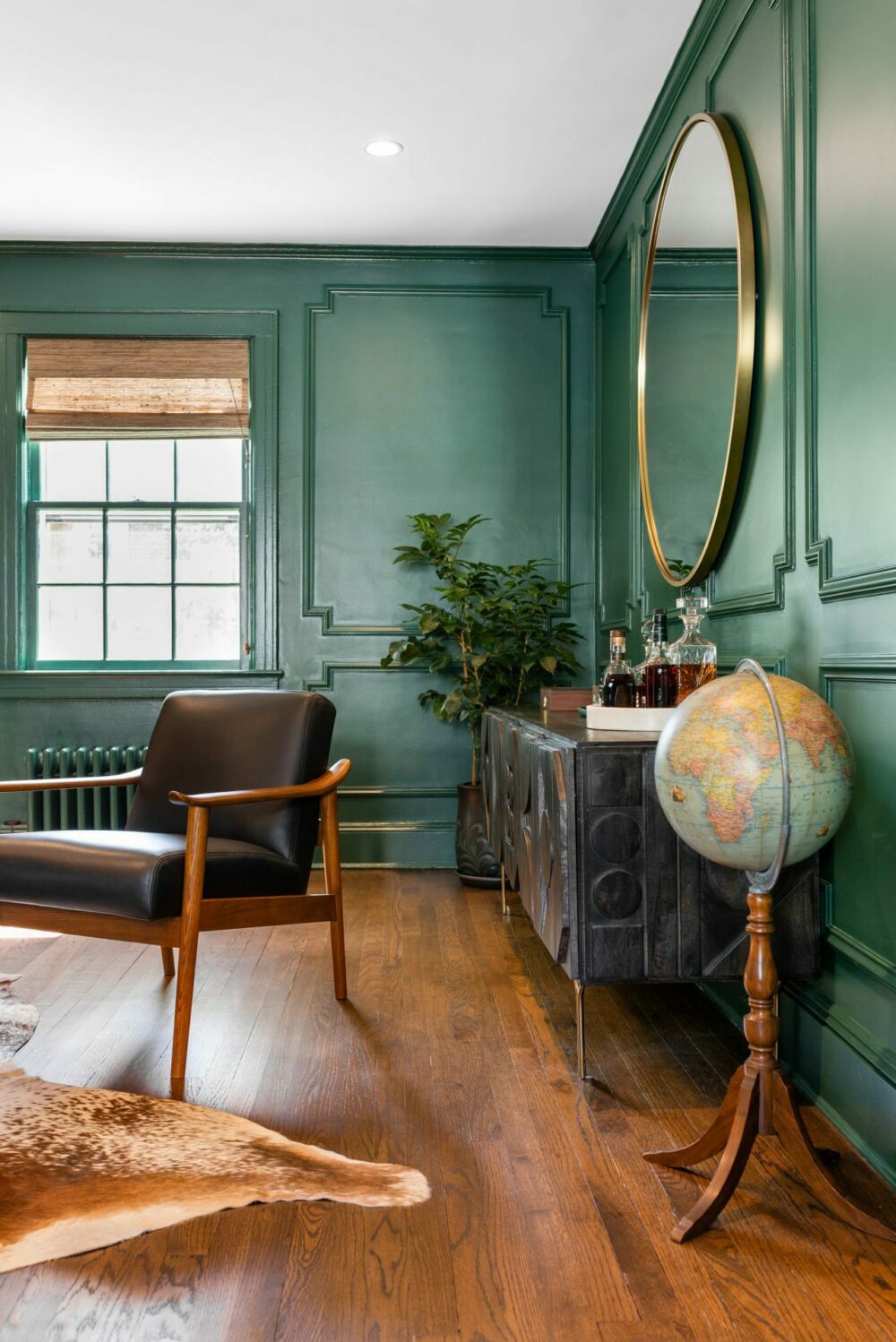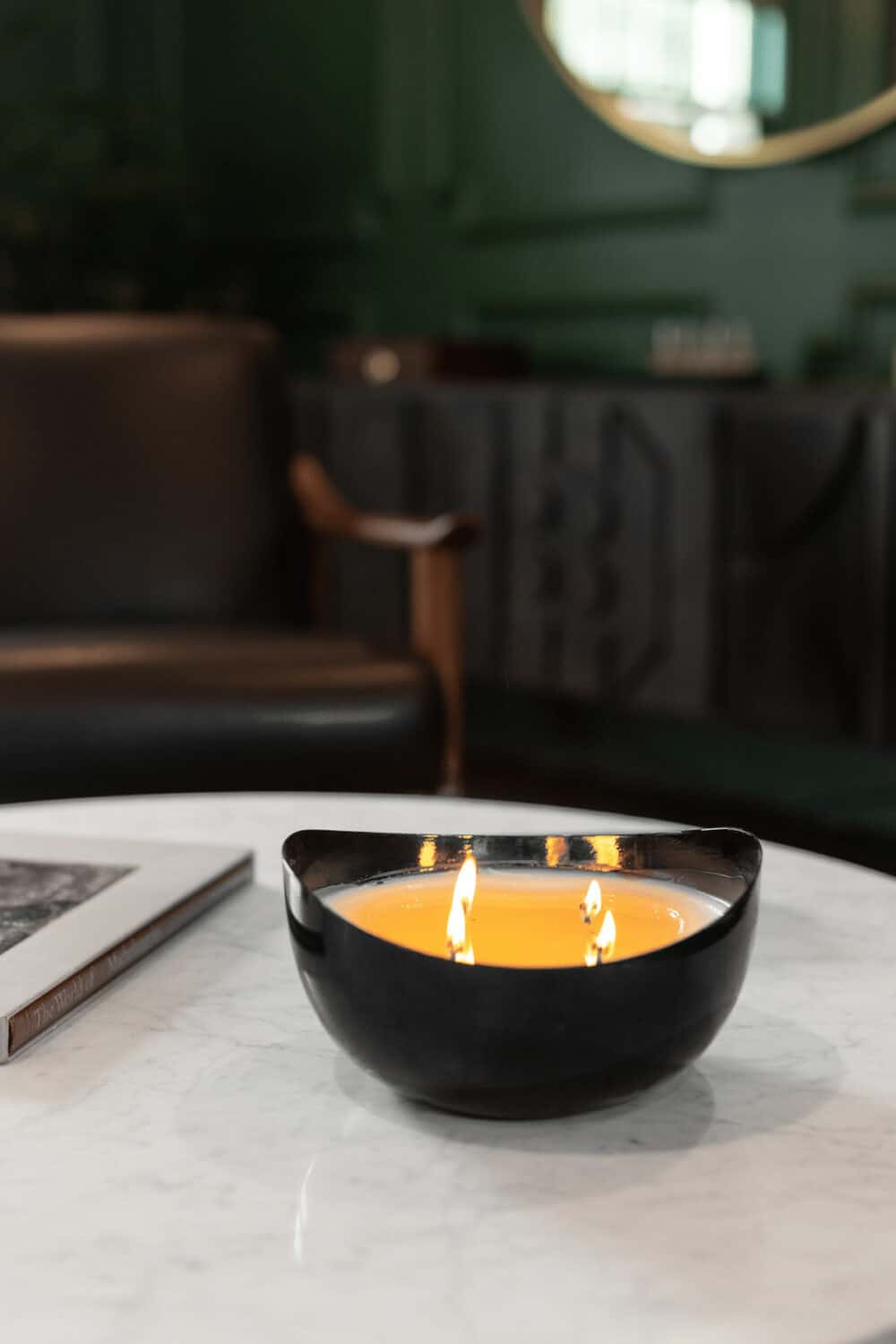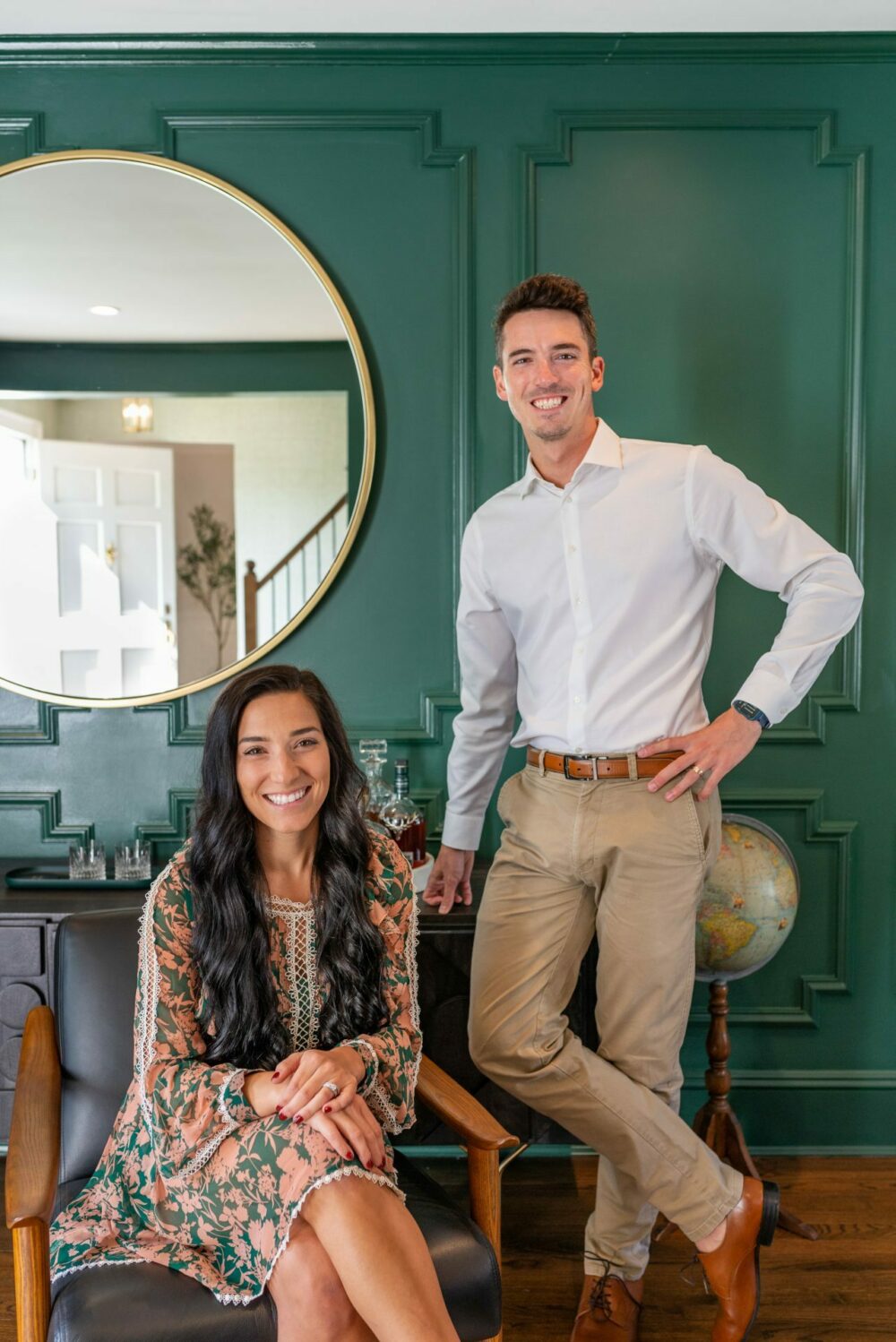 If you have any questions about our home office please comment below and be sure to follow @horderly for more tips and inspiration.
This content is independently curated by Horderly and may earn us a commission.