Baby Hord's Nursery Reveal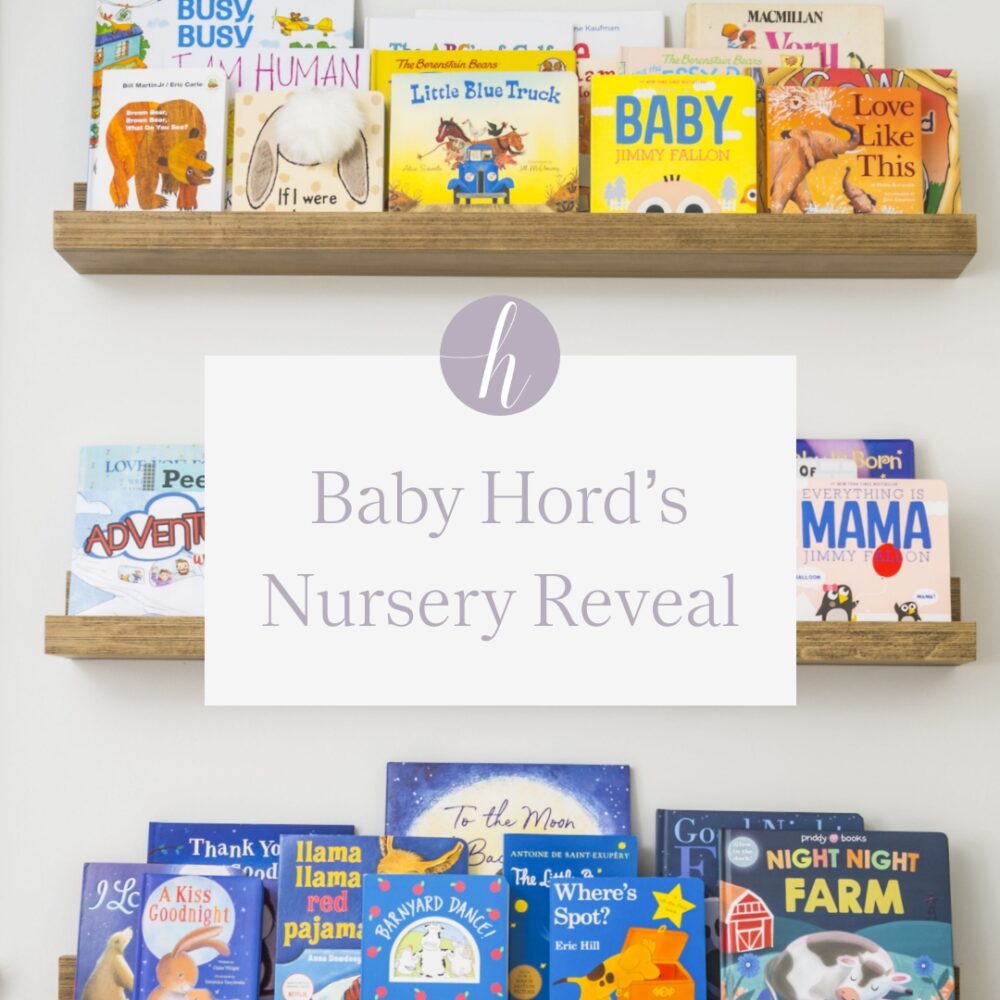 As Jamie and Fillip prepare to be new parents, Jamie shares an inside look at Baby Hord's nursery:
The nursery is done! Ever since we moved into this house we have always called this room "the nursery." It's been an exciting vision for a while now and it has finally come to fruition.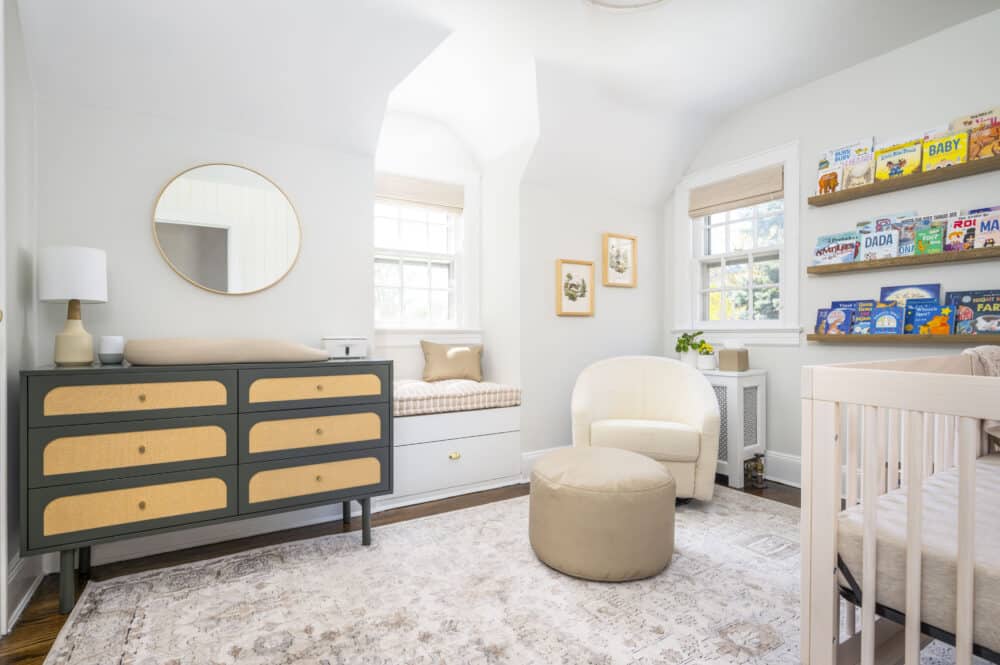 We don't plan on baby sleeping here until after six months but we always recommend new or expecting parents to have their nursery prepped and ready to go before the baby arrives – so that you only have to focus on the baby when they're here!
We are very much at peace of mind having a home for everything and knowing where to find everything when we need it.
Thank you to Naomi of Little Crown Interiors and Monica and Andy for bringing our nursery to life!
The Layout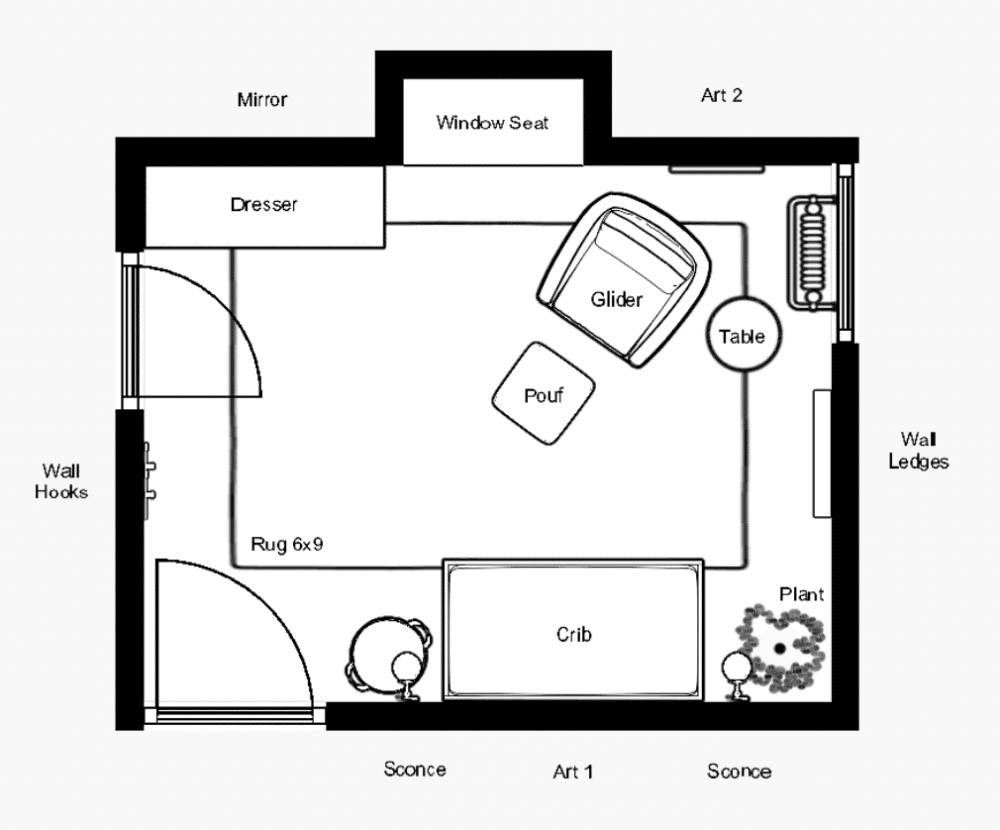 The layout for the nursery was pretty self-explanatory as it's not a very big room. We didn't want the crib to be by a window, so the main wall was really the only option.
We love a chair in a corner, so the corner by the radiator was the only option as it would have blocked the closet door on the other side.
This left the wall space to the right of the closet for the dresser. It was really an easy process of elimination but it's so important for a room to have a good flow!
The only struggle we came across was the depth that we had for the dresser of 18D max. Most "kid" dressers are at least 19D but after much research, I found this dresser that is 17D!
I love design but I am constantly questioning myself and my decisions. Naomi of Little Crown Interiors was great to work with to lock in my ideas or help me source items that I had no idea about or how to incorporate, like the rug and lighting.
Naomi provided us with a room layout and mood board which is really helpful when designing a space to ensure everything is going to work out as planned.
She was so easy to work with virtually and there to answer any questions we had along the way.
Check out Naomi's book here: Your Perfect Nursery: A Step-by-Step Approach to Creating the Nursery of Your Dreams
The Foundation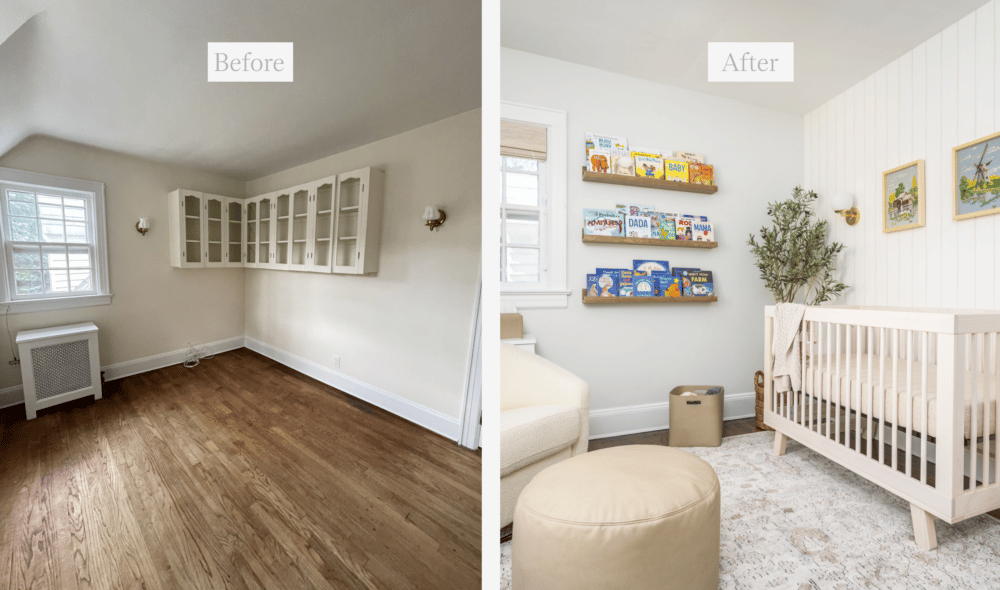 We decided to move forward with renovating our upstairs once we found out we were pregnant.
The nursery room needed a little TLC. We removed these wall cabinets, redid the floors, expanded the closet, added a window seat with a drawer and of course, painted.
We are using Reserved White from Sherwin Williams which is the white we are using throughout the rest of our house – and went with this wallpaper on the main wall behind the crib.
We also wanted to go with the same window shades that we are using throughout our upstairs, woven wood flat-fold shades in Tobago/White Linen from Smith and Noble.
You can see how we chose window treatments for the rest of our house here.
The Furniture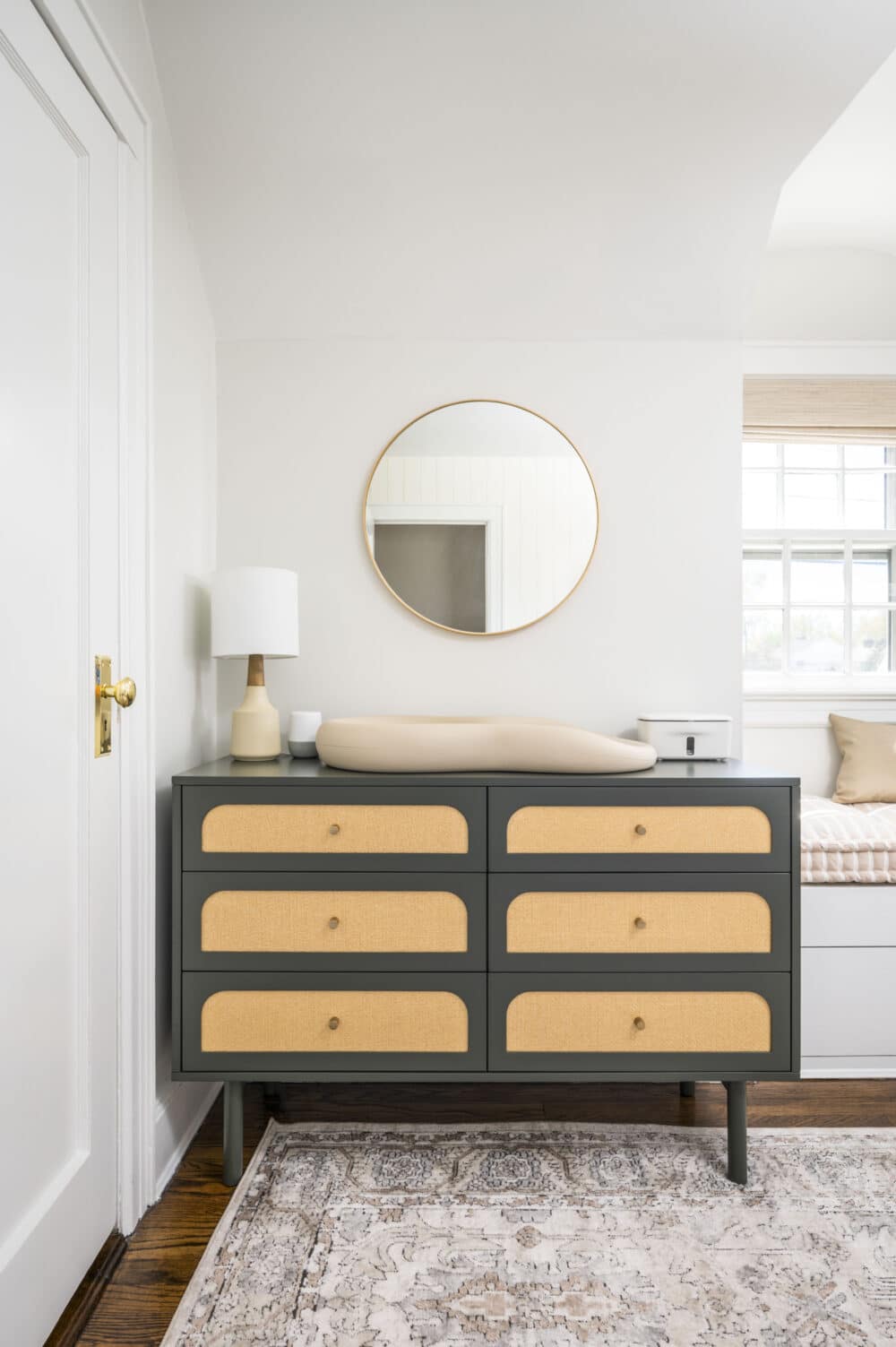 Changing Pad | Noise Machine | Wipes Dispenser
I knew I wanted the nursery to have a neutral feel to it.
We ended up going with the Babyletto Hudson Crib and the Babyletto Madison Swivel Glider. I've been eyeing this crib for a while now and love the natural shade of wood it brings to the design and I've always wanted a boucle chair so this room was the best excuse to get one!
We paired the chair with a circle Pouf from Gathre, in the color Fog.
The Lighting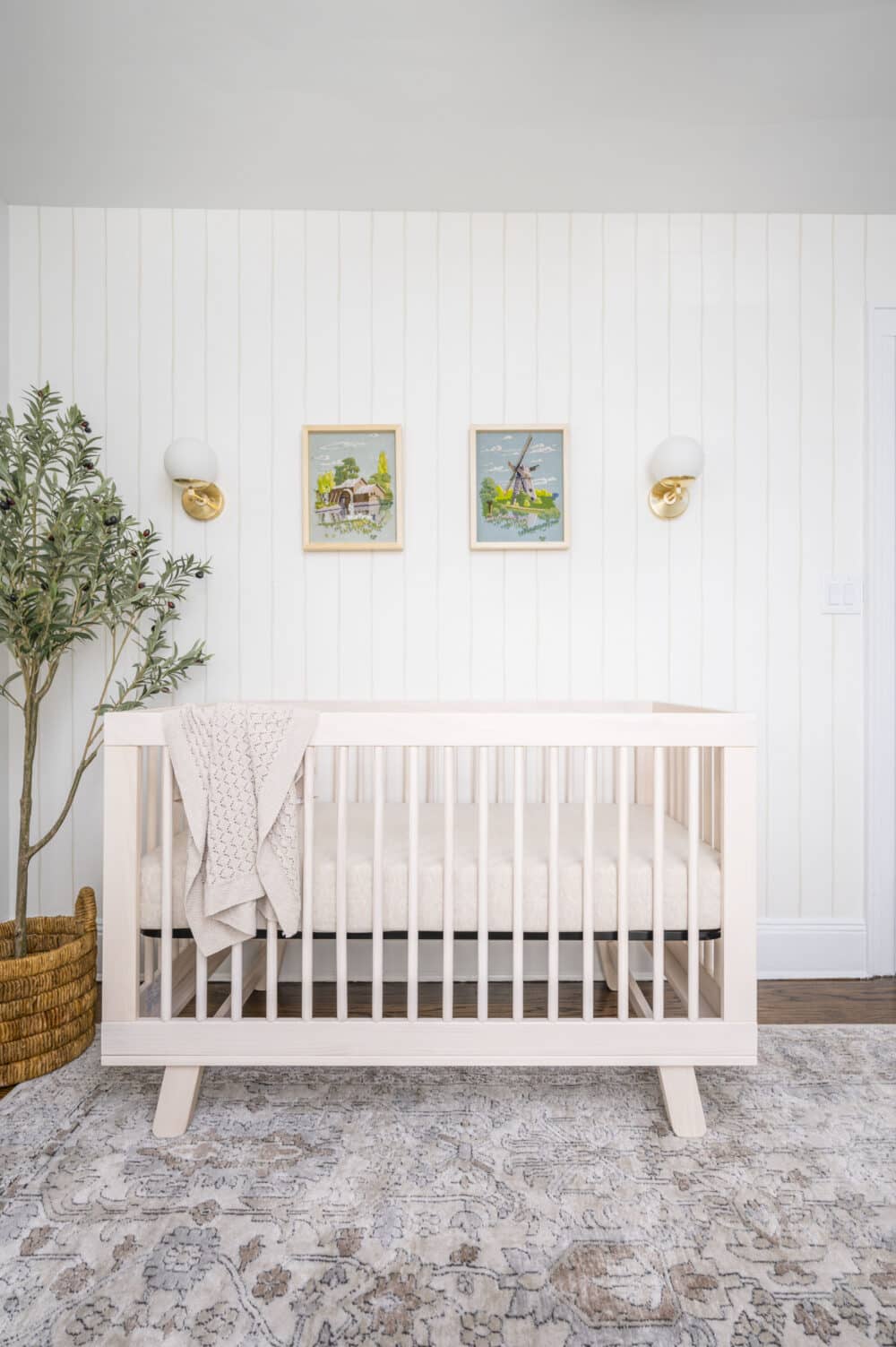 For the main light, we went with a cane flush mount to pair with the dresser and these frosted glass globes for the sconces. We also added a mini table lamp on top of the dresser.
The Decor
The rug seems to be the highlight of this room. I knew I wanted to go as big as we could with a rug in this space and an 8×11 nailed it.
We topped off the room with a faux fig leaf tree in the corner with a basket potter, some vases that I already had around the house, a leather bin for toys and tissue box and rectangle pillow all from Gathre and a custom window seat cushion.
The art above the crib is vintage and handmade by Fillip's mom and the prints above the chair are from Etsy. We got them all in matching, custom frames and I already had the mirror that we repurposed above the dresser.
Lastly, we ended up going with three of these 36" inch book ledges because we knew we were going to have a lot of books.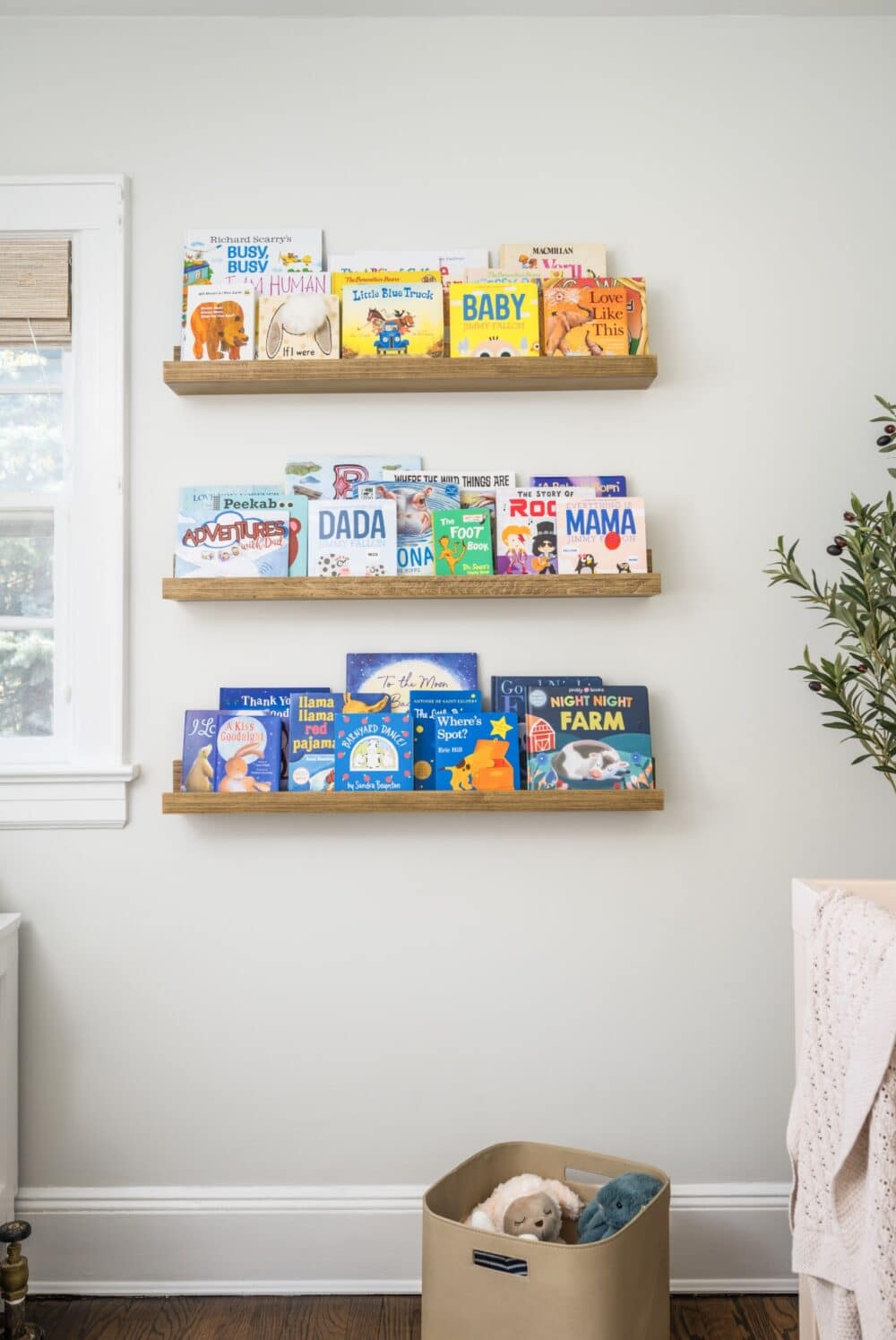 I understand that setting up nurseries is a big part of what I already do for work at Horderly, and it's something that I absolutely love doing (it's not for everyone) – but try to enjoy this time and find ways to make it fun and enjoyable for you! It might be easier to do with your spouse, by yourself or with a friend or family member!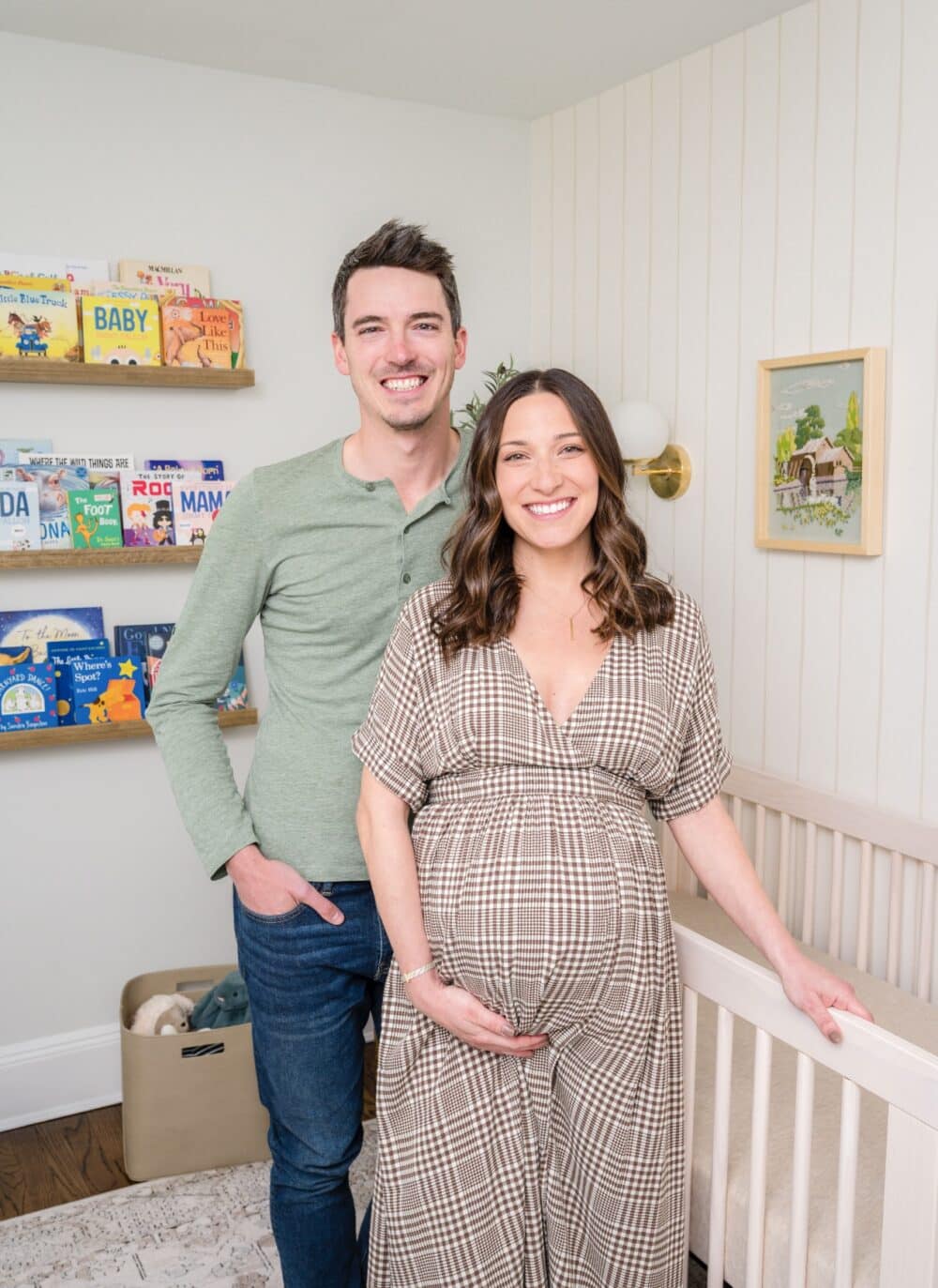 If you need some extra help prepping for baby, but aren't sure where to start, reach out to Horderly to schedule an in-home or virtual organizing session.
For more information on all things Horderly – including lots of great tips, tricks, and other #HorderlyHabits – check out our blog or reach out for more information!
This content is independently curated by Horderly and may earn us a commission.