How to Pack Smarter When Traveling
Do you wait last minute to pack for your trip? Guess what, I do too! However, that is only because I have mastered packing and can be out the door within 15 minutes. Yes, it's true! My husband and I are always taking short weekend trips and overtime I have realized that packing does not need to be complicated. We had the pleasure of staying at The Box House Hotel this week where I have photographed some tips to help simplify your packing!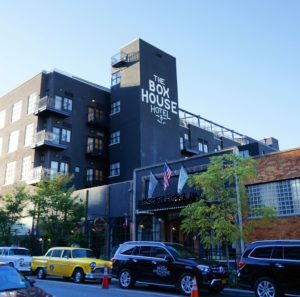 Declutter & Streamline
Okay, to tell you the truth decluttering can probably be the answer to most of your problems but when it comes to packing be sure to start by cleaning out that closet so that you aren't overwhelmed when you open the door to pack. Streamline and create your capsule wardrobe.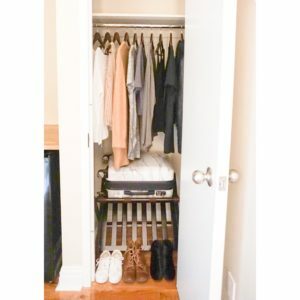 Invest in a hard case suitcase with 4 wheels
I actually bought this type of suitcase maybe only a year ago and I have no idea how I packed without it. You wouldn't believe the difference in the perfect amount of space it has. Seriously, invest in this!
Packing cubes
I'm sure you have all heard of the packing cubes. They are versatile and come in many different shapes and sizes. I personally use mine for underwear, socks, bras, and swim, however, you can use them for just about anything! Tanks, shorts, kids clothes, etc. They are basically space bags and you can really cram a lot in one (if you have to!).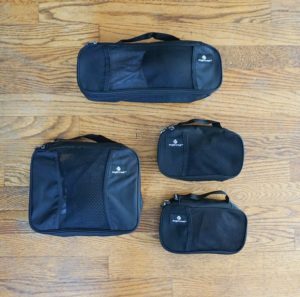 Plan outfits and pack complementary colors
Imagine each day and event and what you will be wearing. If you have trouble with overpacking stick with the 5, 4, 3, 2, 1 rule of 5 undergarments, 4 tops, 3 pants, and 2 shoes – that should last you a 5 day trip! Try to limit yourself to 3-4 different color schemes when packing. As you can see here I stuck with neutrals of black, gray, beige, and white (which are my go-to colors anyway). I started counting how many different outfits I can make with what I have packed here and I literally lost count.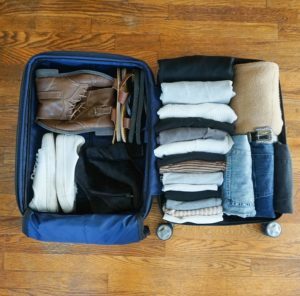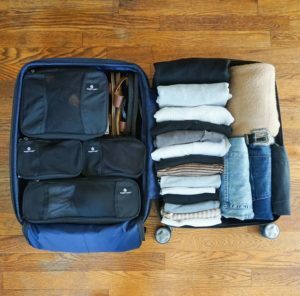 File fold your clothes
You all know I am an avid file folder and guess what – it works just as well for packing your suitcase! You still have to think strategically when you pack – you can't just throw everything in, it won't work! So give everything a nice little fold and create your sections. I promise it won't take long!
Forget about checking a bag
I cringe when I hear that someone is checking a bag. Sounds like a waste of time and money to me! I get that sometimes it is necessary but if you can get use to taking only a carry on and tote (large purse or backpack) you will experience the beauty of traveling light. My mom is a compulsive-over-packer and every time she packs I have to talk her out of checking a bag. (If you need to DM me when you're packing for the reassurance that you will survive with only a carry on, please do!) The bigger your suitcase, the more you will put into it and you don't need to drag your life supply of clothing with you 😉
Here is a quick rundown of how I pack:
– 1 backpack with "equipment" – wallet, book, electronics, makeup bag, medicine pouch, (sometimes toiletry bag here or suitcase), etc.
– 1 carry on suitcase – tops, pants, sweaters on one side / shoes, undergarments, hair tools, (sometimes toiletry bag here or backpack) on the other side.
*For toiletry bag tips click here*
Unpacking at the hotel
Unpack as soon as you get to your hotel. I know it's hard to not jump into your vacation right away but getting settled immediately will keep you organized throughout your stay. Lucky for us The Box House Hotel had ample closet and drawer space!
Don't be afraid to ask the front desk for extra hangers. Hang all of your clothes and simply unzip and slip your little packing cubes into your drawers for easy access.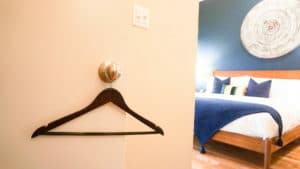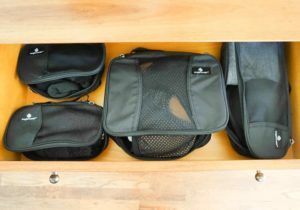 I want to thank The Box House Hotel for such a lovely stay! We couldn't stop admiring the hotels quirky decor elements and industrial chic atmosphere.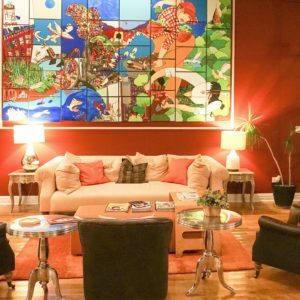 We especially enjoyed dinner and breakfast at The Brooklyn Lantern!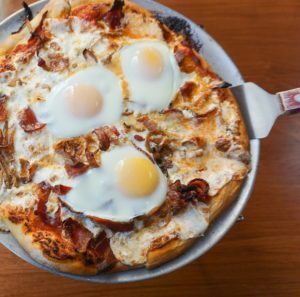 Happy packing!
Horderly
xoxo