How to Organize a Kosher Kitchen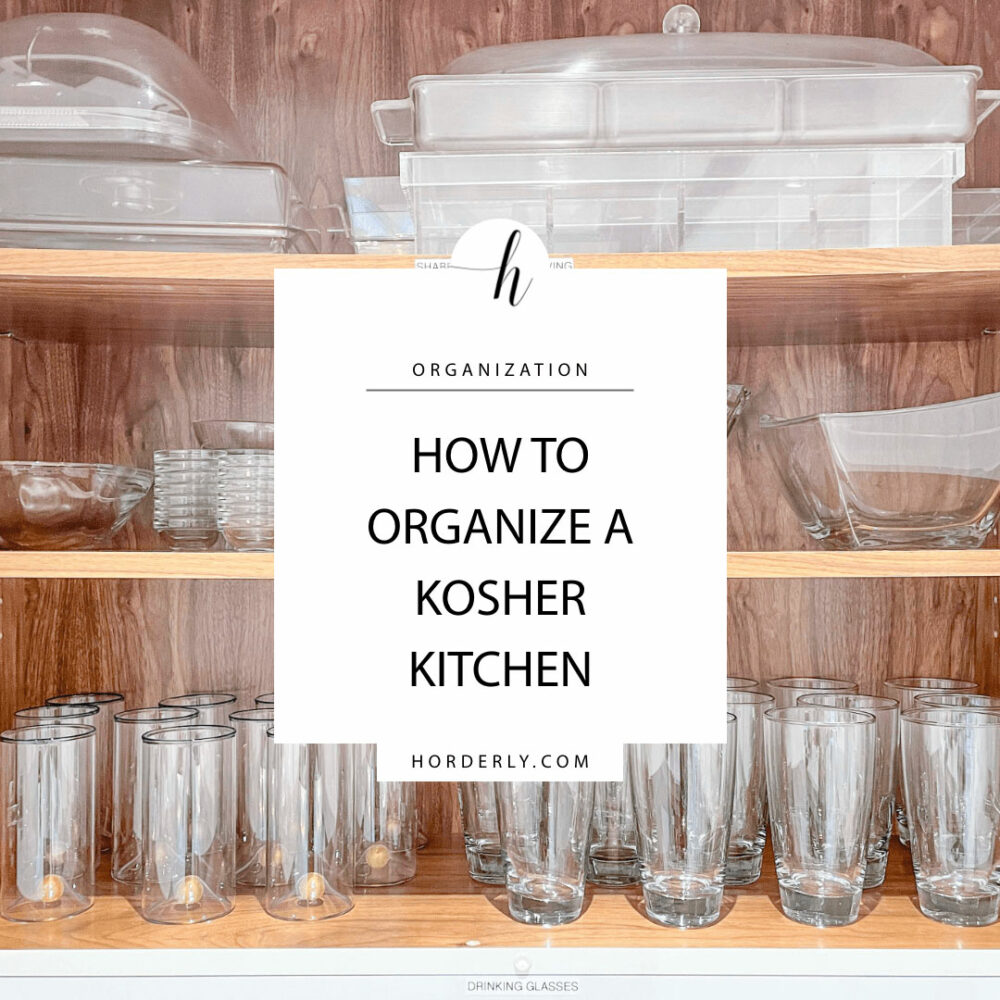 Whether you are setting up a new Kosher kitchen or have been keeping Kosher for years, organization is key. Here is how we at Horderly customize our 11-Step Process when organizing your Kosher kitchen to ensure we are setting you and your family up for success: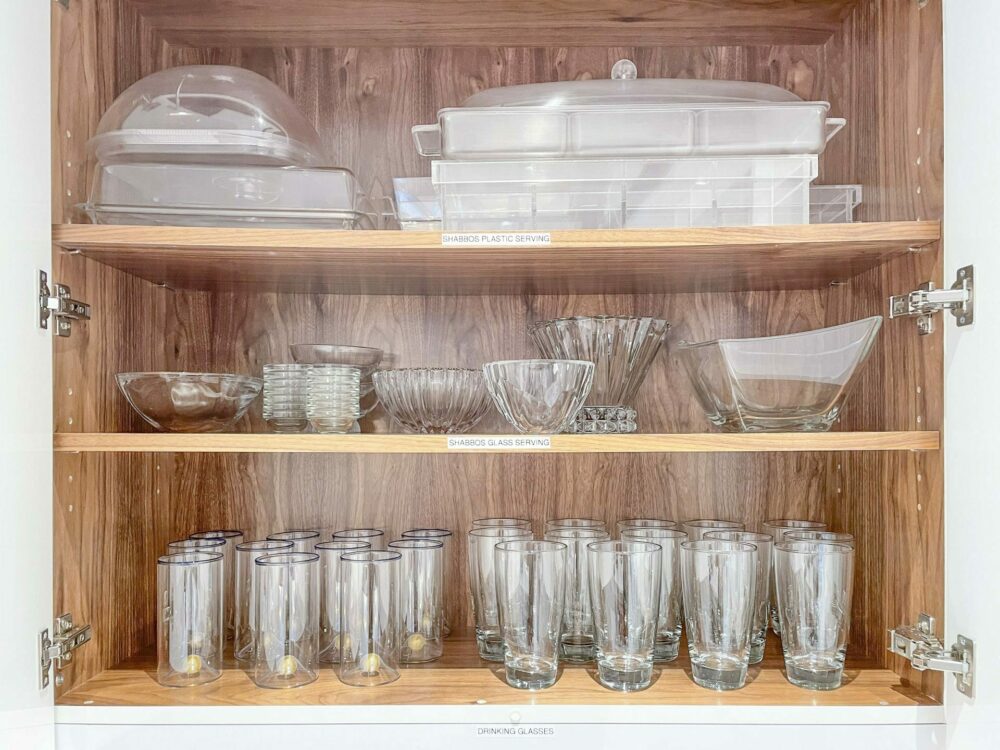 Step 1: Tour & Prioritize
Before diving into the project, we always touch base with you to understand your priorities and the scope of the project. What are your biggest headaches? What are your dreams for your space? How can we make you thrilled by the end of the day?
When working with you in your Kosher kitchen, we make it a top priority to understand exactly what keeping Kosher means to you and take the information you provide into careful consideration throughout the rest of the steps of our process.
Step 2: Pull Out & Sort
We start by pulling everything out, sorting it likes-with-likes. This will set you up for success when we edit!
As Kosher kitchens are often equipped with multiple sets of some items like dishes, pots and pans, and utensils, we'll be sure to keep all dairy and meat sets separate as we pull out and sort. If there are any surfaces in your kitchen specifically designated for meat or dairy, we'll be sure to place the piles accordingly.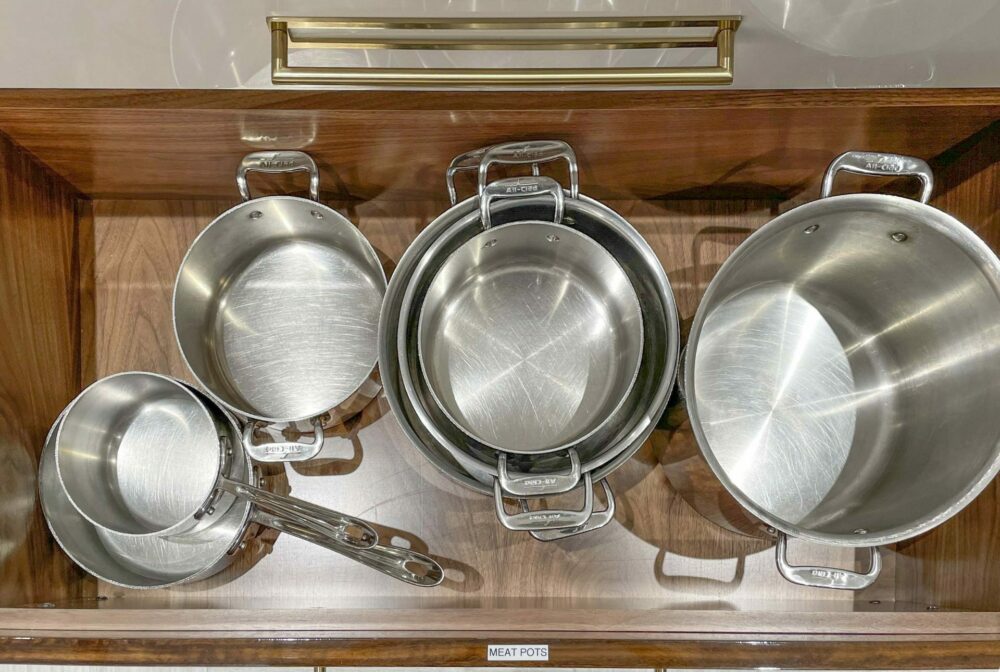 Step 3: Edit & Categorize
We'll go through all your items with you, category by category, item by item, determining what should be kept, tossed, and donated. We'll also take this opportunity to ask you questions about how and how often you are using your things so we can plan the perfect homes for all of them.
This is where we dive deep and identify meat, dairy, and pareve items that you're using most frequently so we can ensure they are all accessible yet separate. If you already have a system to differentiate them, such as different colors or brands for meat/dairy items, we'll use that information moving forward.
Step 4: Catch Up
Once we've touched on everything, we'll set you free to relax while we tidy up all donates, toss all the trash, and wipe down all shelves.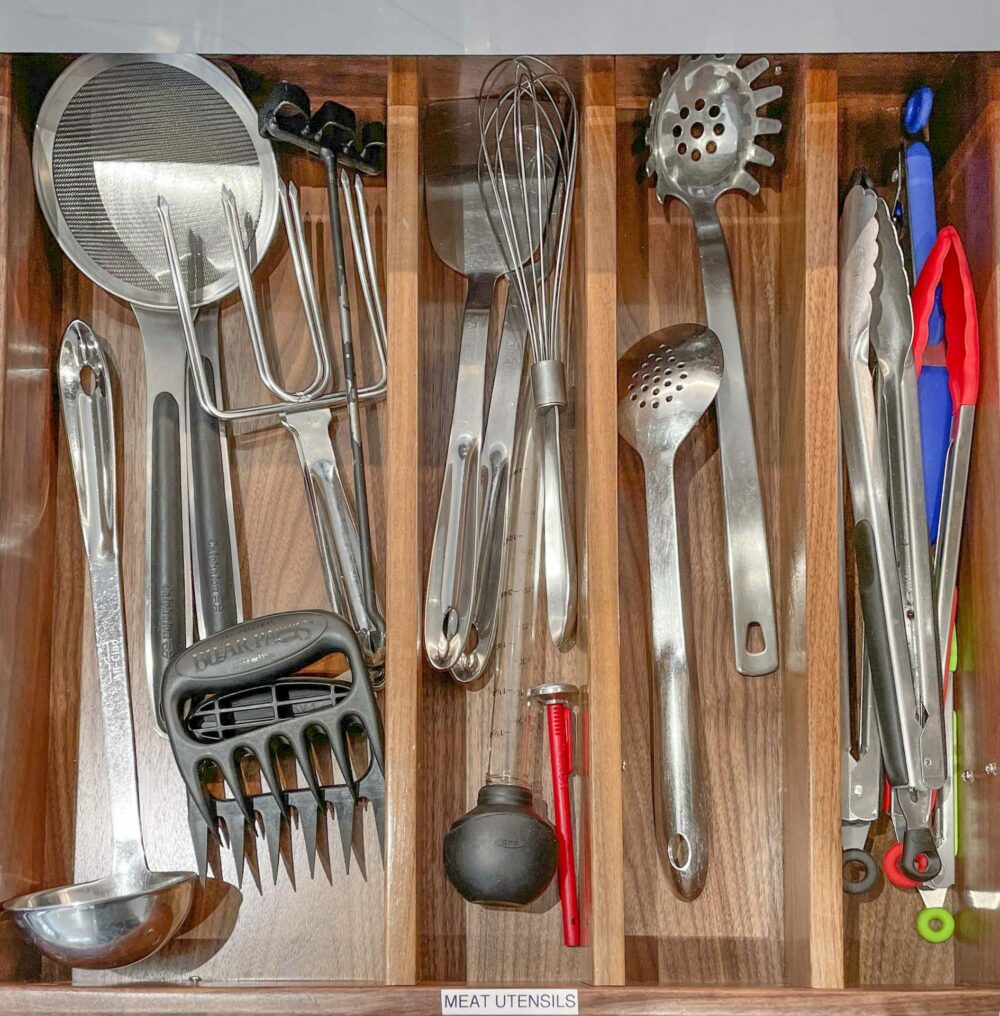 Step 5: Strategize Zones
Based on the information we gathered while editing, we'll map out the area to ensure the items you're using most frequently are easy to access, and that your space flows nicely and according to your specific habits and routines.
Sometimes, your kitchen will be designed specifically as a Kosher kitchen, with the layout allowing for a clear distinction between dairy and meat sets, often with two sides of the kitchen mirroring each other. Often, the kitchen we are organizing into will have been designed for one set of everything and requires a more creative approach.
For example, your kitchen might have one set of drawers for silverware, large utensils, and gadgets, while you have two sets of each that cannot share a drawer. We'll use our expertise and the information gathered from you during the editing stage about how frequently you are using various meat and dairy items to find the perfect solution for you based on your routines and the space available.
Step 6: Place Categories
Once we've planned out how we want the space to be, we'll put everything back in, and start planning for products that will make the space more functional and easy to maintain like bins, lazy susans, and shelf risers.
Containment is always key, but can be especially helpful when keeping dairy and meat items separate.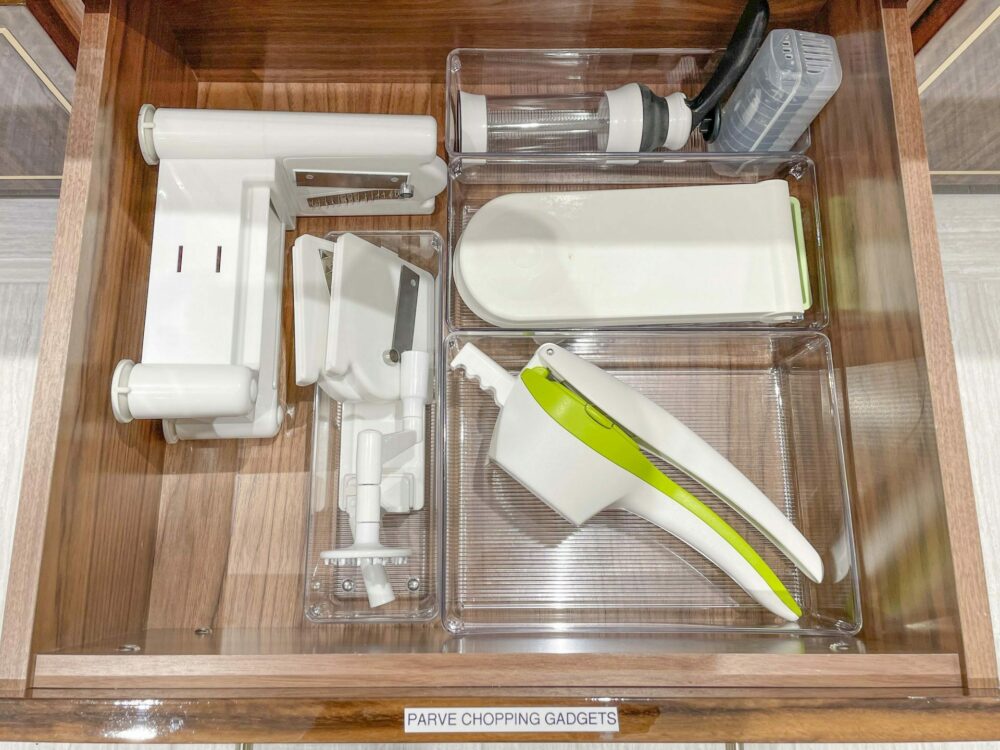 Step 7: Review & Adjust
It is vital to us that your space works perfectly for you and is exceeding your expectations. It's so important to us that reviewing with you and making adjustments to further customize your systems is a step of our process! We'll also go over our plan for products and get a sense of any aesthetic preferences you might have.
We want your kosher kitchen to be effortless for the whole family to maintain. Your organizer will be happy to make any adjustments necessary to achieve this goal!
Step 8: Source Products
Based on your budget, aesthetic preferences, and the measurements of your space, we'll create a customized product strategy for you. It's important to us that in addition to making your space beautiful, that any products we use are there because they enhance the function and maintainability of your systems and aren't just there for show.
Products can be key when it comes to creating storage solutions for duplicate sets of items to ensure everything is accessible and separate.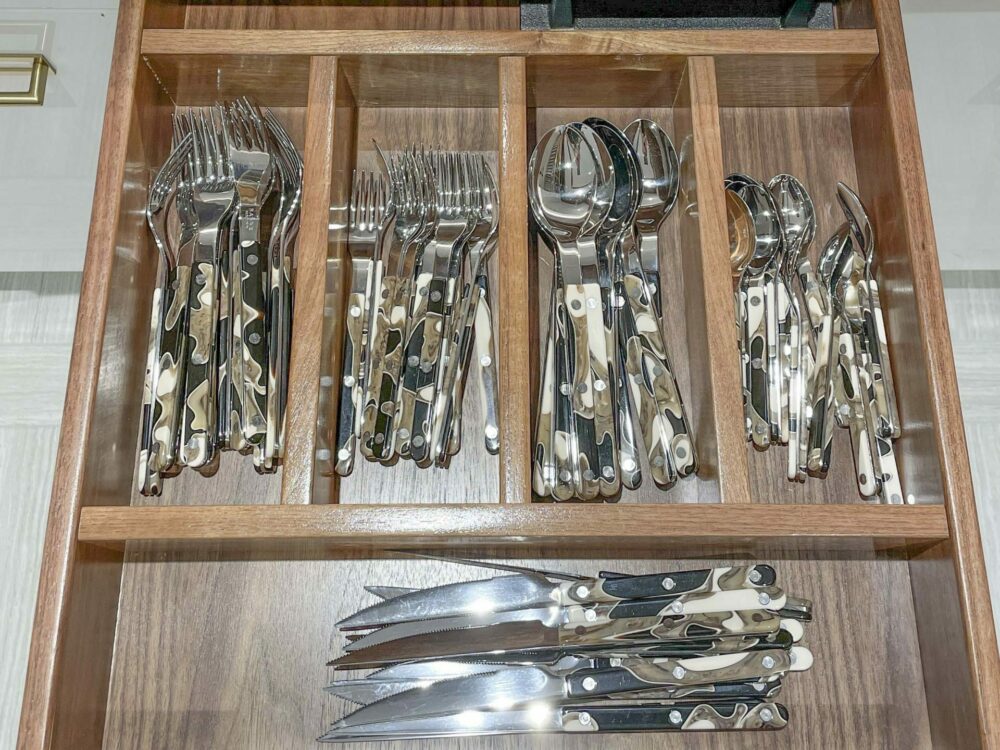 Step 9: Implement Products
Once we have your products sourced and shopped for, we'll put them all into your space, bringing it one step closer to the Horderly finished result!
Step 10: Label & Perfect
Labeling is one of the most important parts of our process and is especially essential in a Kosher kitchen. In addition to our standard labels, we'll specify meat/dairy/pareve areas and categories to ensure your whole family will have an easy time learning and maintaining the new organizational systems.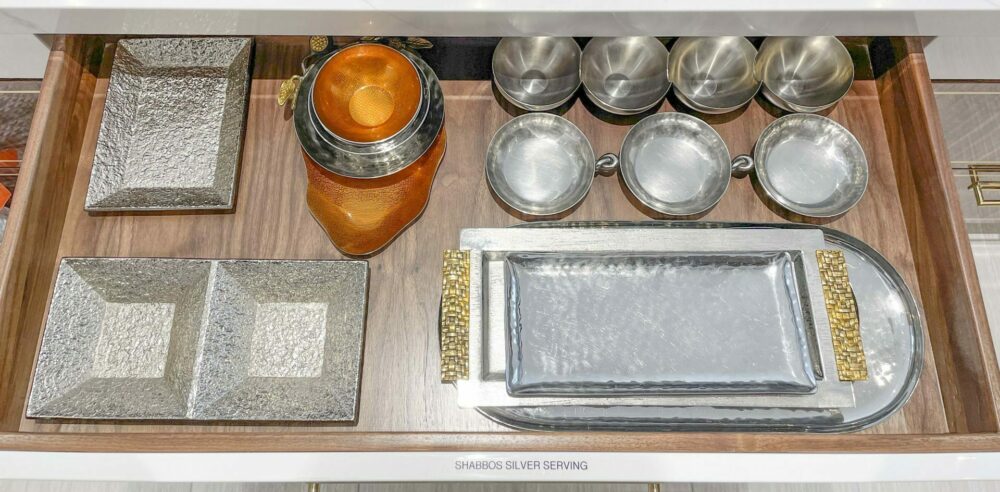 Step 11: Reveal
Once everything is finished, we'll walk you and your household through your newly organized kosher kitchen, showing you how to maintain your new systems so they stay the Horderly way long after we're gone.
Not all Kosher kitchens are alike – and keeping Kosher means different things to different households. We will work with you to create the Kosher kitchen of your dreams, whether you're looking to refresh a kitchen you've been in for decades, are moving into a new home, or are new to keeping Kosher.
For more information on all things Horderly – including lots of great tips, tricks, and other #HorderlyHabits – check out our blog or reach out for more information!
This content is independently curated by Horderly and may earn us a commission.