5 Ways to Organize Your Food Storage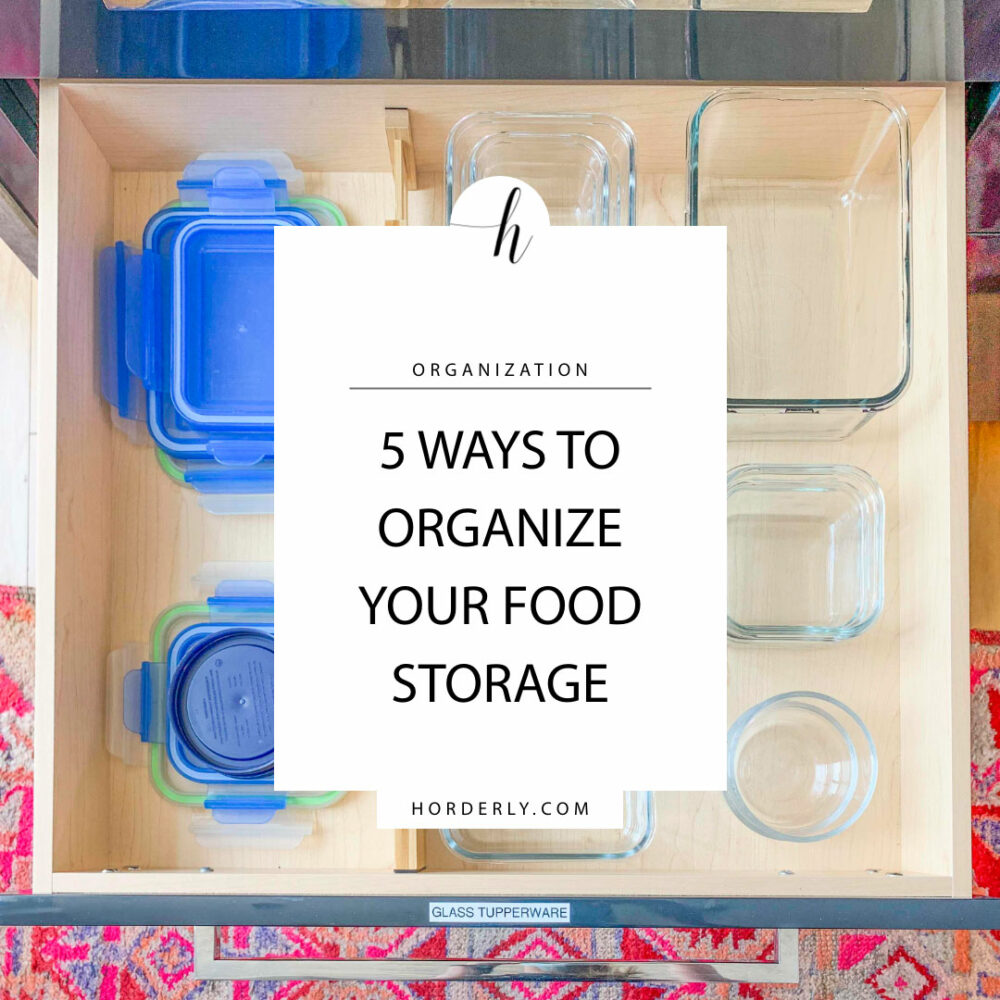 Organizing your food storage doesn't have to be difficult! Follow one of these three easy steps to get your food storage contained!
Stack and Store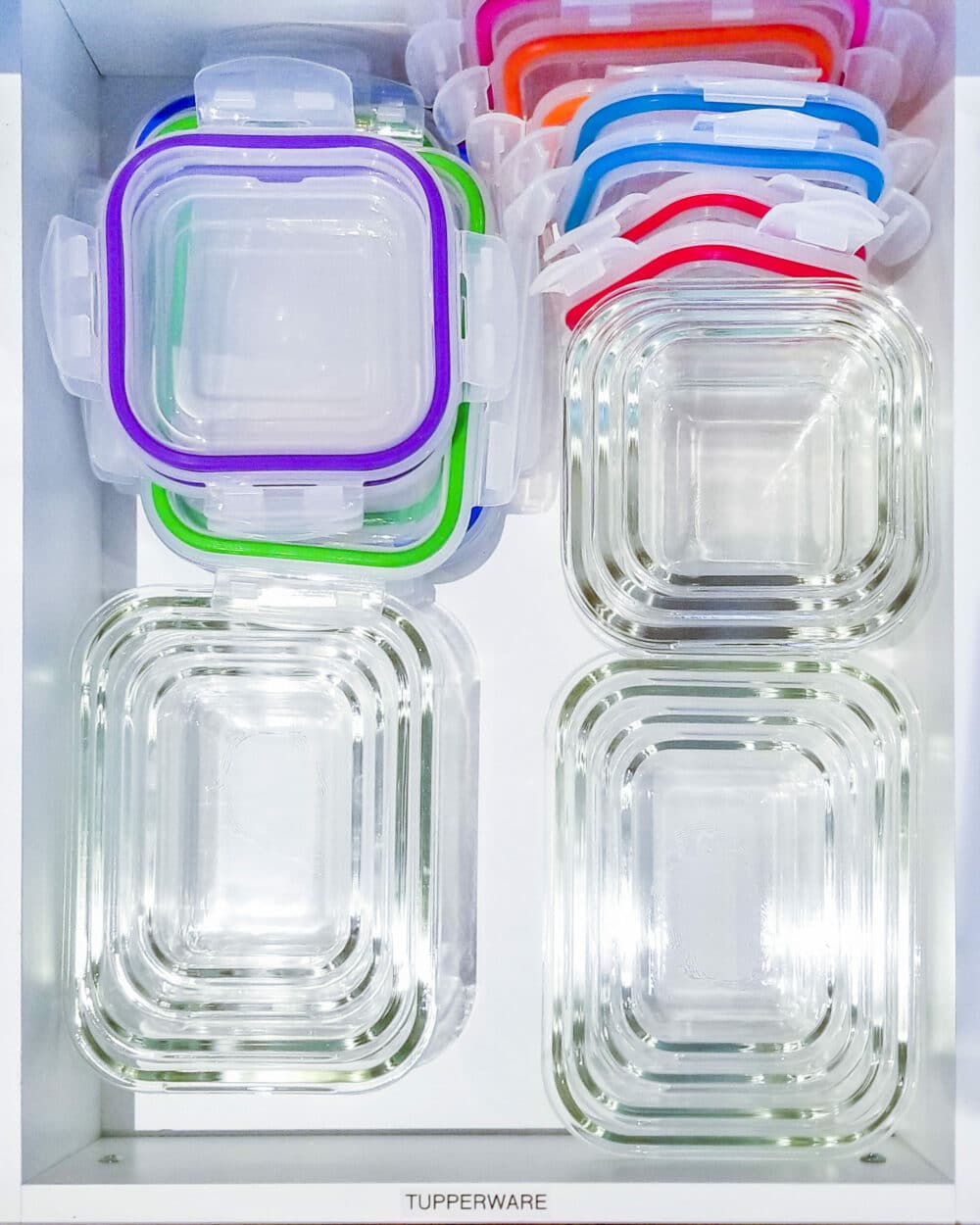 Investing in a set of matching food storage containers saves so much space because they're designed to stack easier than a mismatched set. We love these Glass Square Food Containers from The Container Store.
Use Bamboo Drawer Organizers to keep food storage containers in place, and separate the lids from the containers.
Keep it Together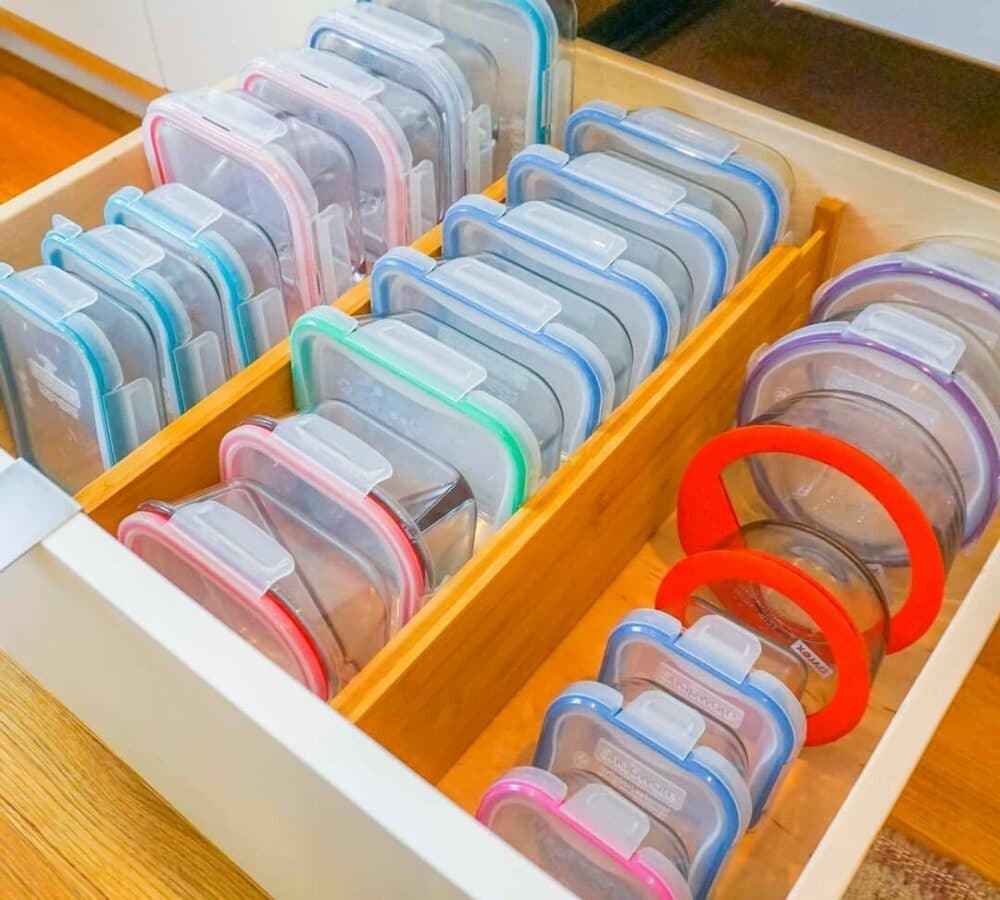 By matching food storage lids to the container, you'll never have to worry about a missing lid again! Keeping lids on food storage containers saves you one less step of having to find a lid, and makes grab-and-go so much easier.
Use Bamboo Drawer Organizers to keep your food storage containers contained and upright.
Pro Tip: Make sure containers are completely dry before putting them away with this method.
Separate Kids' Food Storage & Cups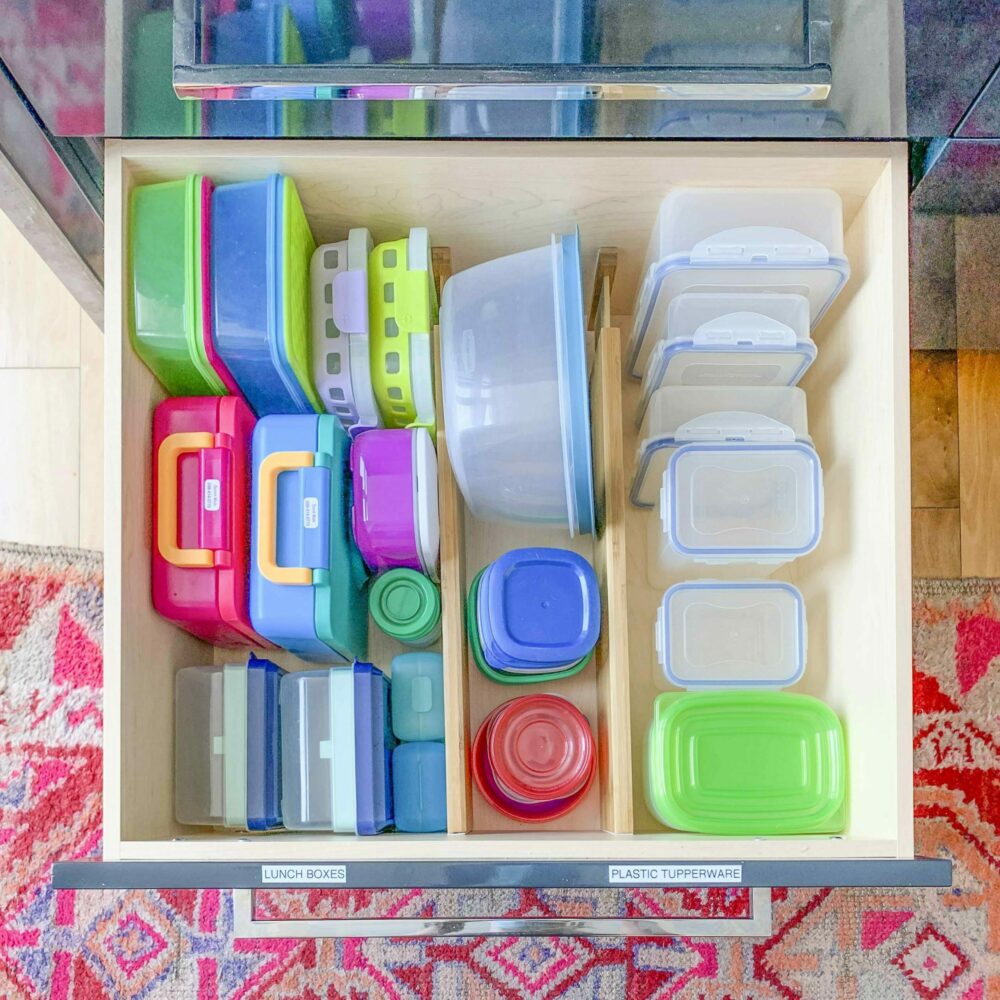 Creating a separate food storage drawer will make life so much easier come cleanup time or while packing lunches – and you can even get your kids involved, too! Kitchens can be an overwhelming place for kiddos, but if they know they have a drawer just for them, they can be more active in helping around the kitchen, with cleanup or prepping for school meals! Giving kids a bit of independence to help with household chores will allow you to start setting healthy habits early!
Bin It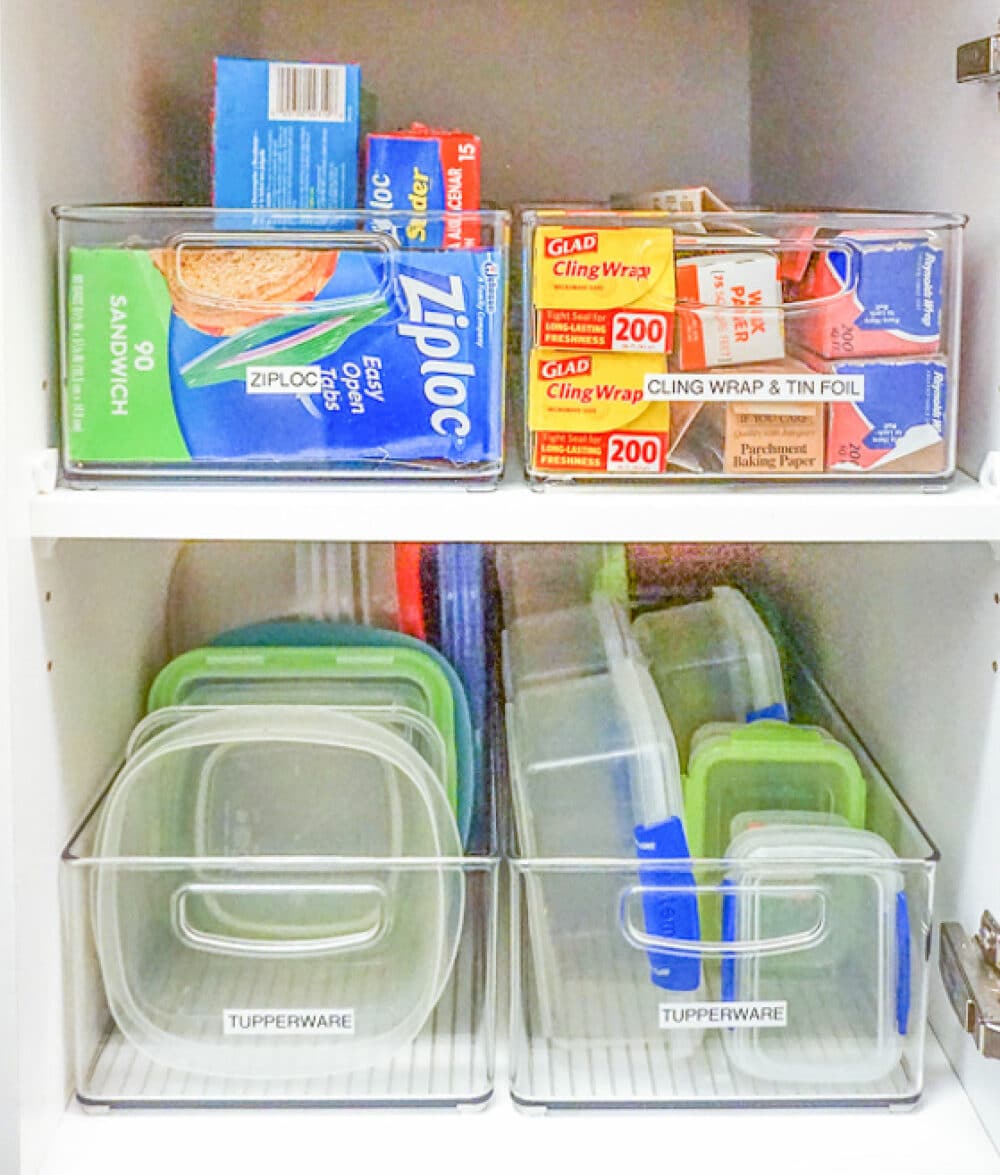 Use Clear Bins in cabinets for easy access to your food storage containers. Place food storage containers and lids in one bin, so that all items are contained and secure in an easily accessible location.
Once you choose which way you'd like to organize your food storage, make sure to label the area so that everyone in the family knows where to grab – and where to put away – your food storage.
Use A Pegboard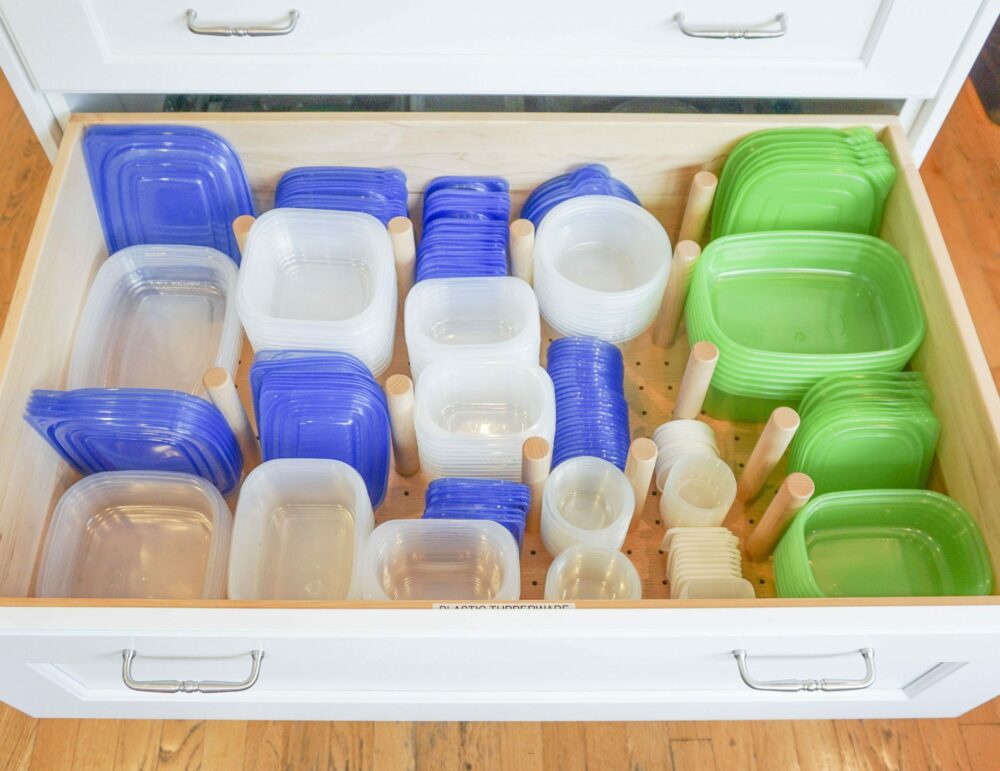 Adding a pegboard system to a deep drawer is a great way to keep Tupperware contained and in place. This helps ensure lids stay near their matching base, and allows you to mix and match peg combinations to fit more in your drawers!
Horderly partnered with Real Simple to create fun, easy-to-follow organizing videos so you can try to DIY from home! Watch the video below for more tips and tricks on how to organize your food storage.
If you need some extra help but aren't sure where to start, reach out to Horderly to schedule a consultation for in-home or virtual organizing.
For more information on all things Horderly – including lots of great tips, tricks, and other #HorderlyHabits – check out our blog or reach out for more information!
This content is independently curated by Horderly and may earn us a commission.