Our Clients' 10 Favorite Organizing Hacks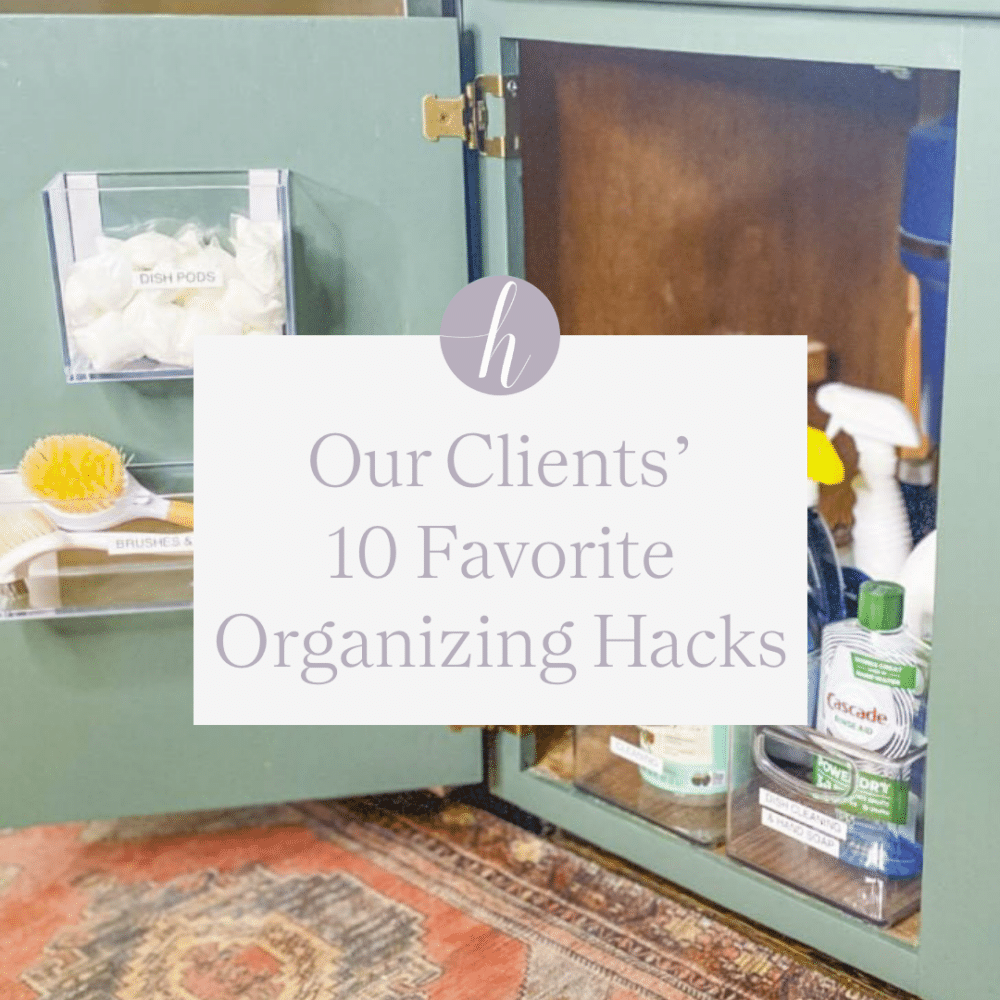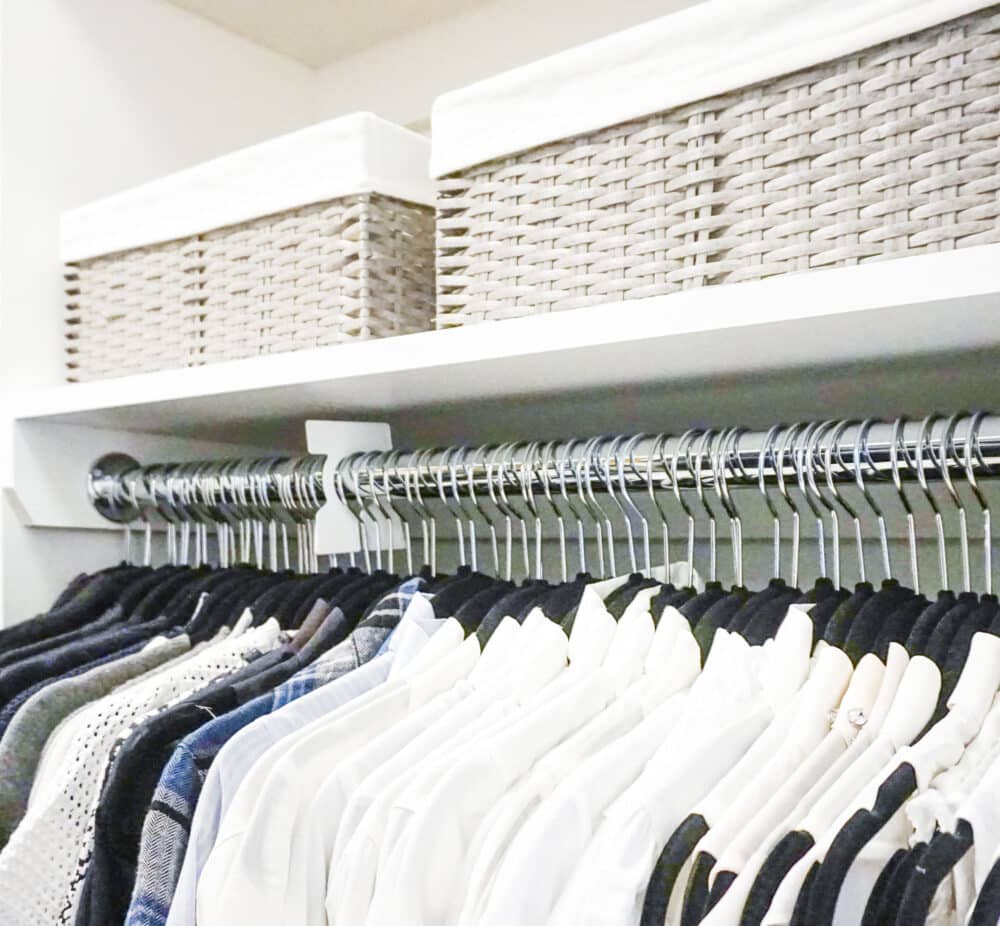 If you are looking for an instant closet transformation, try streamlining your hangers! This is a simple way to save space while creating a clean and cohesive look. A quality hanger will maintain the shape of your clothing extending its longevity. We love using velvet hangers because of their thin design and velvet finish which helps your clothing stay put. They come in black, slate, taupe, and linen. Looking for wooden hangers? We also love the natural wood hangers. For a darker look try the walnut wood hangers in superior, regular and slim!
TIP: Looking for hangers for kids? Checkout these white wooden hangers and these kid's velvet hangers in a variety of colors!
Streamline Your Bins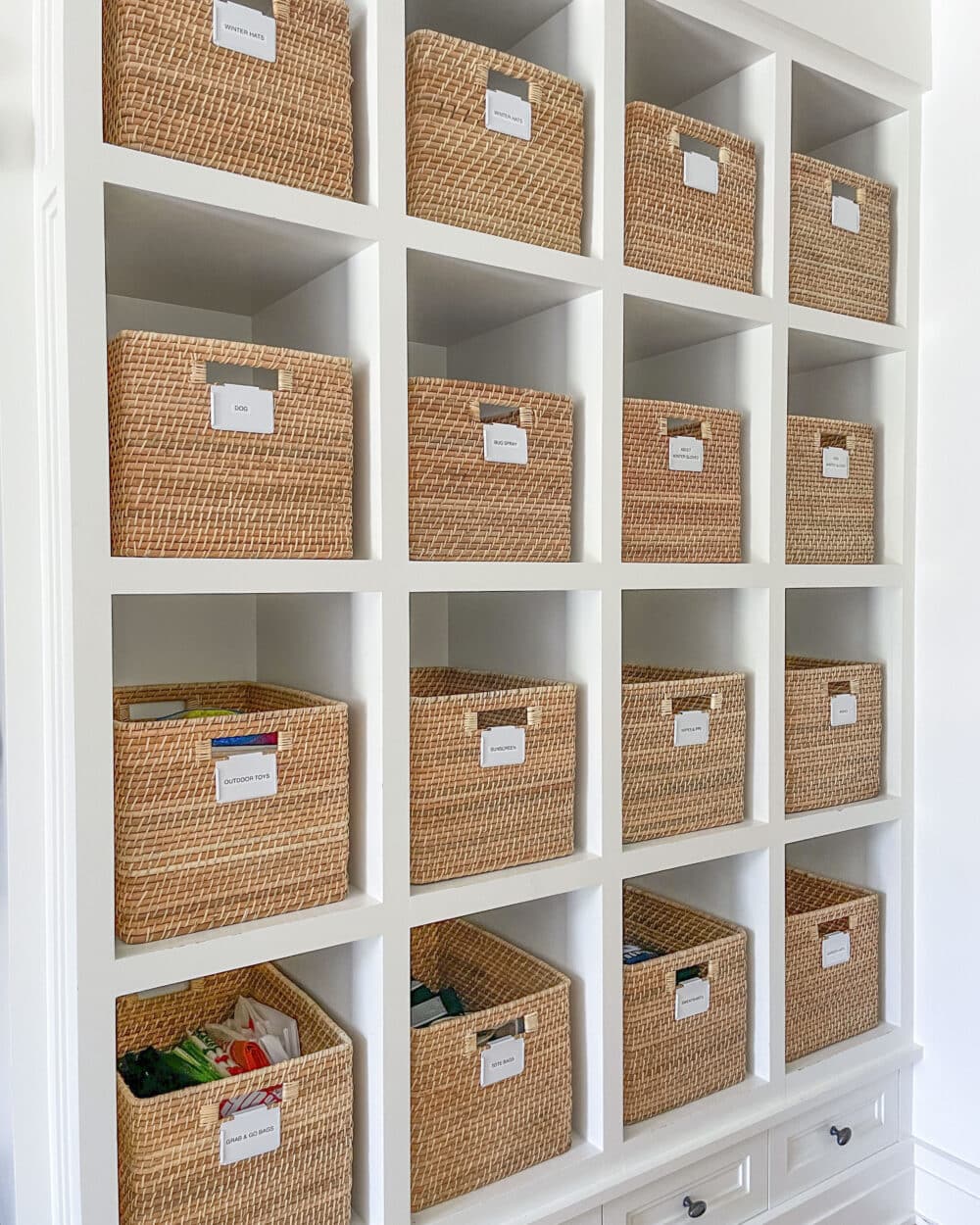 Often when we come to organize our clients' spaces, we find they have tried to organize their belongings by pulling together the bins they had lying around their house, and found that it just wasn't working. Streamlining bins not only creates a cohesive look, but it will also maximize your storage space. We recommend finding bins whose measurements fit your area to make use of every nook and cranny your space has to offer!
TIP: Make sure to add bin clip labels to your bins so that you always know where everything is!
A big headache area for many of our clients is their high shelves. It can be difficult to see, making it easy to lose things. If you aren't careful, it can even be dangerous to pull things down and risk an avalanche! We love using bins to maximize the utility of those high up areas. This makes it easy to pull down each category and immediately have access to everything you need. This will also ensure that your shelves always stay neat and tidy!
Adjust Your Hanging Bar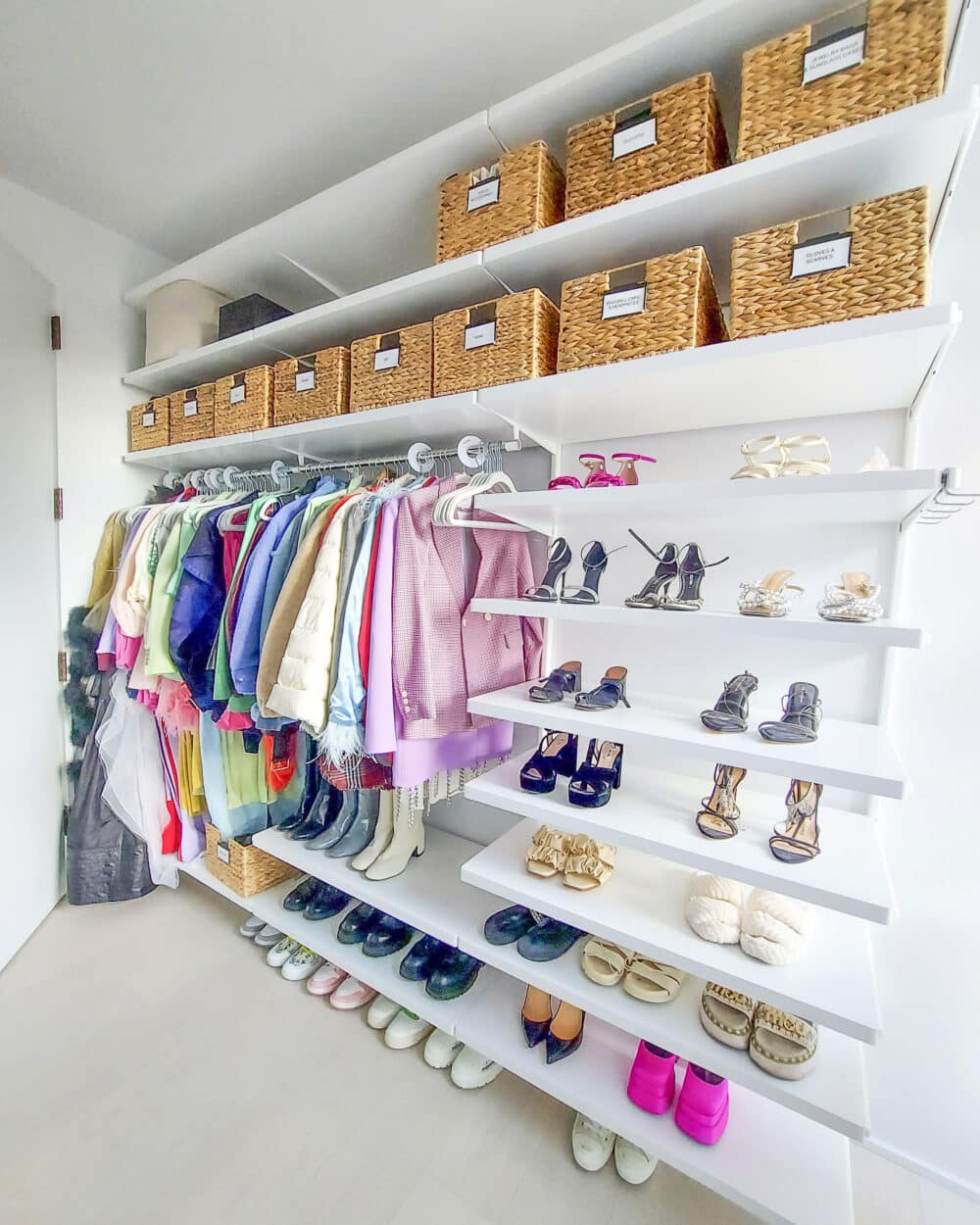 Did you know most hanging bars are adjustable? It's true! And it can have a big impact on your closet. Raise the bar to keep your longer clothing items from crumpling on the ground, saving you dreaded ironing time. By adjusting the bar upward you also create more space to add other storage solutions below like shoe shelves, bins, a laundry basket, or even add an additional hanging rod to maximize space for your shorter hanging items! By adjusting the bar downward, you have the option of adding additional shelving above your hanging rod.
Adjust Your Shelves
So often we find people avoid adjusting their shelves out of fear it will be too difficult, time consuming or sometimes they don't even know that the shelves can adjust! In reality, adjusting your shelves can be as simple as moving around a few pegs to make a big impact! We adjust shelves in closets, cabinets, and even fridges and freezers! Adjusting your shelves will allow you to play with different containment options and find what best suits your storage needs rather than tailoring your organizational solutions to the standard shelf placement in your home.
TIP: If you are having difficulty adjusting the pegs that came with your shelves, checkout this peg variety pack! It gives multiple style options for you to choose which is easiest to work with in your space.
Lazy Susan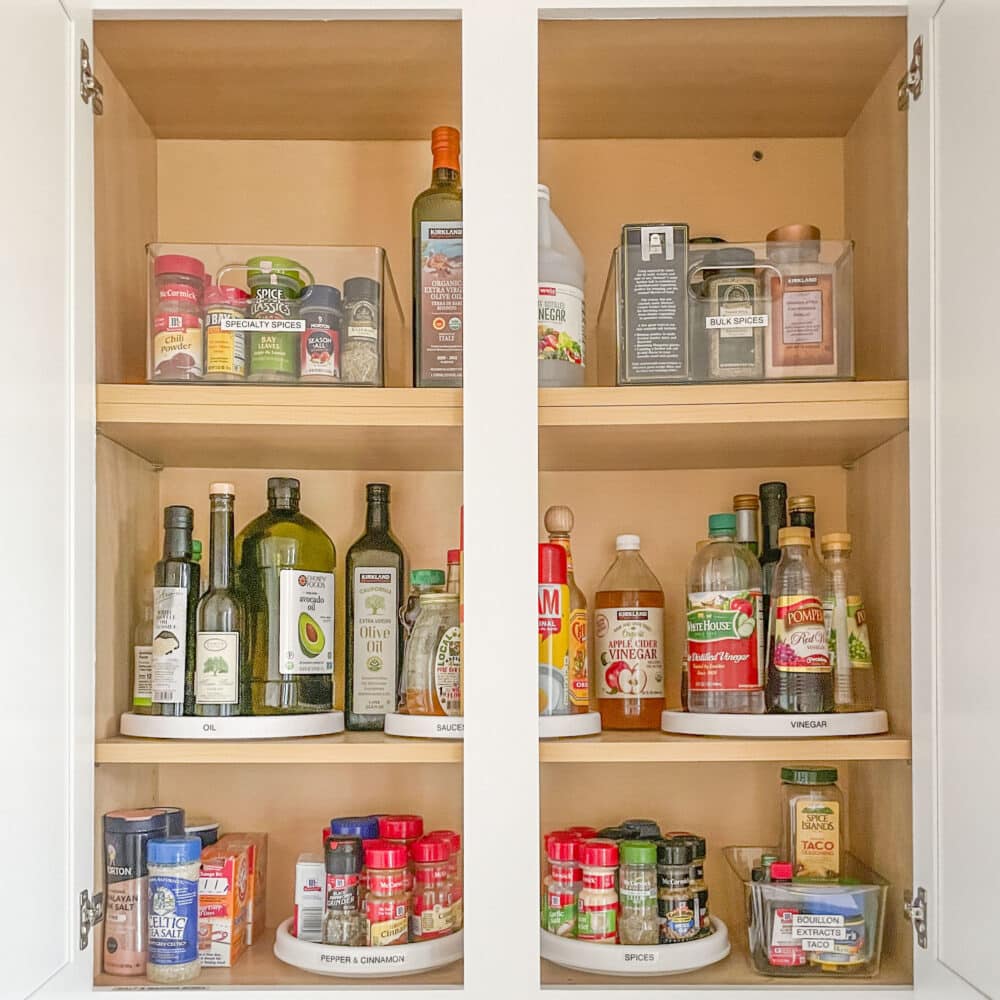 It's no secret… we love a lazy susan! And so do our clients! Lazy susans allow you to access the items living on the turntable with ease. They are the perfect solution for cabinets and tricky spaces like corner cabinets and undersinks. We love using them for everything from oils and vinegars in kitchens to kids' crafting supplies in playrooms! Best of all, they come in many finishes and sizes from 9" diameter to 20" diameter to fit every space.
Cookware Rack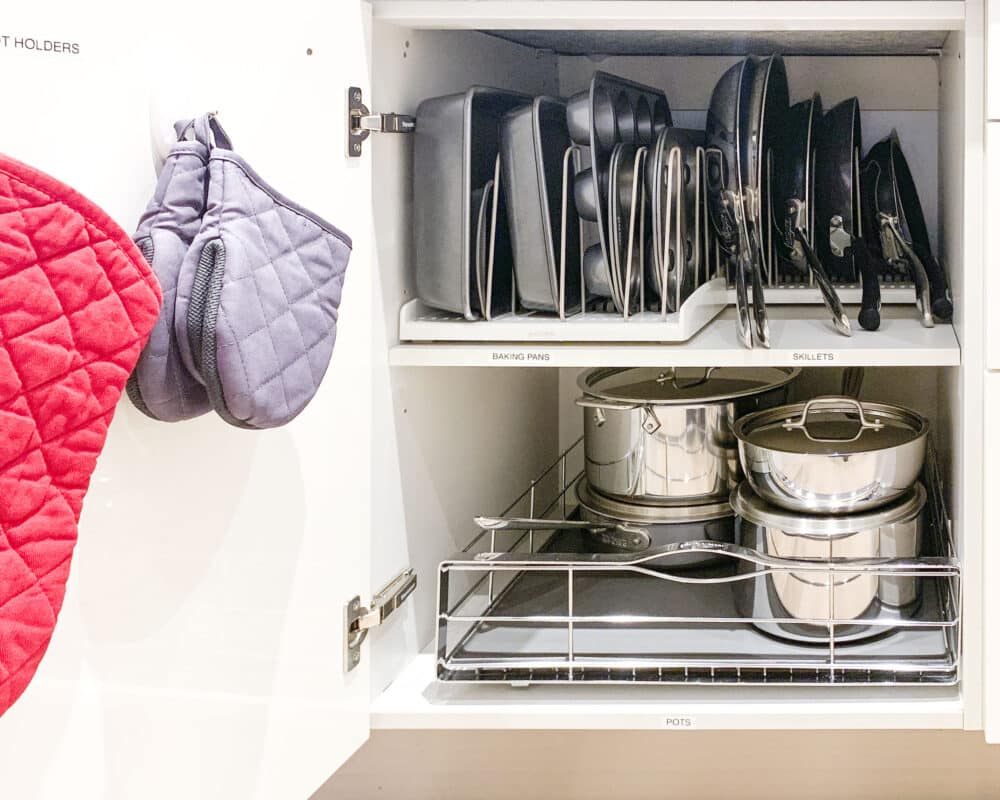 Youcopia's Expandable Cookware Rack is perhaps our most used kitchen solution. The expandable feature makes it great for adjusting to fit any space! We use them to organize pans, lids, cutting boards, baking sheets/tins, serving platters and more. They can be used in cabinets or even in deep drawers to make grabbing the item you want a breeze.
Checkout our reel to see how this cookware rack can transform your kitchen cabinet!
Adhesive Organizers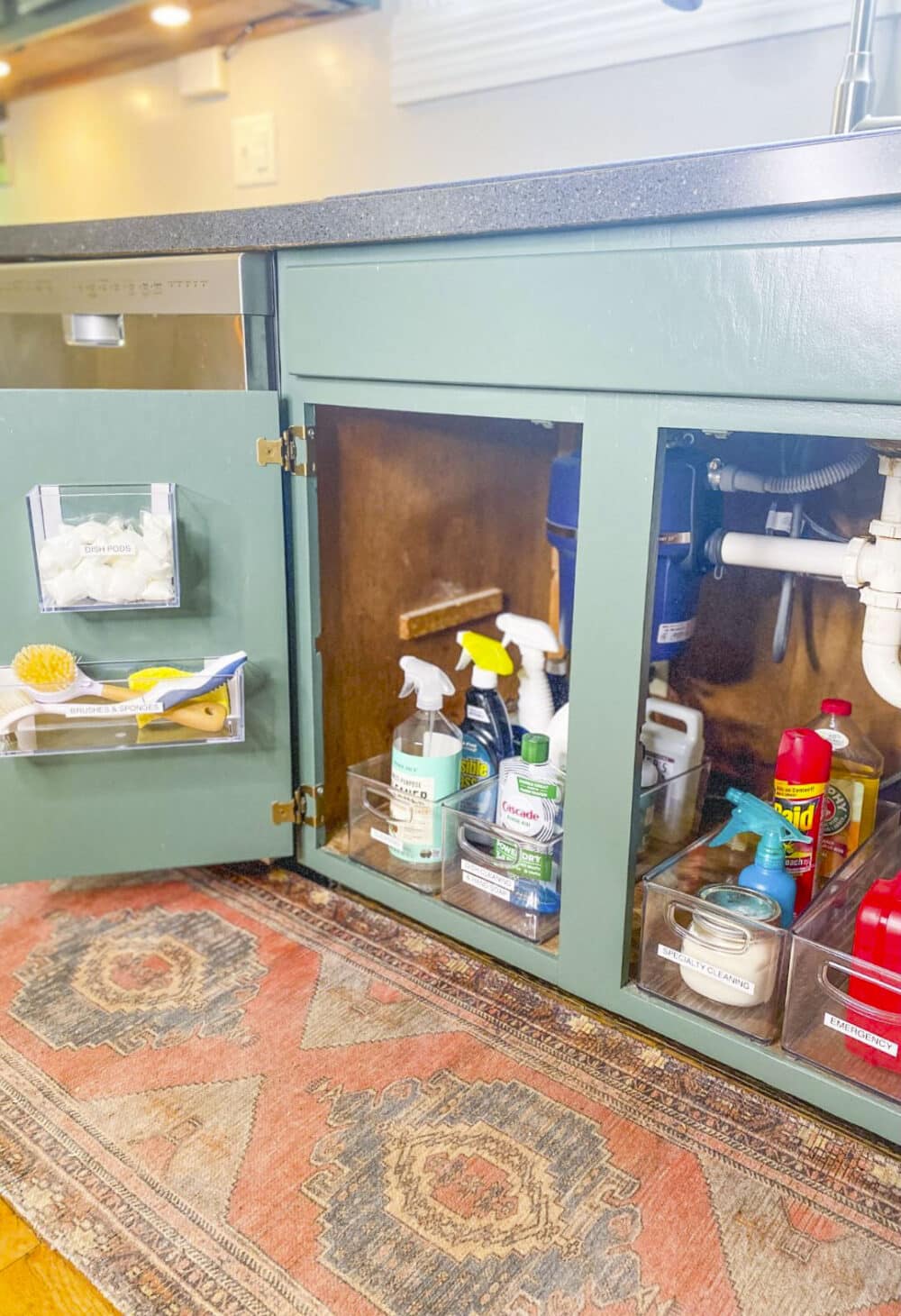 Adhesive Organizers are a fan favorite among both our home owning and renting clients! Using their powerful (and removable!) adhesive strips, you can attach them to any surface to add open storage! We love using them to create easy access to grab and go items like dish pods under the sink, for wraps and foils in a kitchen cabinet, in the laundry room for pods and dryer sheets, and even in bathrooms for brushes, cotton, fem care, accessories- the list goes on!
TIP: When removing the bins, use a hair dryer to heat the adhesive before peeling it off to keep it from damaging any paint.
Labeling Drawer Dividers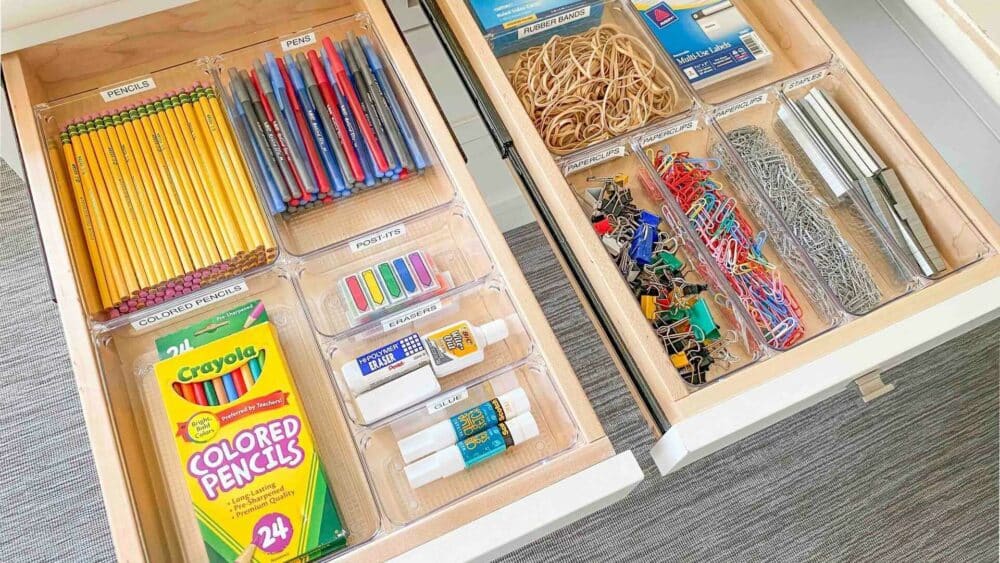 As you know, single drawer dividers are great for maximizing the utility of a drawer while keeping categories separate. Take your drawer to the next level by labeling each drawer divider so everything has a clear home, making clean-up a breeze!
Behind the Door Elfa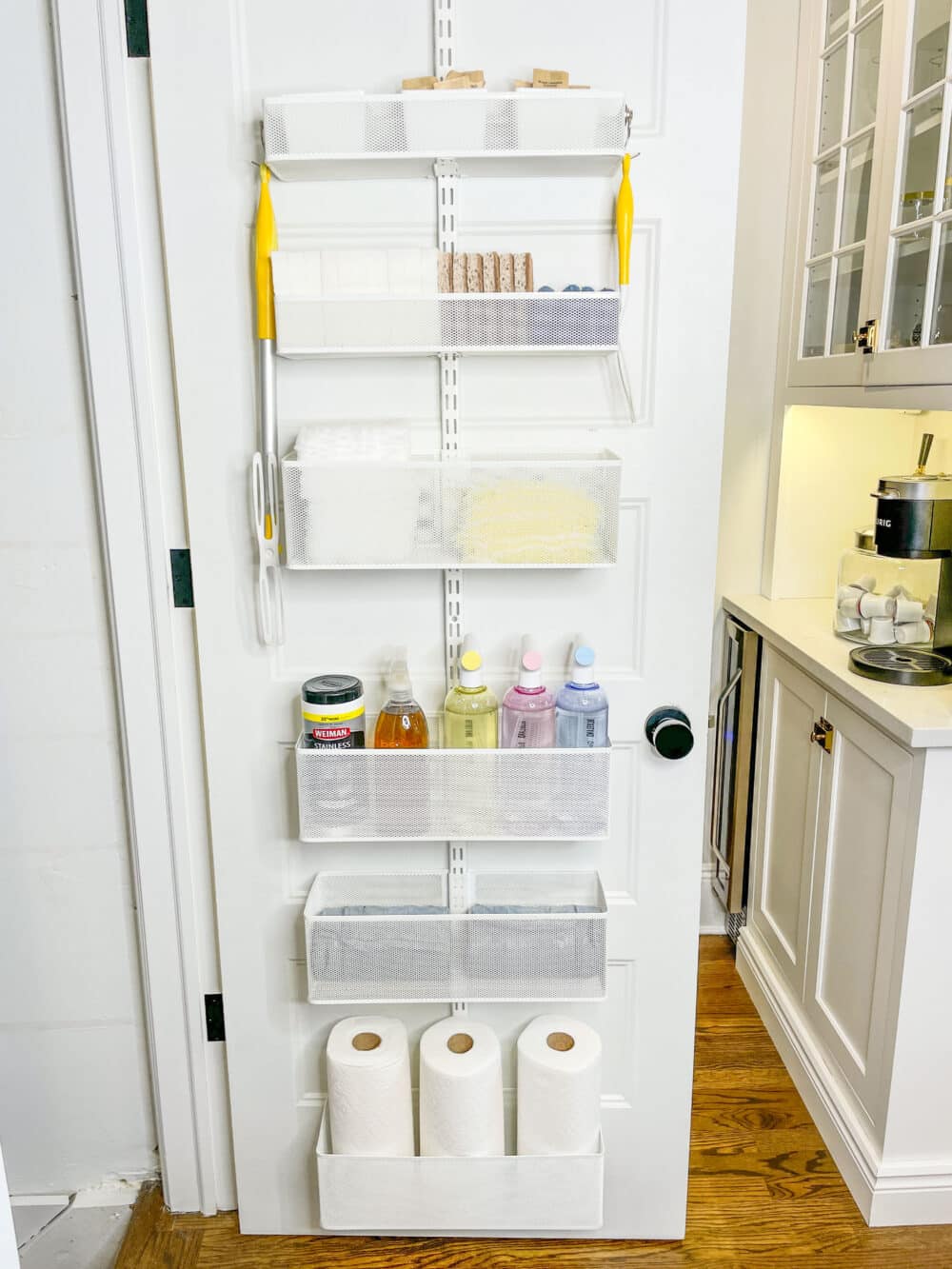 The Elfa Back of Door system is a huge space saver and a great way to maximize unused real estate! The system works for virtually any space: laundry rooms, bathrooms, in closets for shoes and accessories, pantries, and more! The system can be hung over the door or drilled in for a more permanent solution. Checkout our reel on how to organize a cleaning closet using this system!
Want to have the Horderly experience?
We'd love to set you up for success! We offer in-home and virtual organizing services to take your space to the next level.
For more information on all things Horderly– including lots of great tips, tricks, and other #HorderlyHabits – check out our blog or reach out for more information!
This content is independently curated by Horderly and may earn us a commission.