Organizing A Pediatrician's Upper East Side Playroom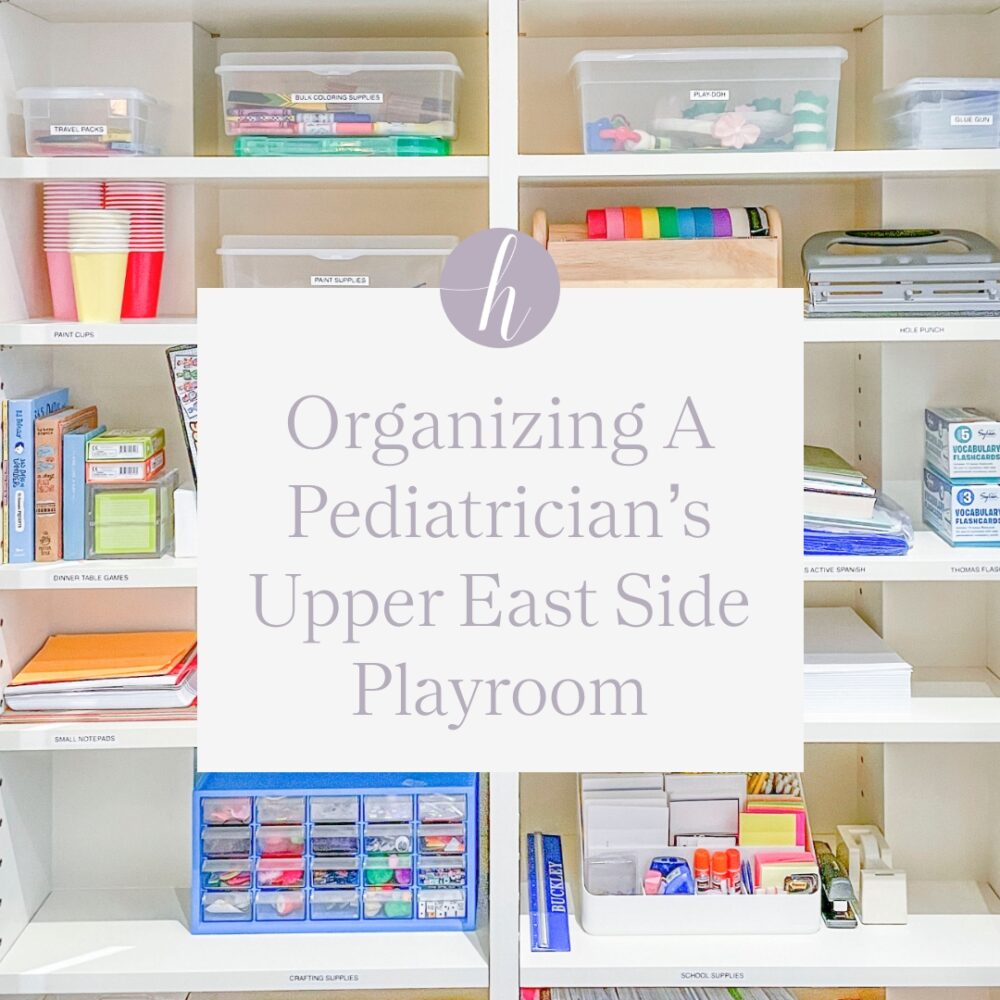 At Horderly, we get so many clients asking for help organizing kids' playrooms. We recently organized Pediatrician Kelly Fradin's playroom for her kids.
Kelly had just moved into a new home. The home had nice storage/cabinets but a lot of deep storage that she needed to maximize, while also streamlining her products.
Here's how Horderly helped organize this playroom into a fun, functional space for Kelly's kids:
Books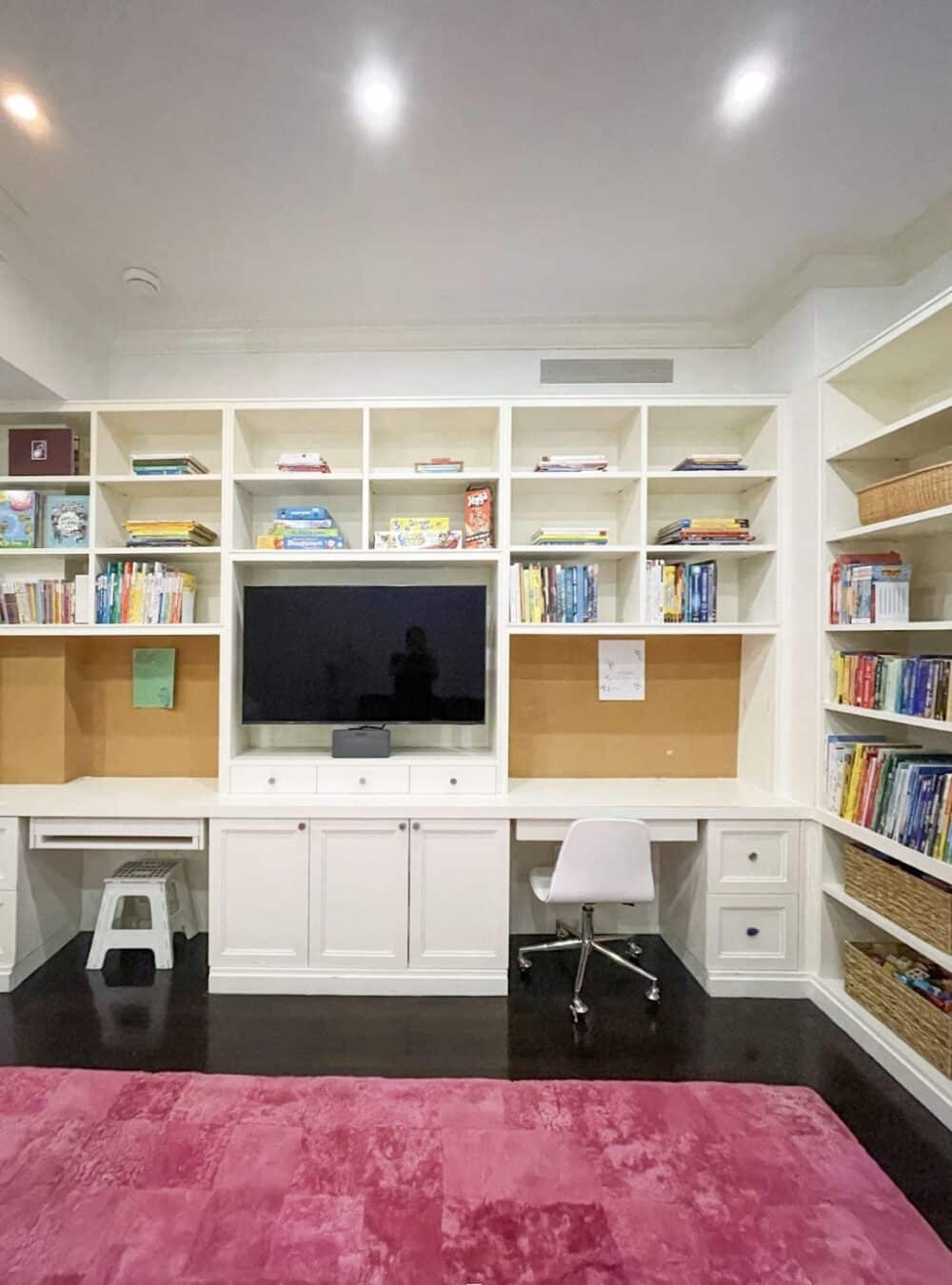 Horderly did an initial sort by separating picture books vs. chapter books, keeping together any series we found within each of these categories.
We edited books with Kelly first to decide whether to keep or donate each book. If it was a keep, we then determined if it was a book best suited for her son, or her daughter. Kelly's son is older, so most chapter books were for him, while most picture books were for her daughter.
Once we edited and sorted all of the books, we helped Kelly determine where each book should live – either in bedrooms for bedtime stores, in the playroom or living room in a "favorites" section, or in the living room or playroom where the books read less frequently were designated. The kids also kept academic books in an arts and crafts area where they did their homework.
The playroom offers a lot of shelving so we made sure to consider which books lived in prime real estate for the kids to reach. The books mom would grab lived on higher shelves. Kelly's daughter's books were the lowest, since she is the youngest, and her son's books were on a shelf above – so each child could easily reach based on their heights.
Each shelf had a different category of books.
We sorted series books by number so they were in chronological order, and any non-series books by color.
We also grouped non-fiction/educational books together, holiday books together, "greek myths" together and "fairytale/storytime" together.
We used white bookends to keep the rows of books upright.
Playroom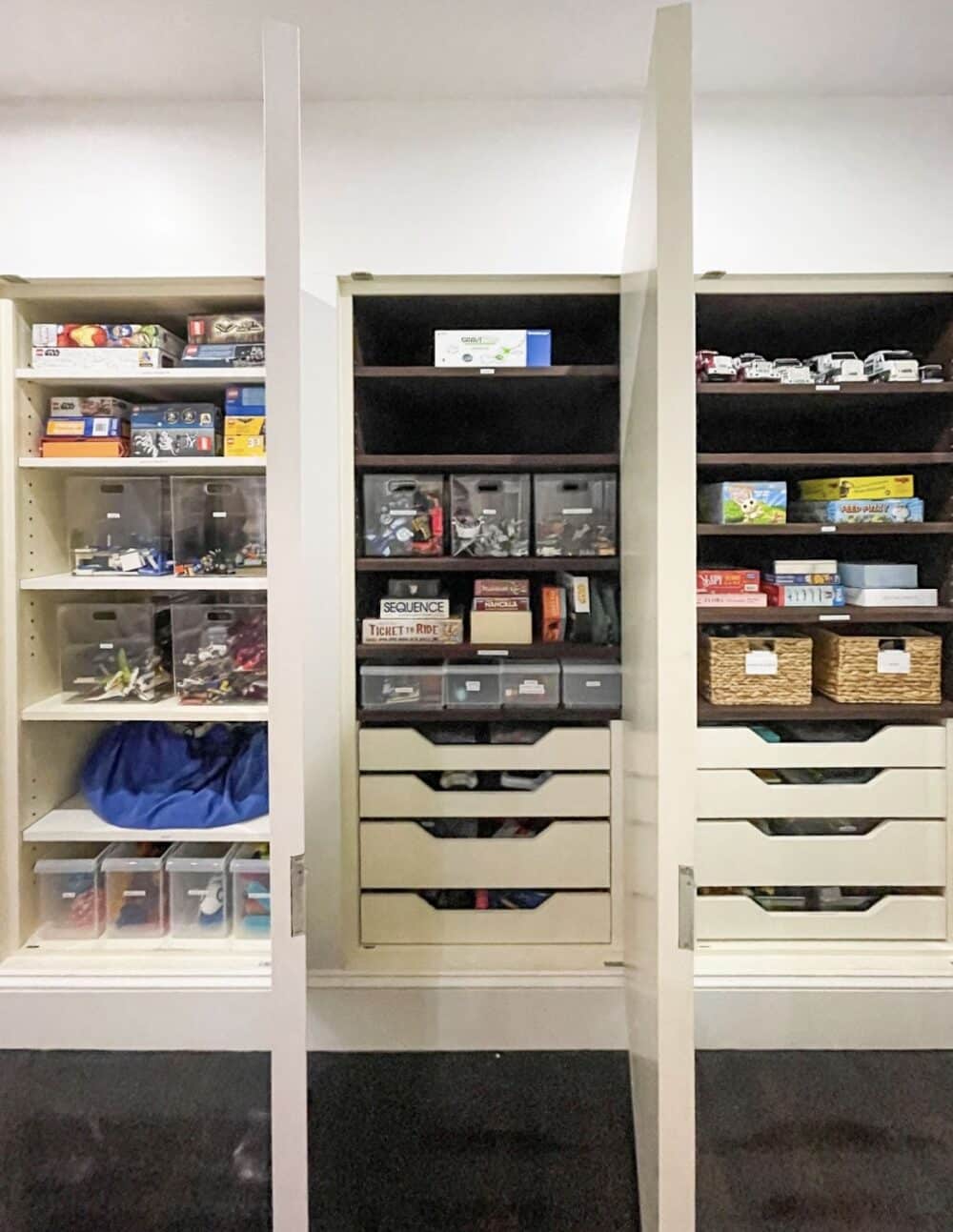 Kelly's new home has three large closets in the playroom that we used to organize the kids' toys.
Horderly did an initial pull-out and sort of all the toys so that it was easy to edit with Kelly.
If the toy was a "keep," we asked follow-up questions to determine how the item is used by the child – so that we know how to best organize it, creating a functional space.
Kelly got rid of a few bags of toys that Horderly took to a donation center and the toys that were kept were separated into a few different categories – toys for Kelly's son, toys for Kelly's daughter, toys to share and family games.
It's important to consider what's "prime real estate" and "not prime real estate" for each child when strategizing a space. Once Horderly knew these categories, we were able to strategize the space appropriately so that it was functional for the entire family.
We created two cabinets for Kelly's son, one cabinet for Kelly's daughter and displayed family games out on the shelves above the television.
Remember – Labeling is key when it comes to organizing a space (especially a space that multiple people are using). Labels show you exactly where to find something and exactly where it goes back so that you can easily maintain and keep your space organized!
Since Kelly has young kids, we made sure to leave some room to grow so the playroom could easily accommodate new toys as the children grew.
We used clear, open containment so that each category had a proper home. Clear bins are also great for kids to see right away what's inside of them so that no toys are getting lost and forgotten about. We also used pouches, clear bins with lids and drawer dividers to store loose items in drawers.
Additionally, we utilized baskets with bin clip labels that can be interchanged with the categories on the exposed shelves in the living room.
Arts & Crafts Closet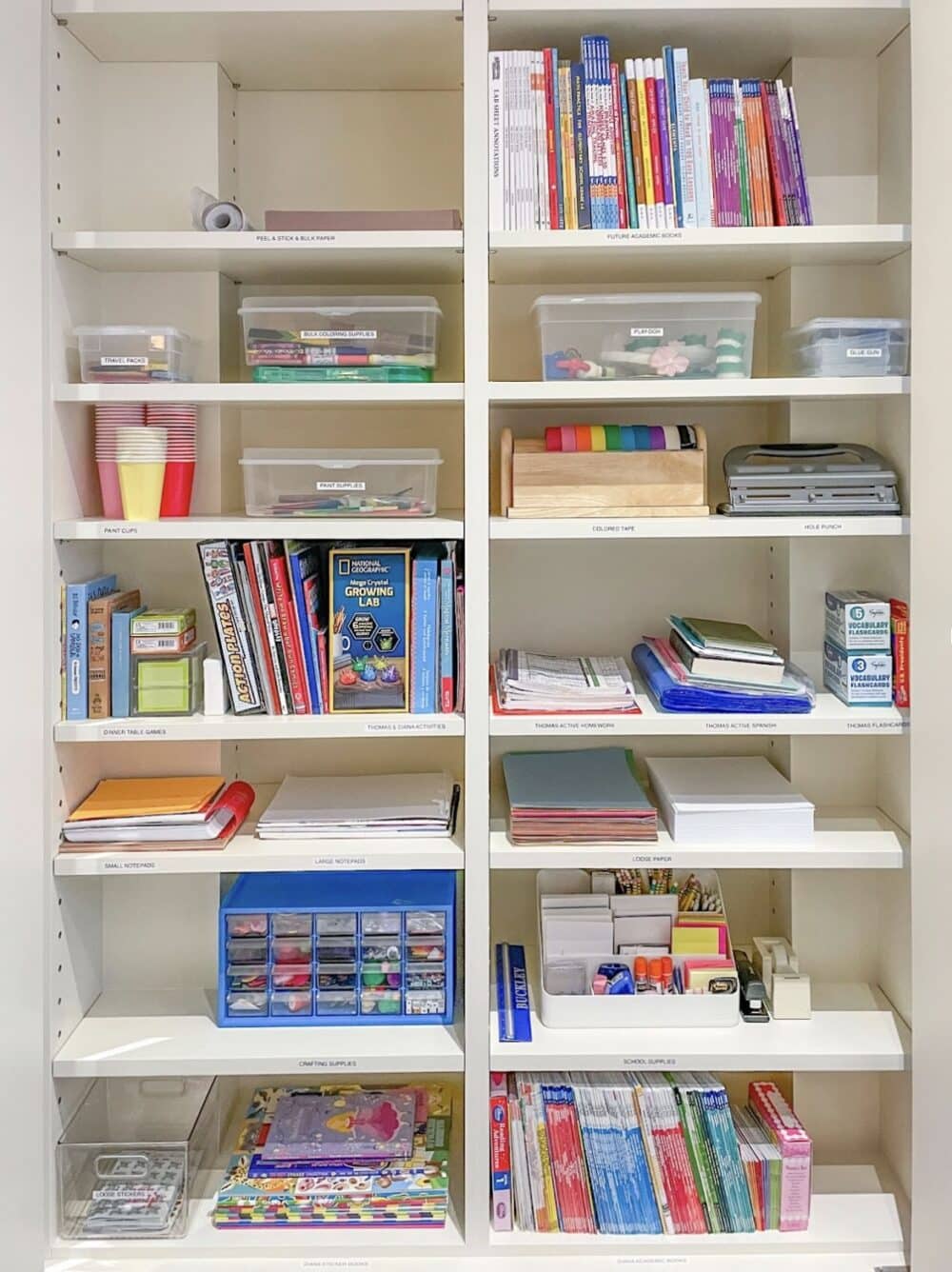 Kelly's arts and crafts cabinet lives in the dining room, which is where the kids do their homework and crafts.
Horderly did a full pull-out and sort and then edited with Kelly. Kelly got rid of old arts and crafts that were dried up or that the kids no longer played with or needed.
When Horderly strategized the space, we kept prime real estate and not prime real estate in mind, putting Kelly's daughter's categories lowest (her academic books, sticker books, school supplies, art supplies, and paper), then her son's items (active homework and activities), and items that adults would reach up higher (paint, glue gun, Play-Doh, bulk art supplies and academic books to grow into).
We made sure to label each category so that everyone knows where to find something and where to put it back.
For products, we were able to repurpose some products that Kelly already had in this space! We also used small open bins, small, clear bins with lids and labels to finish the space.
Let the Pros Help
If you're looking for help to get your playroom – or any other area of your home – organized, reach out to Horderly to schedule a session for in-home or virtual organizing.
For more information on all things Horderly – including lots of great tips, tricks, and other #HorderlyHabits – check out our blog or reach out for more information!
This content is independently curated by Horderly and may earn us a commission.