Nesting Tips to Get Your Home Organized Before Baby Arrives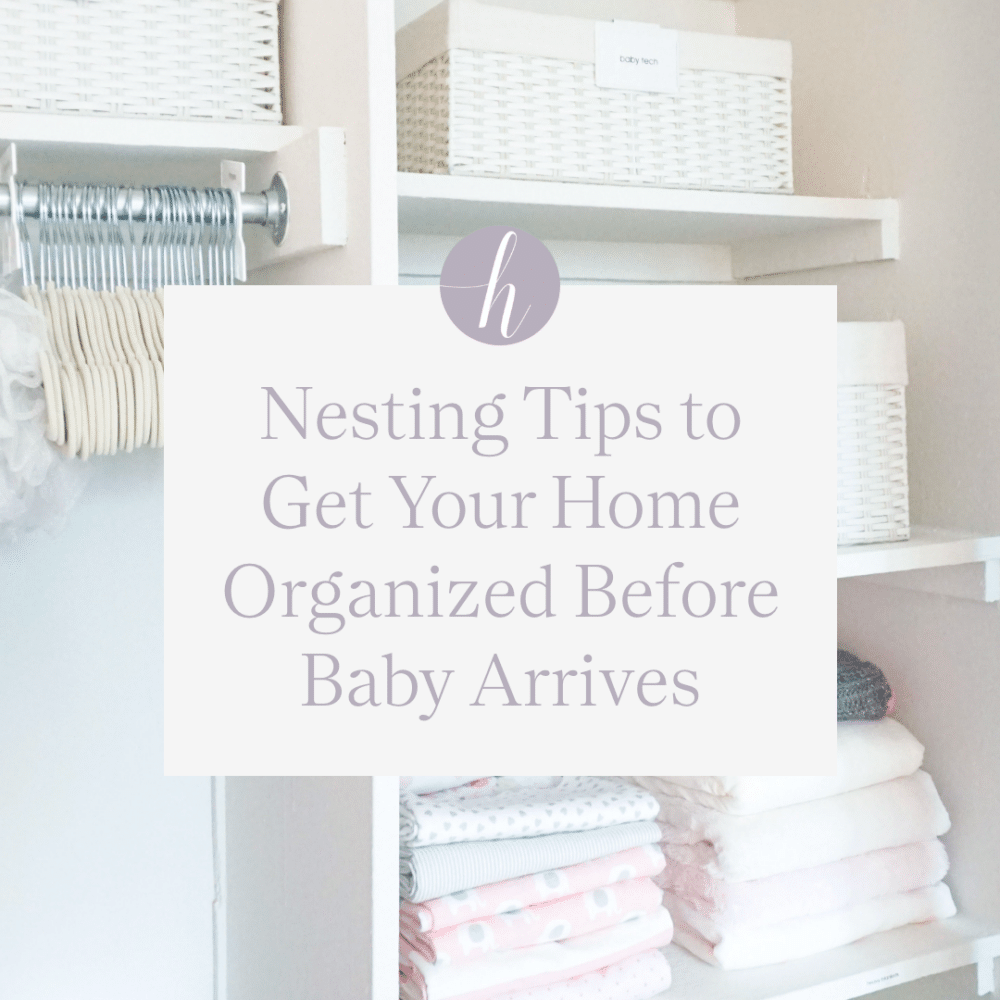 Getting ready for baby's arrival can be overwhelming, but if you start early and create a to-do list, tackling these tasks can be less stressful.
Set a goal to tackle one big task each month and you'll be in good shape for when baby comes!
Create Your Registry
Some new moms start their registry as early as 12 weeks into their pregnancy. If you don't have it done by then, aim for having your registry completed about four weeks before your baby shower, or around the time invitations are sent out. Creating a registry can feel overwhelming, but once you get started it can be really fun – and help you learn a lot about baby's needs!
If you're not having a baby shower, set a goal to have your registry ready by the middle of your second trimester – so that you have plenty of time to nest and put all of your gifts in their proper place before baby shows up.
If you are having a baby shower, baby showers are typically held four-to-six weeks before the baby's due date — late enough that the pregnancy is well along, but likely early enough to avoid an untimely arrival.
Wash Everything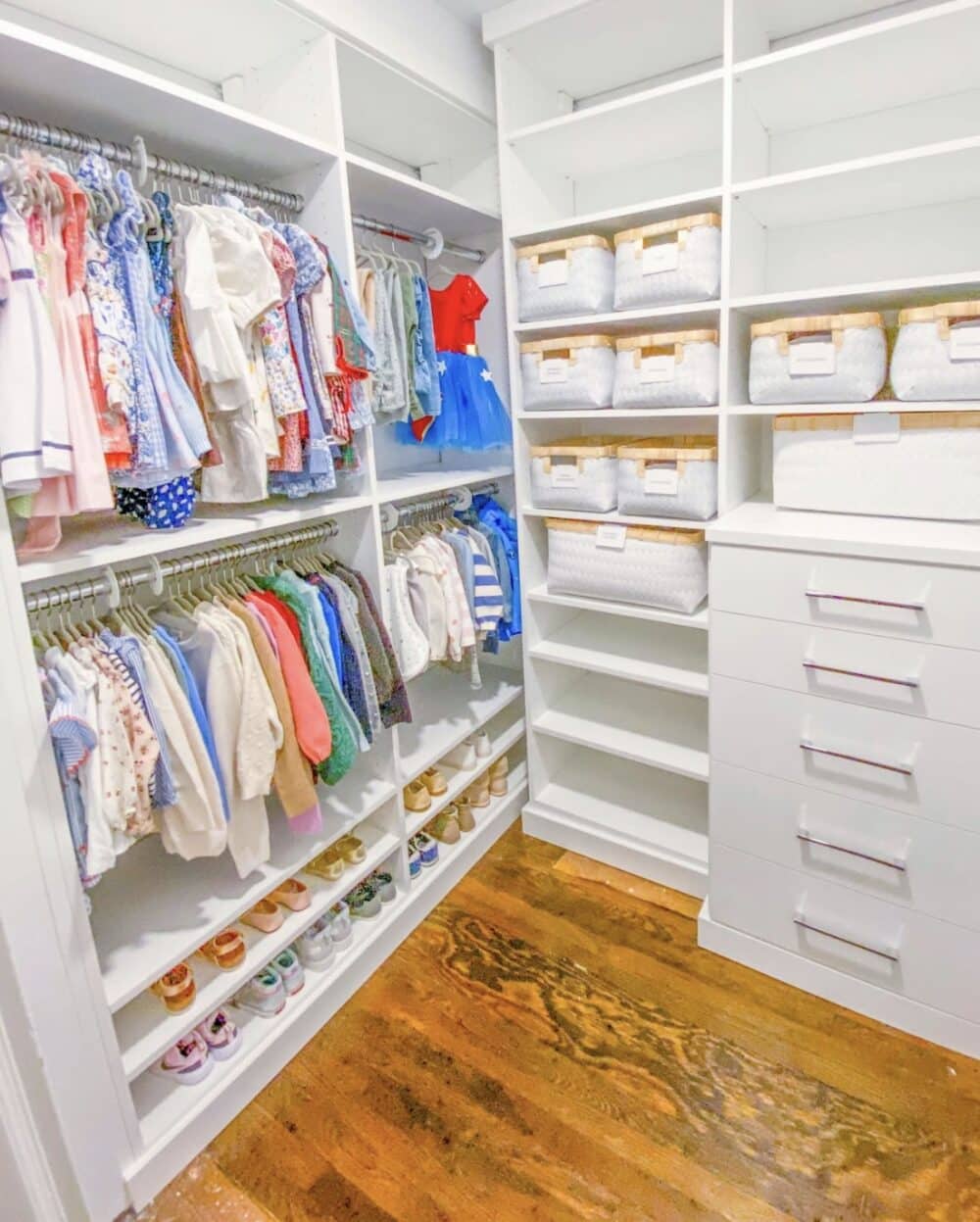 Once you've gotten everything you need for baby's first few months, make sure to wash anything and everything that touches baby's skin. All of the onesies, sheets, blankets, burp cloths and more should be ran through the wash before being put away or put on baby. This is to protect your child's skin from harsh chemicals that can sometimes be found in wearables. This is also a great time to donate or let go of any items you received as gifts that you won't use, or aren't fond of.
Organize Baby's Room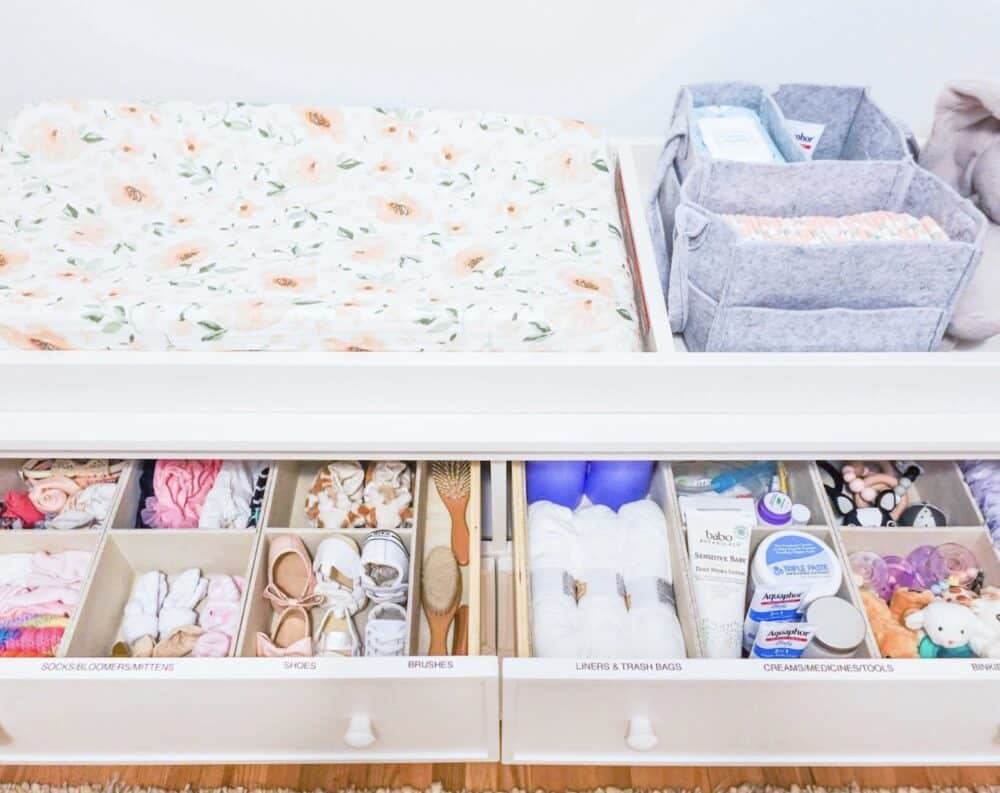 Use the fingertip rule when organizing baby's things – that means, keep the most important items at your fingertips (or what we call prime real estate).
Organize the top of the changing table with all changing necessities like a handful of diapers, wipes, diaper cream and a changing pad.
In the dresser, use the top drawer for onesies, accessories, burp cloths and other products to keep baby clean. In the middle and bottom drawers, store things like going out clothes and extra blankets and linens.
In the closet, store items that are generally hung like jackets, skirts and dresses.
Stay tuned for helpful tips on how to pick the right changing table for your nursery, and videos on how to fold baby's clothes.
Plan Ahead for Quick Meals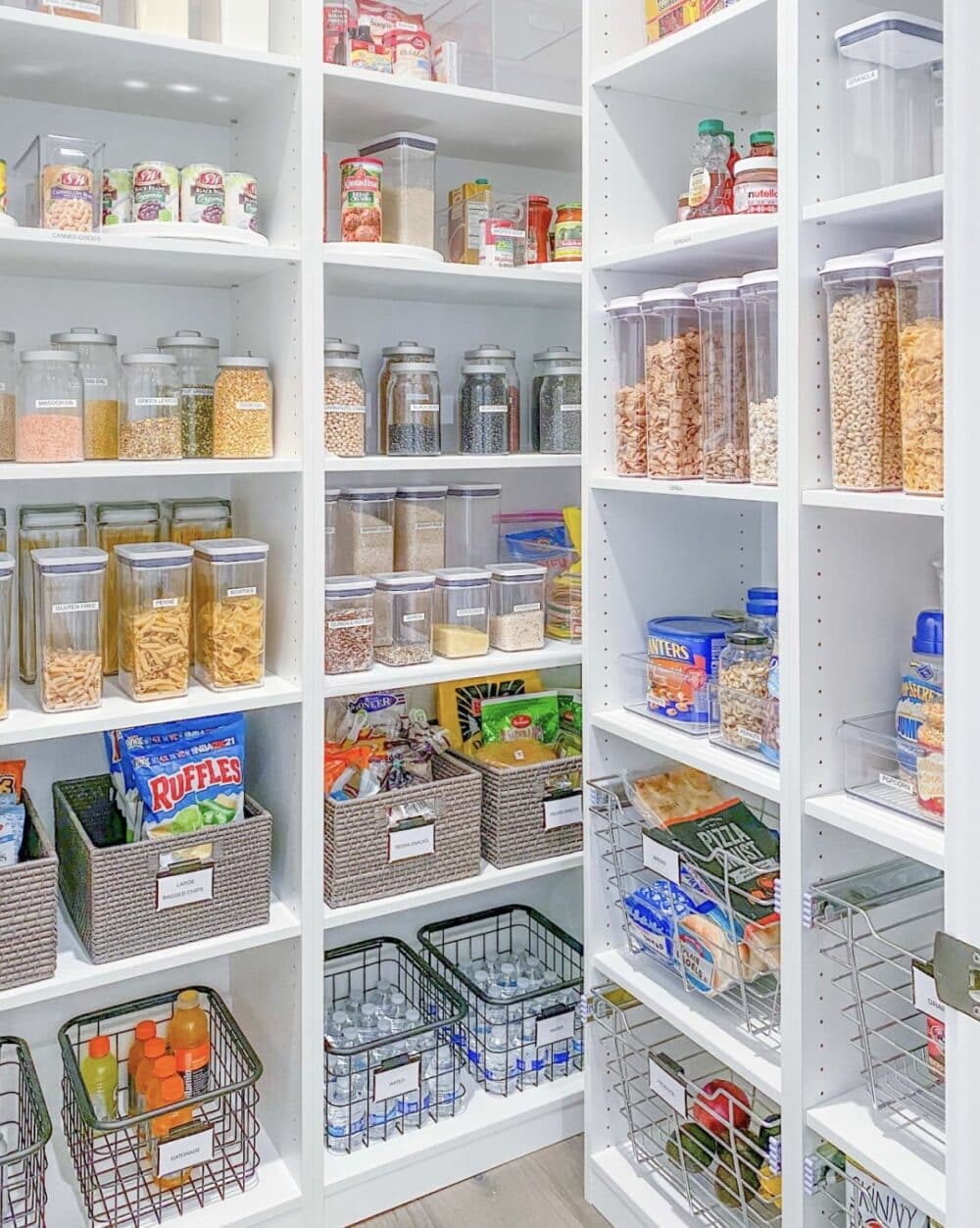 When baby arrives, your daily routines are going to be thrown off – and you'll have to create new ones! In the beginning, squeezing in a quick meal is going to feel like a huge task – but it will get easier!
If you can, plan ahead, meal prep and freeze some quick and easy meals you can just reheat and eat on those days that seem a little more hectic than usual.
Make sure to also make room in your freezer for your backup supply of breastmilk, if you're breastfeeding.
Make Room for Baby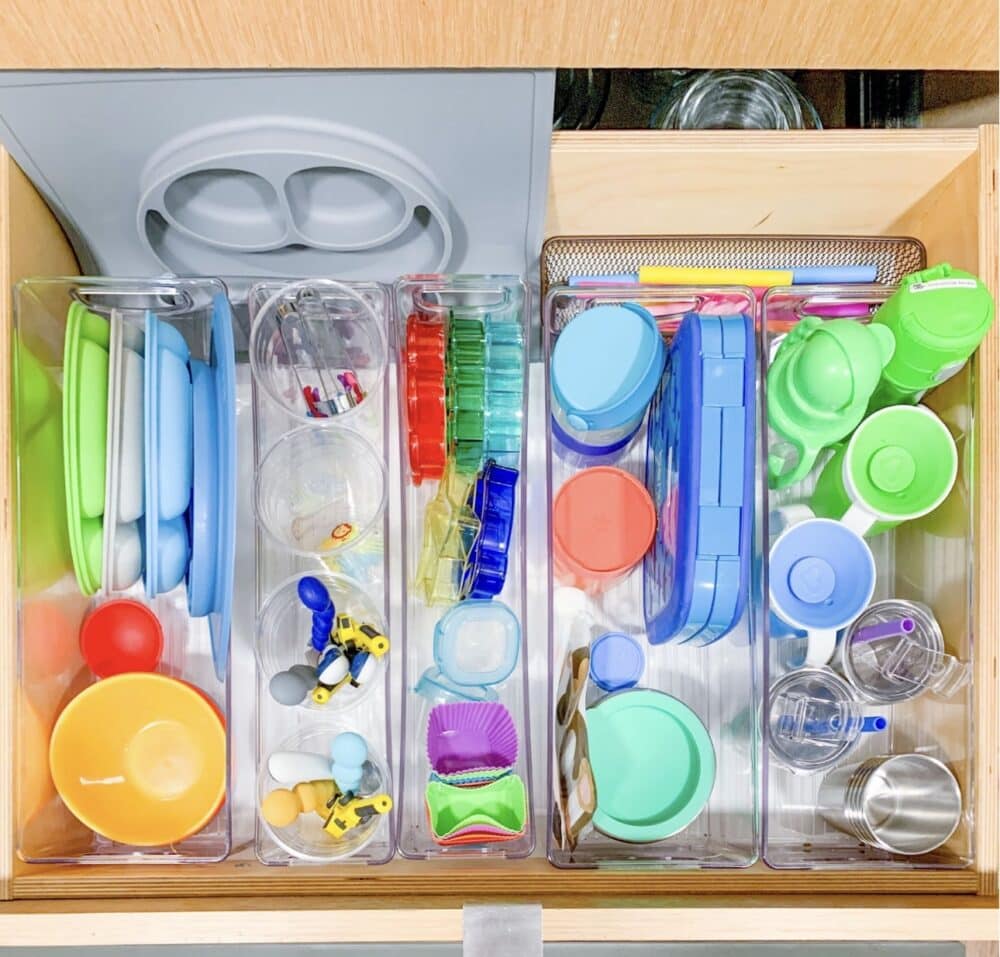 Organizing baby's room isn't the only place at home you'll need to adjust. Before baby arrives, reorganize your kitchen to make room for bottles, baby's cleaning supplies and eventually items like sippy cups, baby utensils and baby bowls and plates. As baby gets older, baby's things will accumulate all over the house. Prepping in advance and having a plan for where those items will go is key.
When baby first arrives, set up a baby station in a cabinet that is closest to your bottle warmer or other appliances used to make baby's bottles or food. Having all of baby's things in one area will make prep much easier.
Stay tuned for an upcoming blog post on how best to organize your kitchen for baby's things.
Pack Your Hospital Bag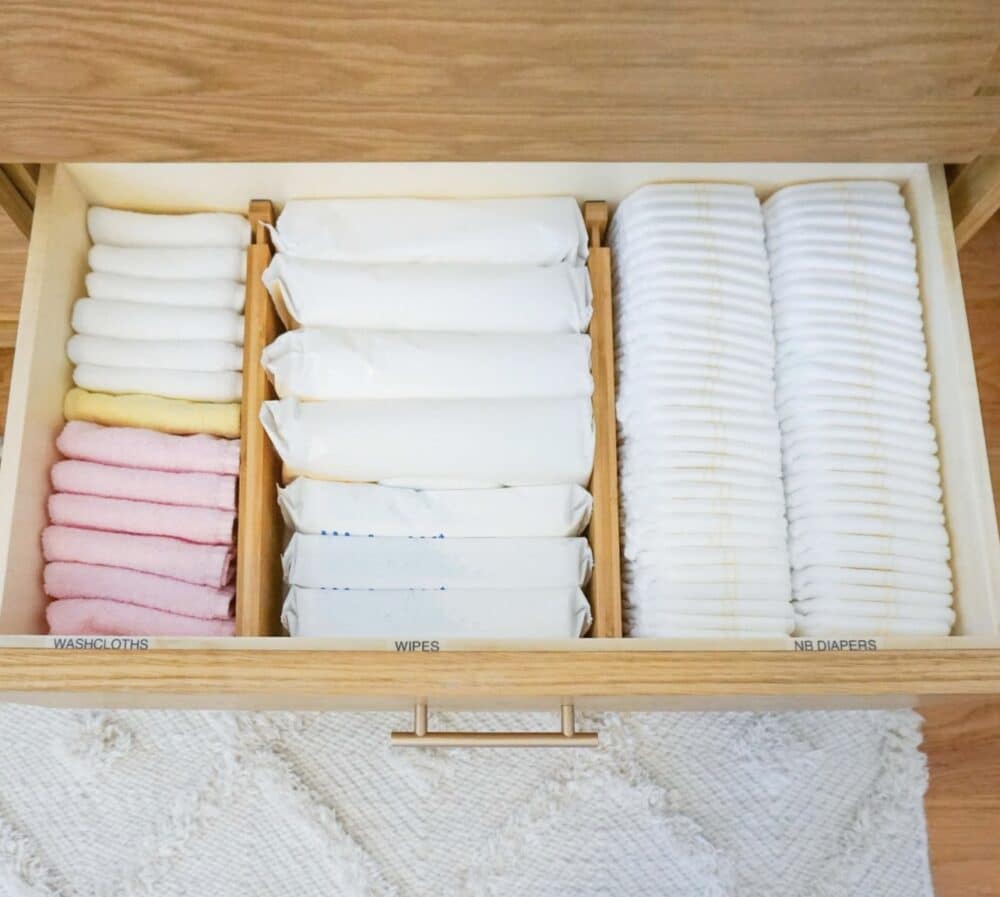 Start thinking about packing your hospital bag four weeks before baby's due date. Keep it in an accessible area so that you can grab-and-go when baby is ready to enter the world.
When packing your hospital bag, remember that comfort is key. Here are some items to pack to make your hospital stay as comfortable as possible:
Robe – Pack a comfortable robe to keep you cozy in the hospital room (it's also an easy garment postpartum to feed baby in, If you plan on breastfeeding after delivery).
Toiletries – Pack a hairbrush, shampoo and conditioner (or dry shampoo), a toothbrush and toothpaste, deodorant, lip balm, extra hair ties, and face wipes. Remember extra contacts and/or glasses, if you wear them.
Electronics – Hospitals are notorious for having inaccessible outlets. Pack an extra-long phone charging cord so you're plugged in and have your phone ready for baby's arrival.
Drinks & Snacks – Pack a reusable water bottle and some snacks just in case you're in the hospital for longer than you'd like to be.
If you need some extra help but aren't sure where to start, reach out to Horderly to schedule an in-home or virtual organizing session.
For more information on all things Horderly – including lots of great tips, tricks, and other #HorderlyHabits – check out our blog or reach out for more information!
This content is independently curated by Horderly and may earn us a commission.