Guide To A Fall Reset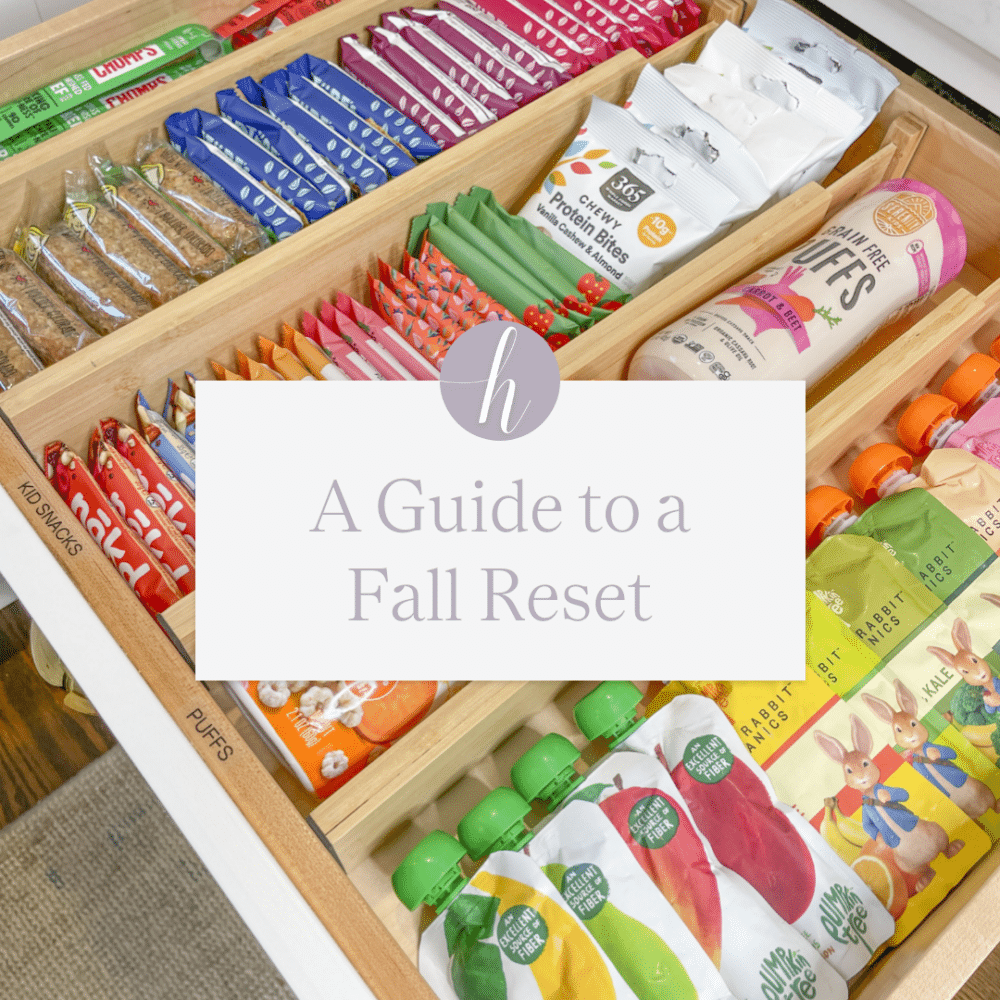 It's September! The leaves are falling, school is back in session, and the to-do's are piling up. To help prepare you for fall and all that it brings, Horderly is taking you through 6 organizing reels to help you get reset this season. We have partnered with some exciting brands to bring you giveaways galore! We hope this inspires you to take some time to set yourself up for success for the seasons ahead.
Mementos can be a sticky point in the organizing process, especially when it comes to clothing that you aren't wearing but are not quite ready to part with for sentimental reasons. Patchwork Bear has come up with a great solution by creating instant heirlooms out of special clothing. These bears can be made from team jerseys, college T-shirts, baby's coming home outfit, a grandparent's favorite shirt, and even wedding dresses! Instead of letting mementos clog up your closet, make them into keepsakes you can see and remember!
Checkout the process on our Instagram and read the caption for details to win a Patchwork Bear of your own!
Organizing the under sink area of a kitchen can be a hassle! The disposal tank and all of the pipes get in the way making it difficult to maximize the depth of the cabinet. Youcopia's newest line of under sink organizing products does a great job of maximizing whatever space you have available! The deep Rollout Bins and SinkSuite Cleaning Caddy use the full depth of those tricky under sink cabinets while the divided SinkSuite Turntable is perfect for placing in front of pipes that drop to the bottom of the cabinet. Utilizing the inside of the cabinet door is a must- and their DoorStash Garbage Bag Dispenser coupled with their DoorStash Dishwasher Pod Holder make it so easy.
Watch this video to see us take an under-sink from drab to fab and learn how you can win an entire set of YouCopia's under the sink organizing products!
The importance of labeling cannot be overstated, especially when it comes to pantry organization. Whether you are decanting items out of their flimsy bags into sturdy storage containers, or making a grab and go snack drawer, labeling categories will make coming back from the grocery store so much easier! And no one does label making like Brother. The Brother P-Touch Bluetooth Label Maker is a staple at Horderly because of its easy to use application and its efficient printing capabilities. It is also a massive time saver because the P-Touch will cut your labels to the perfect size as they print!
Find out how to win your very own while learning tips and tricks on how to organize and label your pantry on our Instagram!
Before setting up your work bag, make sure you consider what you really need to bring with you. Think about what you are grabbing most often and place those items in easy access points like the external and internal pockets of your bag. We recommend using a bag large enough to fit your set up, like Vera Bradley's Oversized Hobo Shoulder Bag, and using smaller containment within to keep categories sorted. Cosmetic bags are a great option for containing categories like personal care, makeup or baby medicine and first aid. We recommend using a laptop case to protect your device.
Checkout our blog on wallet organization and read the caption on our work bag organization reel to find out how you can win over $400 in Vera Bradely products to make your work bag more organized!
Staying organized is the perfect way to streamline your morning routine and get you out the door with less stress. Instead of crowding your bathroom with a bunch of products that you will rarely use, keep a select few quality products that you love easily accessible! The Container Store has become a one stop shop to simplify your fall shopping while uncomplicating your morning routine! And to make it that much simpler, we are offering you the chance to win a $500 Container Store gift card to shop for all your fall essentials! Enter to win by following the details in the caption of this video while soaking up some morning routine inspiration!
Are you plagued by doom piles? Doom piles are miscellaneous items with multiple categories that collect in piles, usually from an effort to keep things out of the way when "cleaning up". While this may seem like a temporary solution, it inevitably will leave you with piles of to-do's that could have just as easily been avoided by going through a different process. Instead of placing all categories in one pile, try sorting items into piles by room keeping "likes with likes". That way you can bring each pile to its proper home with ease instead of creating more work for yourself down the line. This will also be a great time to go through the piles and decide whether to keep, toss, or donate each item!
If you are still struggling with organizing your space, we have your back! We are offering you the chance to win a free virtual organizing session with one of our Horderly professional organizers along with up to $300 in exclusive Horderly organizing products! Checkout our reel on doom piles to find out more on how to enter!
We hope these tips help set you up for success this fall. Don't forget to check out all 6 giveaways on our Instagram and enter for a chance to win big this season! All giveaway details will be in the captions.
Need help mastering the organization in your space? Reach out to find out more about our In-Home and Virtual organizing services!
For more information on all things Horderly- including lots of great tips, tricks, and other #HorderlyHabits- check out our blog or reach out for more information!
This content is independently curated by Horderly and may earn us a commission.