How Horderly Founders Organized their Home Office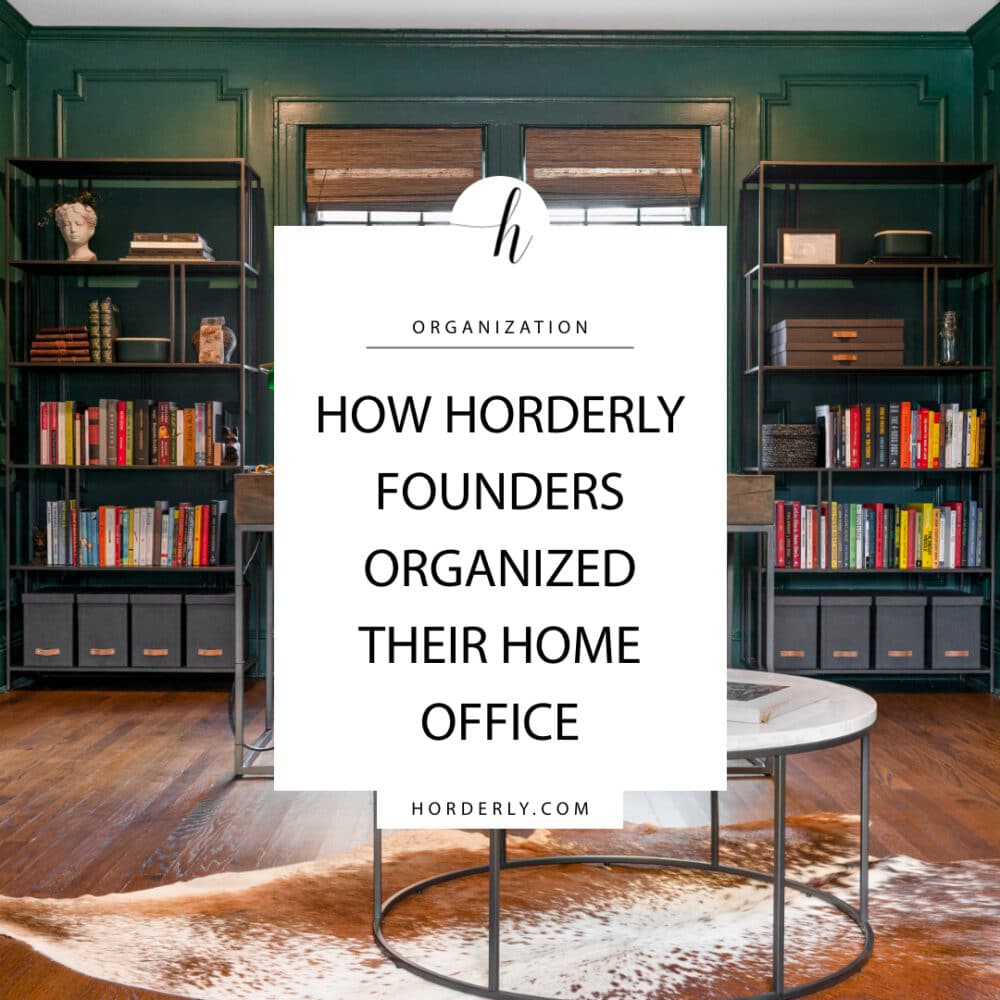 As everyone is transitioning to a work from home lifestyle – Horderly is here to share our top three home office organizing tips that Jamie and Fillip implemented into their own Horderly home office during their recent home renovation.
Create A Filing System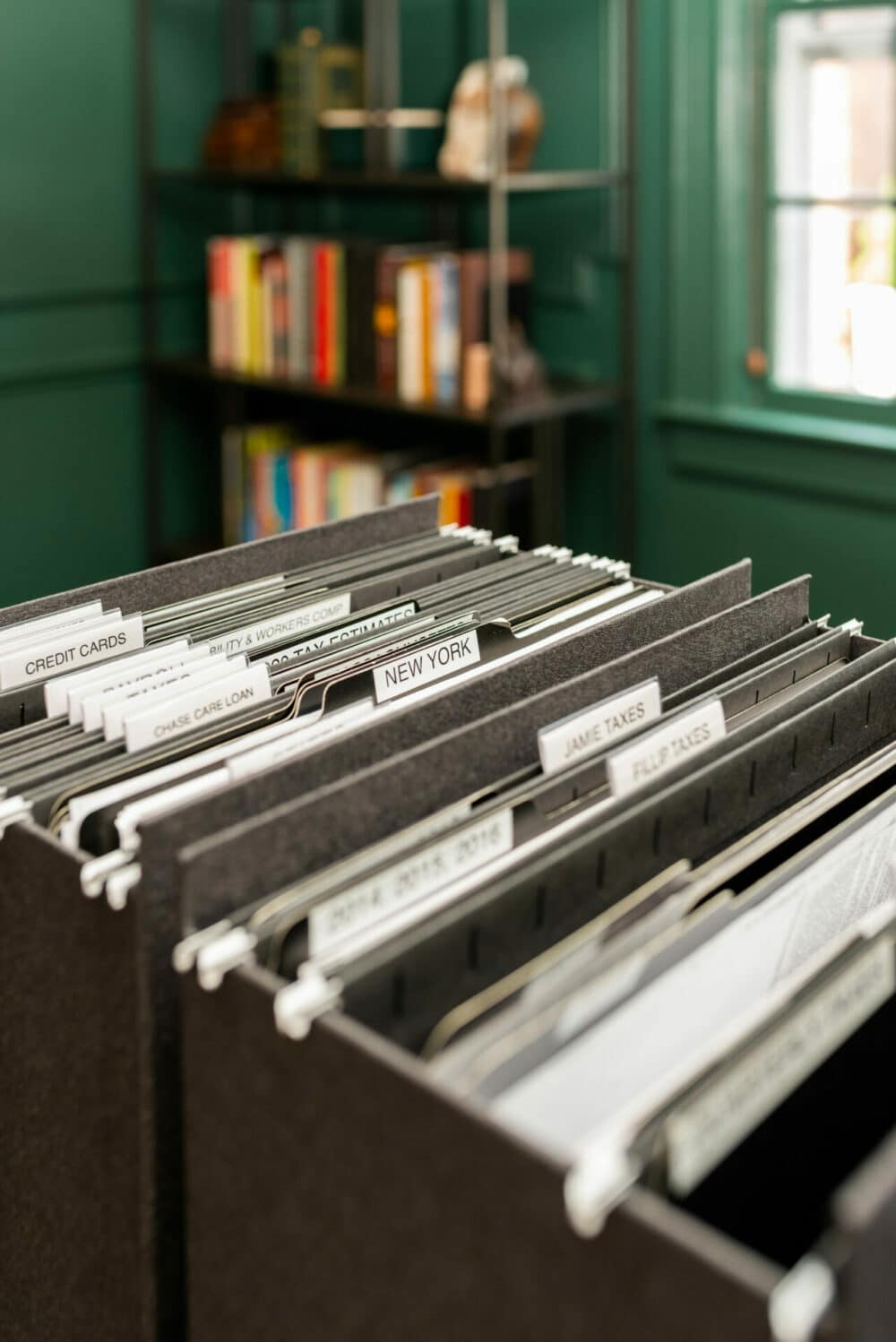 Even if you're good at keeping your paperwork digital, there's always some amount of paperwork that you need to keep. We totally understand that the thought of going through your papers can be extremely daunting – but if you schedule and set aside time to focus and learn how to organize papers properly, you will feel a weight lifted off of your shoulders and a serious sense of accomplishment!
The most important reason to create a filing system is to be able to find the papers you need, when you need them! When implementing a filing system, make sure to create a functional setup that is easy to maintain – to avoid piles of papers from accumulating on your desk.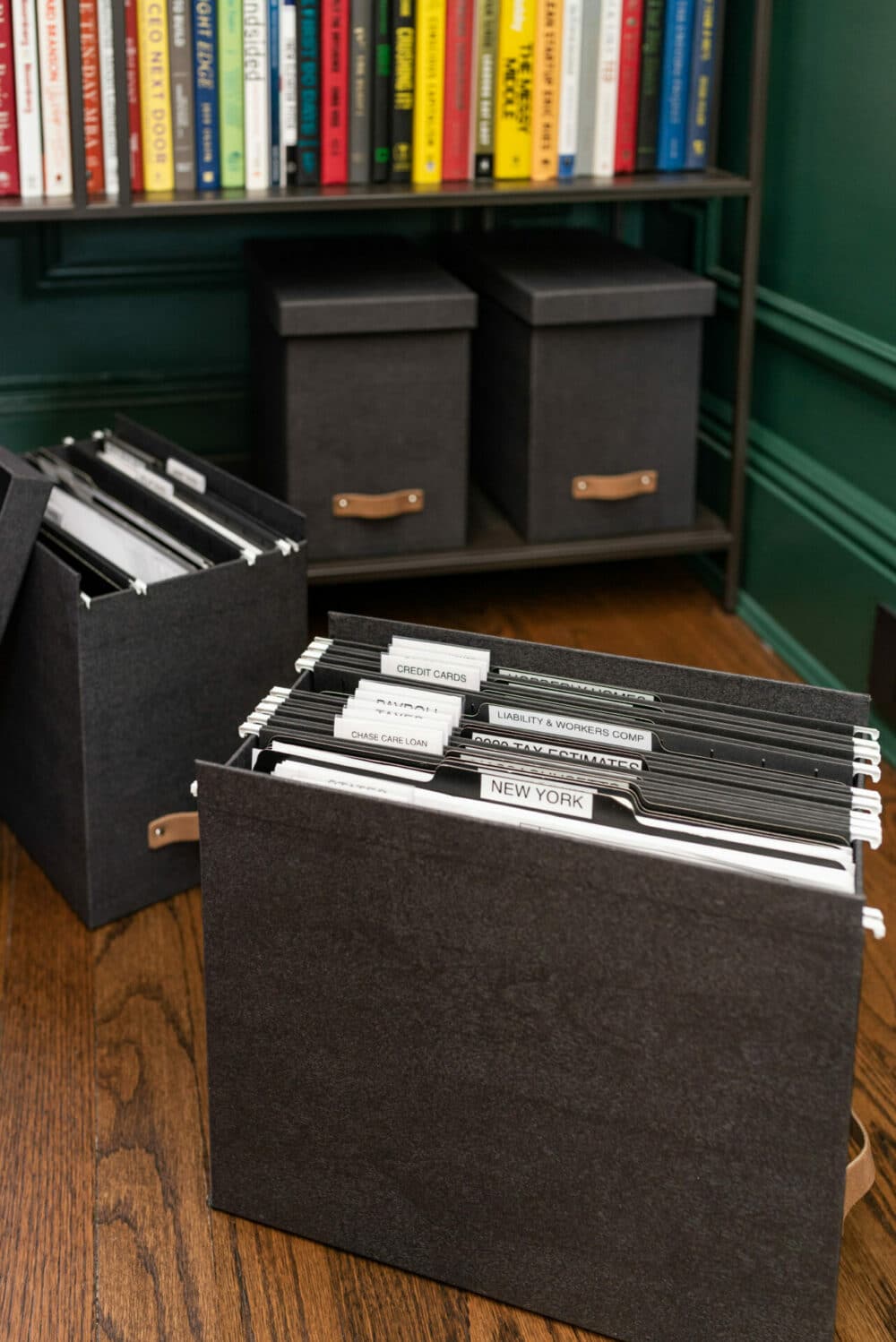 The first step is to make sure you declutter and get rid of any papers you no longer need (and it's important to do this regularly)!
Once you filter out unneeded documents, create large categories. A few examples of larger categories might be:
Taxes

Warranties

Auto

Healthcare

Work
Within each of these large categories, create subcategories to sort more specific documents.
For example, in your taxes category, create additional subfolders titled; 2019 Taxes, 2018 Taxes and so on. Friendly reminder to keep tax documents on hand for the past seven years before shredding or deleting files!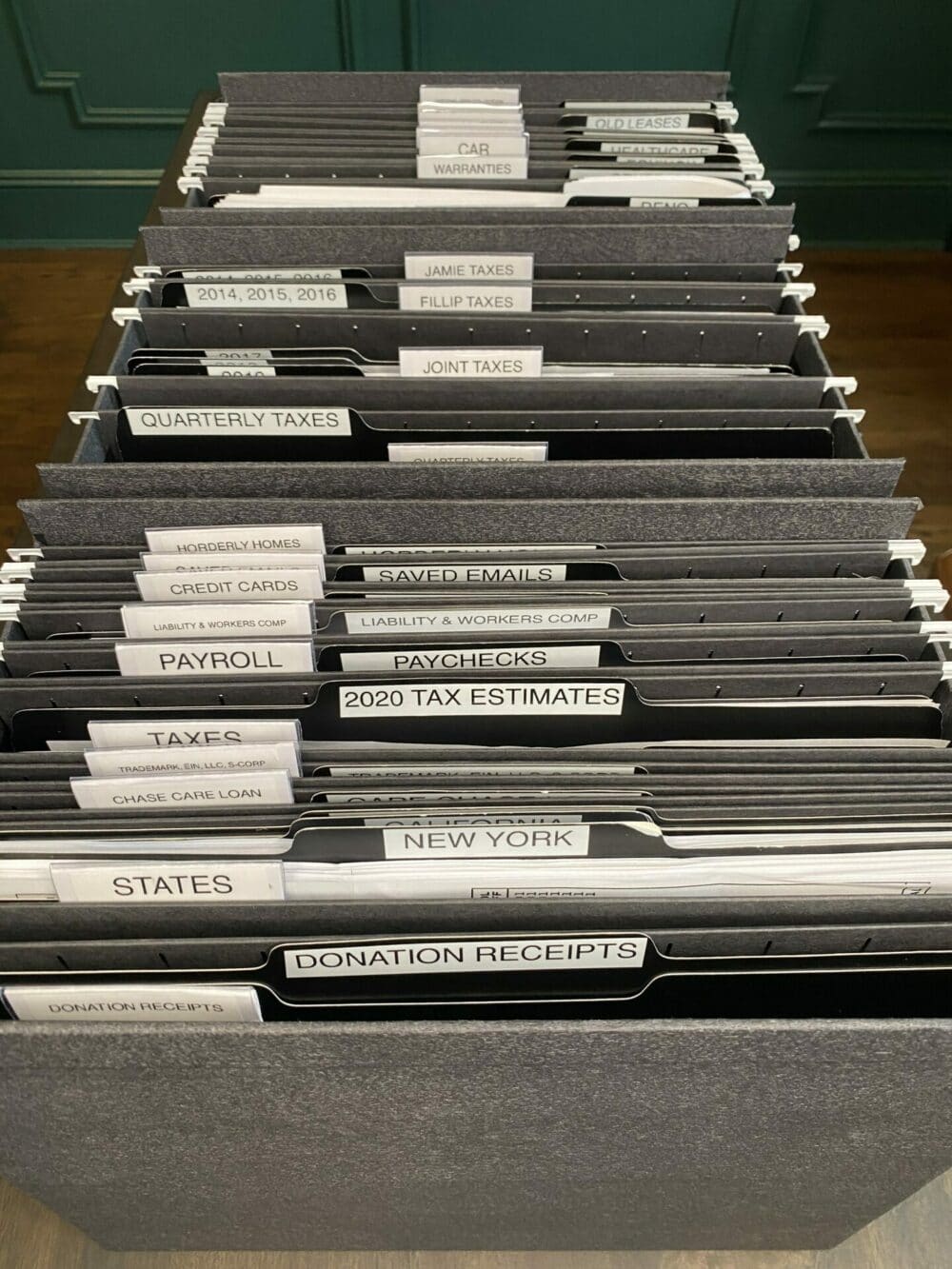 Once files are sorted, label your main category on a hanging file folder and separate your subcategories in manilla folders inside of the main hanging file folder, labeling each manilla folders with the subcategory as well.
Tip: We love using single file tabs for manilla folders because it's easier on the eye when looking for a certain file category. Horderly uses the Bluetooth enabled, smartphone-compatible Brother P-Touch CUBE Plus label maker to label files, and we also love the P-Touch Home for its built-in templates and one-touch keys.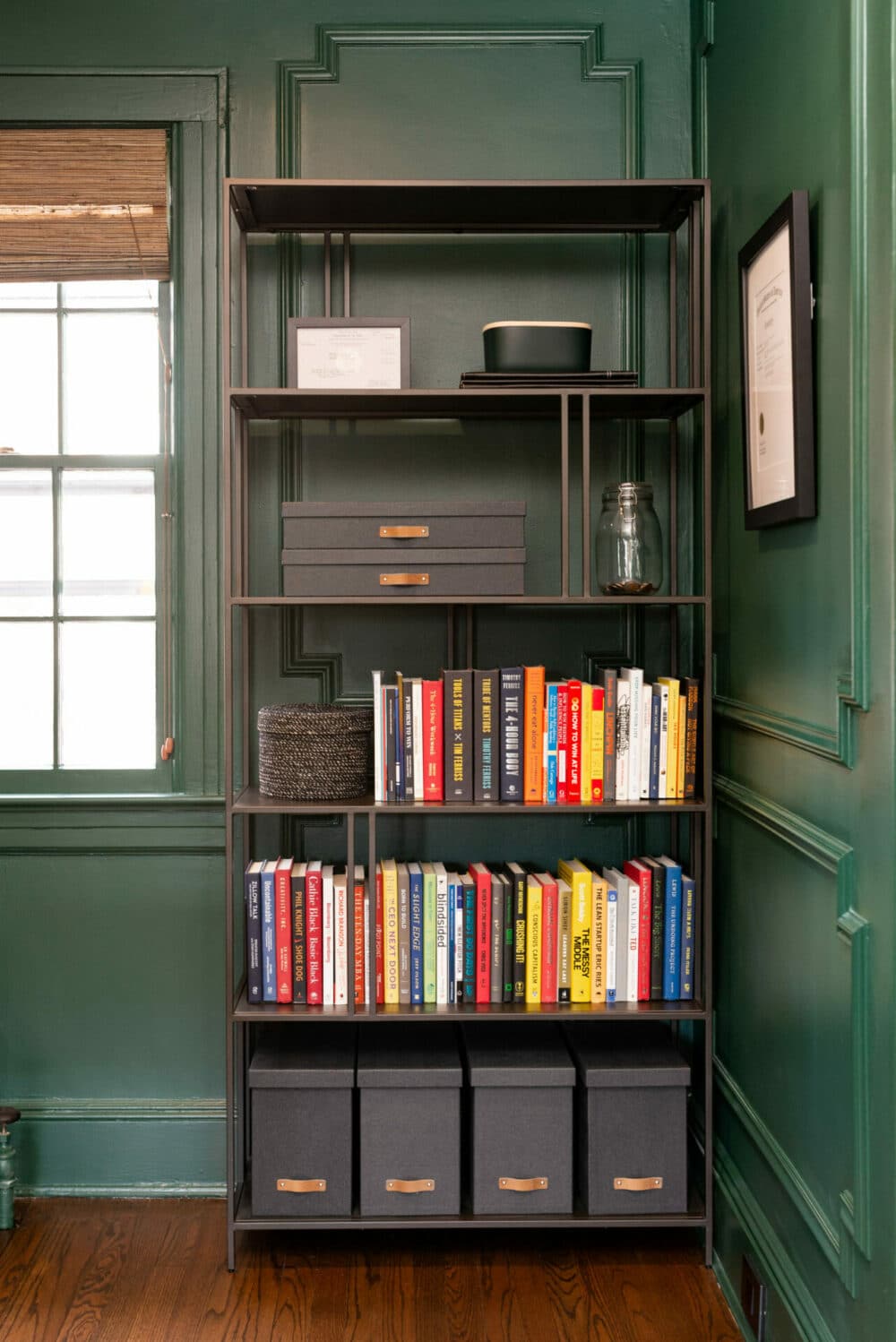 The Horderly home office features Bigso Black Woodgrain File Boxes from The Container Store to hold our files!
Get A Desk with Drawers and Use Drawer Dividers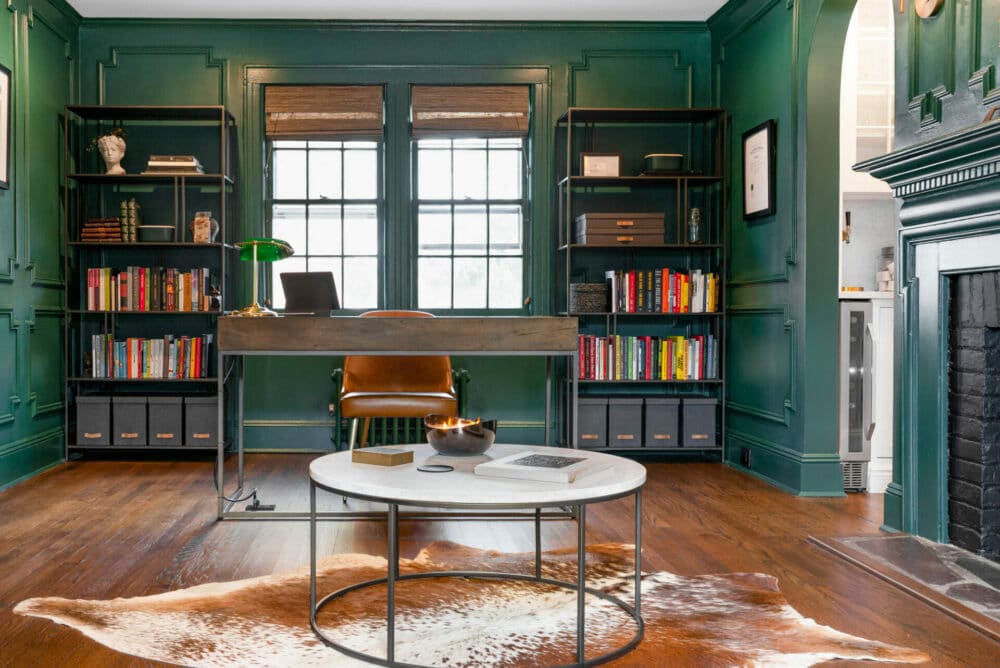 At Horderly, we are always suggesting furniture that's functional for every space. For an office, we often suggest a desk with drawers. Drawers create prime real estate that can hold often-used items that you can easily grab.
Here in the top drawer of our desk, we are storing regularly-used office supplies and items we are grabbing frequently, like a tape measure and packing tape.
Whatever your often-used items are in your office, be sure to use containment, like our go-to drawer dividers, to create structure. This will give a proper home for each item living in the drawer and will help avoid clutter from accumulating.
Tip: You can use these drawer dividers in any drawers – like junk drawers, bathroom drawers, jewelry drawers, and more!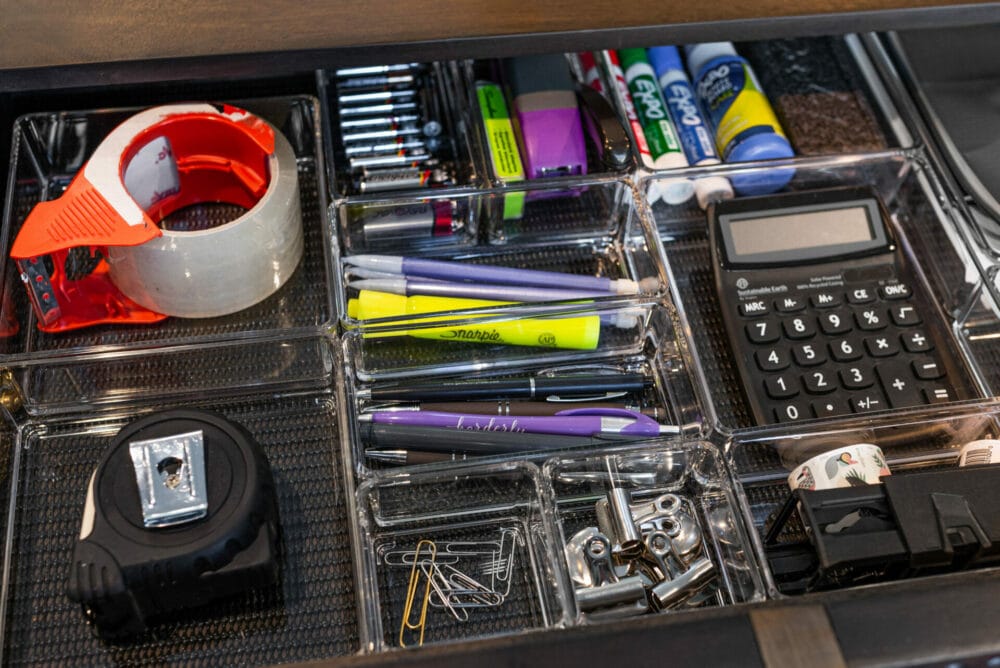 If you're sharing this space, be sure to label each divider so that everyone in the household knows not only where to find something, but where to put it back! When placing your label on the divider, stick it on the backside, so that the label is facing you when you look into a drawer.
Create A Home for Your Tech!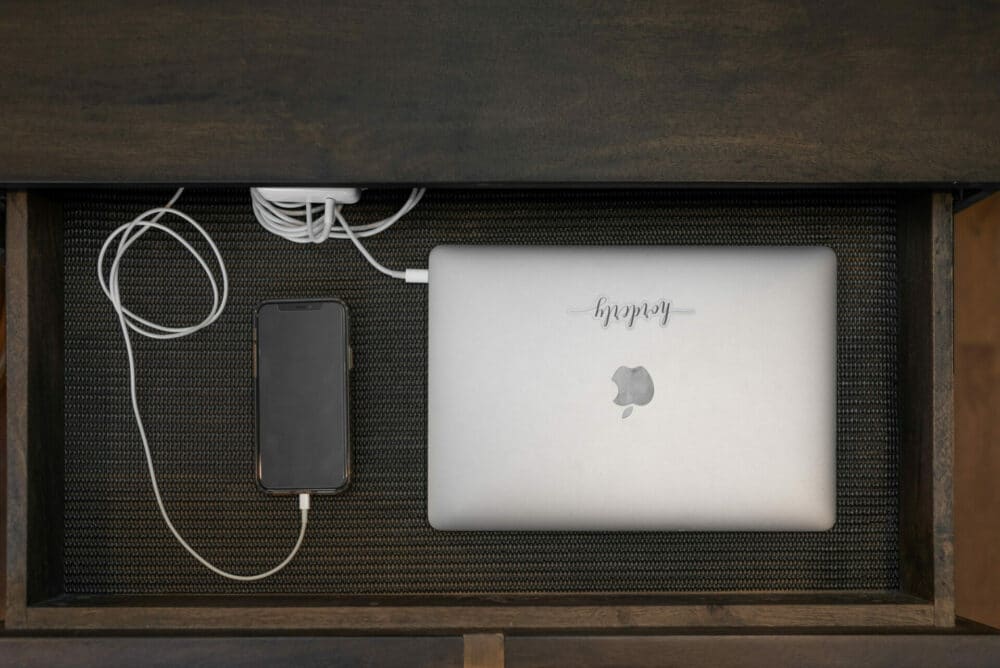 Tech is one of those categories that can easily become spread all around the house. Creating a proper home for your tech can avoid it from landing anywhere and everywhere. In the other drawer of our desk we are using Docking Drawer to hide as many cords as possible and have a place to put our tech away when it's charging. Tip: You can even label your cords so that you can easily know what cords go to what!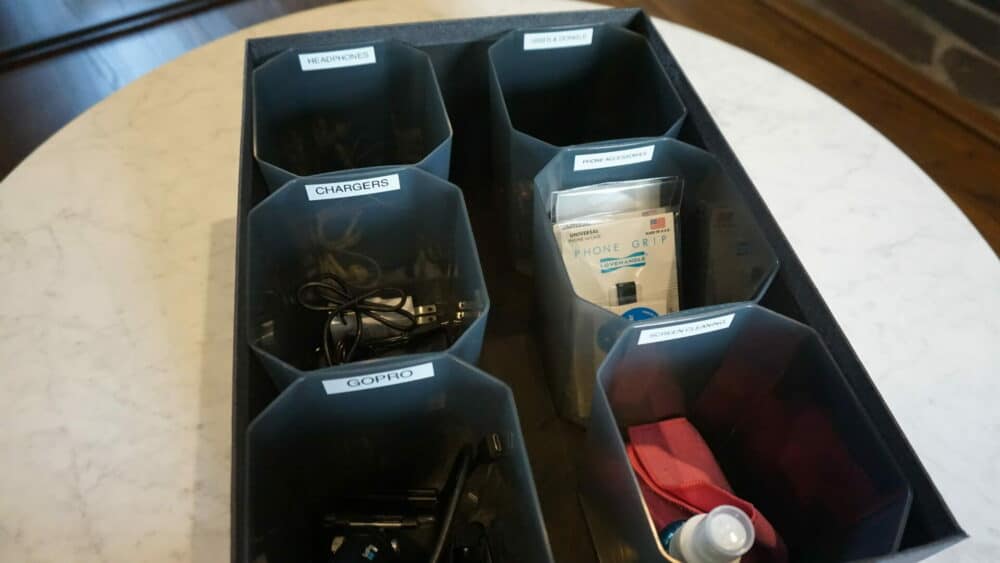 In our office, we used Bigso Black Woodgrain Storage Boxes (to match with our file boxes) with SmartStore Tall Inserts. This is the perfect solution to separating out all sizes of tech. As you will see, we created categories like "headphones", "chargers", "gopro", "phone", etc. by labeling the back of the inside of the SmartStore Tall Insert with our P-Touch CUBE Plus.
We placed our Brother INKvestment Tank MFC-J995DW printer inside of our office console, near where we keep our tech bins and electronics. We wanted to make sure we gave our printer a proper home that was tucked away, but easy to access.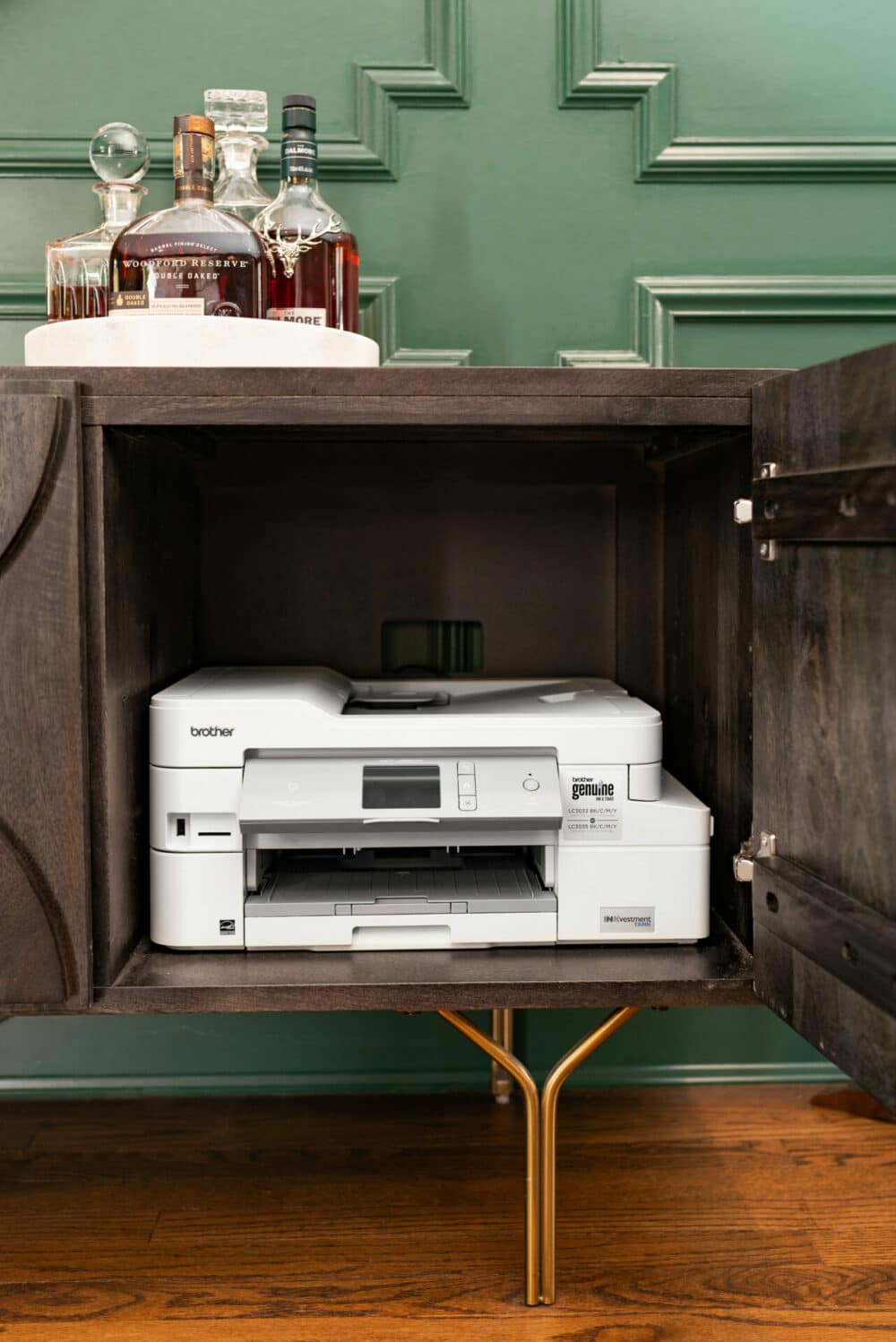 For more tips and tricks on setting up your home office, check out more of Horderly's helpful blog posts:
For more information on all things Horderly – including lots of great tips, tricks and other #HorderlyHabits – check out our blog or reach out for more information!
This content is independently curated by Horderly and may earn us a commission. Horderly has an existing partnership with Brother.