5 Ways to Get Organized for Summer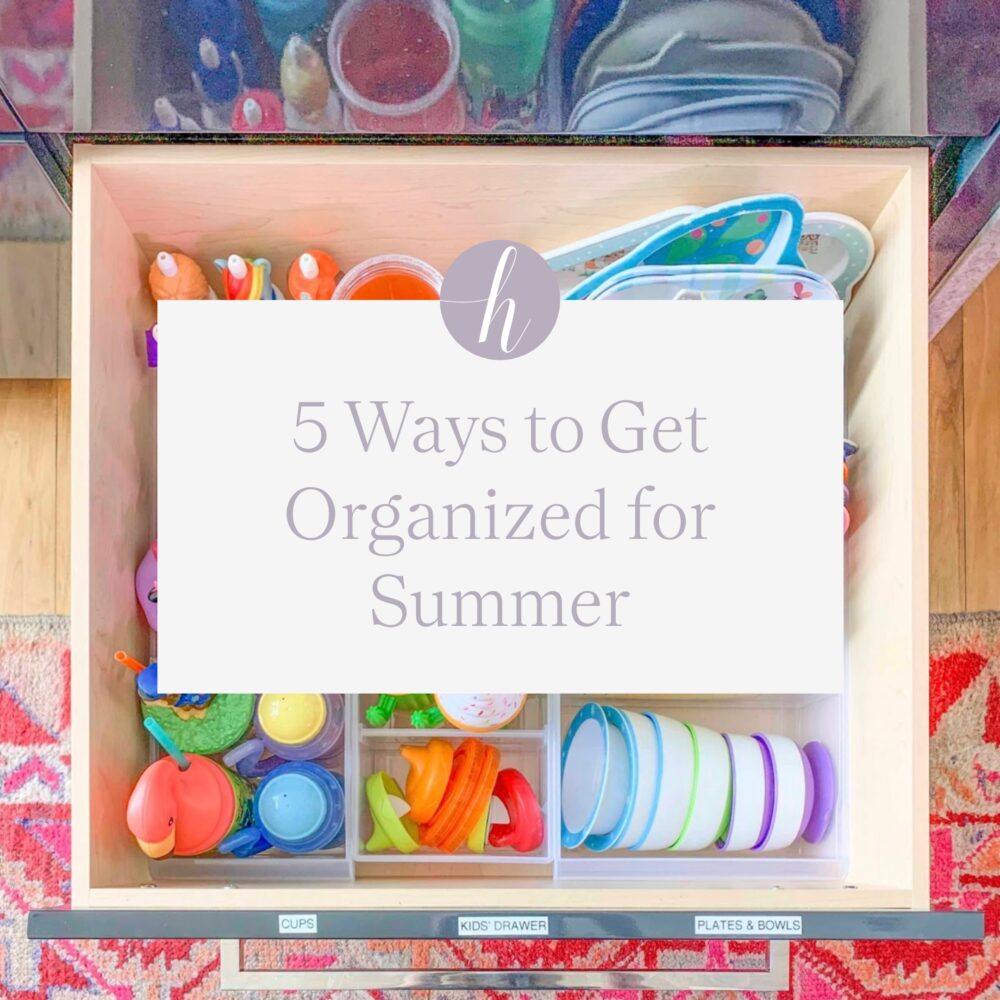 Summer is such a fun time to gather with friends and family – so why waste time stressing about a to-do list during the most fun months of the year?
Prepping in advance to get ready for summer (and having the kids home all day) will make the warmer months that much easier to manage – and more fun, too!
Summer Swap
Now's the time to swap out any seasonal items you've had in storage or up in the attic. Pack up any winter items, store them in bins and swap them with any summer gear or decor you need to dust off and display.
Bikes, kiddie pools, scooters, and other outdoor items will be in high demand once the warmer weather hits, so pull them out now and make sure they are in good shape. Create space in your garage to accommodate any activities and games your children like to play with when school's out.
Make A Plan
Start a family calendar for the summer months sooner rather than later. Having a calendar can get the kids excited for what's to come, and get everyone on the same page regarding activities, vacation or even downtime. Whether your kids go to camp, or if camp is at your house, having some sort of routine will make the days seem less crazy. Children thrive on consistency and structure, so if their summer activities are going to vary from week to week, get them involved with the family calendar so they can see what they are going to be doing and when.
Have Some Fun
The last thing you want to hear at home during the summer is "I'm bored" – make a list of games or activities you can pull out of a hat (literally and figuratively) so that the kids can have some spontaneous fun even on those rainy days.
Stock the Pantry
Having an empty pantry with a house full of kids this summer is a recipe for mini meltdowns. Before school ends, stock up on the essentials and keep a weekly list of what you need to restock as it runs out. Stocking up and then managing an inventory list will keep your pantry tidy, limit trips to the store and even save you some money, too! Keeping tabs on what you already have decreases the chance of you accidentally buying unwanted duplicates.
Have the Essentials Handy
Keep all of your grilling tools in one place for easy access. Whether you grill all-year-round, or mainly during the summer months, we recommend keeping grilling tools in a kitchen drawer closest to the door where your grill access is.
If you and your family are outdoorsy, keep bug repellent and suntan lotion together in a bag or bin so that everyone knows where it is and can easily grab and go.
Keep an extra bin outside or in the garage for beach/water toys. That way you don't have to worry about bringing the mess indoors – and the toys are readily available when you need them. Pro Tip: Make sure the bin is ventilated so the toys don't get moldy.
If you need some extra help but aren't sure where to start, reach out to Horderly to schedule an in-home or virtual organizing session.
For more information on all things Horderly – including lots of great tips, tricks, and other #HorderlyHabits – check out our blog or reach out for more information!
This content is independently curated by Horderly and may earn us a commission.