5 Organizing Products That Will Transform Your Garage and Basement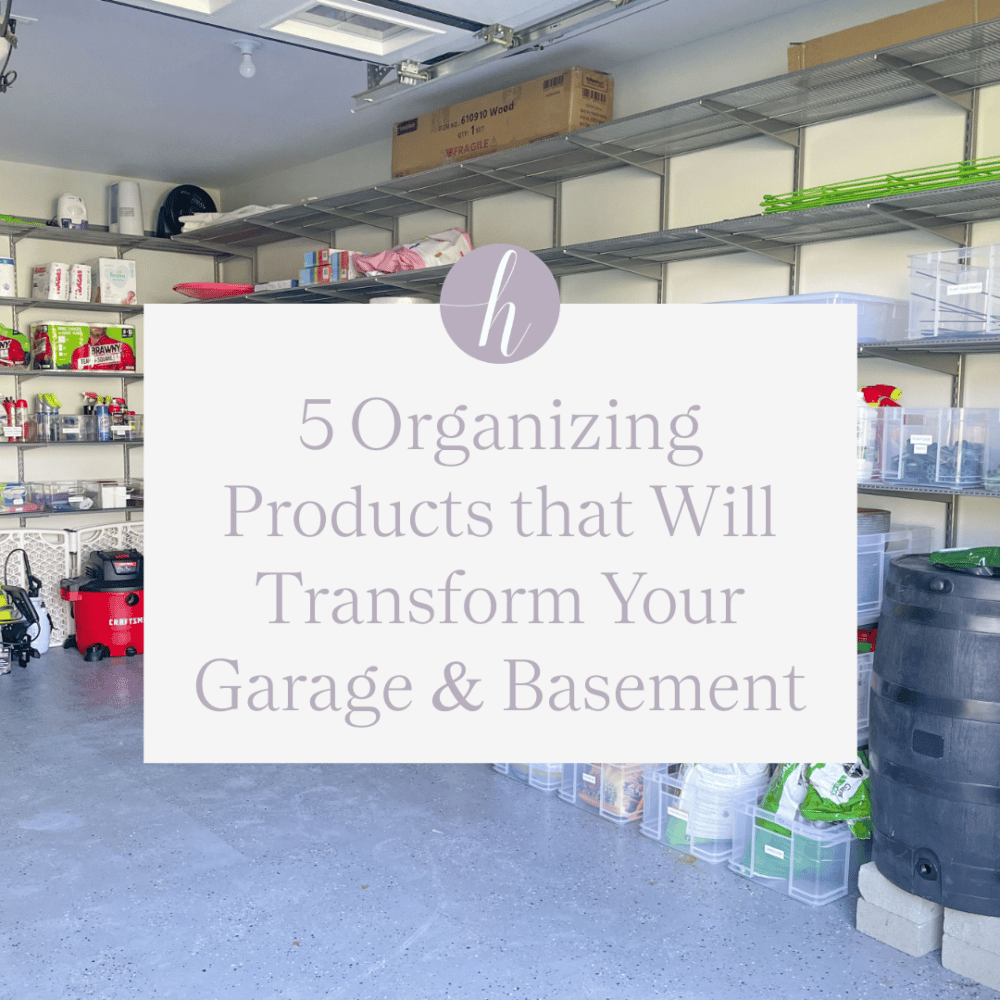 Garages and basements are common pain points in our client's homes. They can easily become a dumping ground for anything that doesn't have a home and before you know it, you're trying to carve a path through the clutter to get to the washer and dryer in the basement, and forget about parking the car in the garage! The best news is, there are so many products that can streamline these spaces. See below for 5 must-have organizational solutions for your garage and/or basement.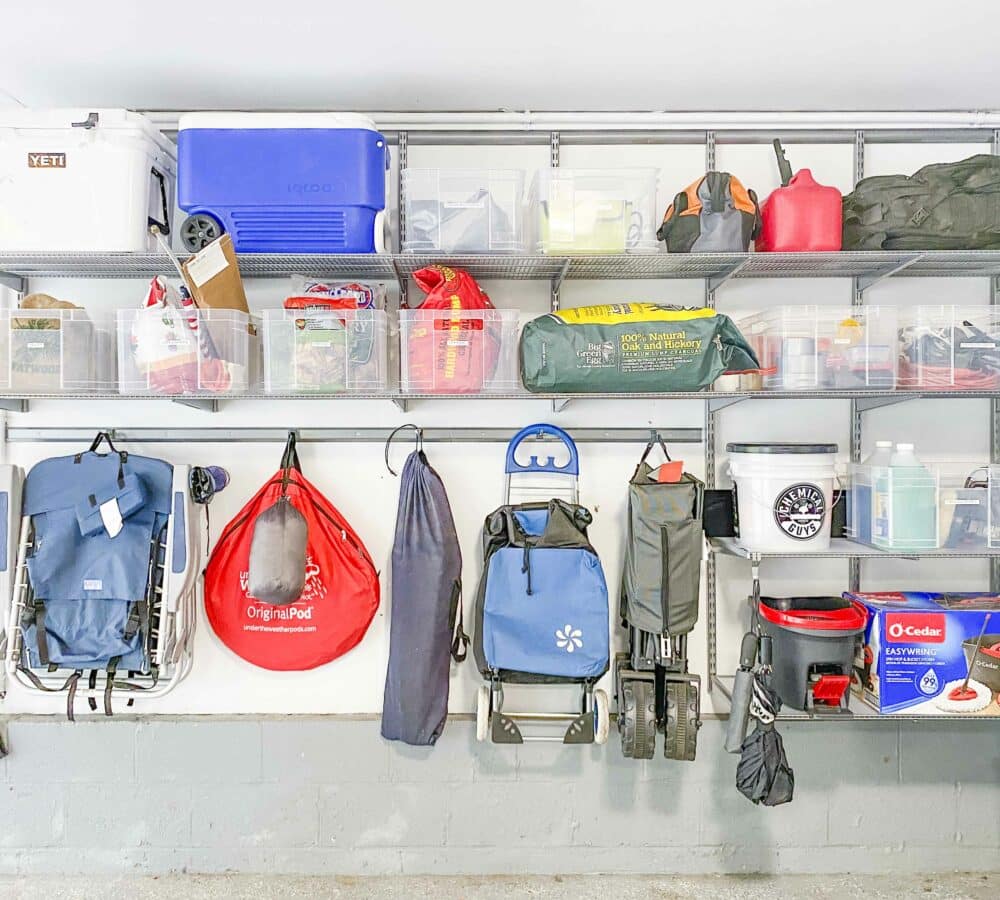 Utility tracks are the best, especially in garages! They keep items slim fit to the wall so that you still have space to not only park a car but also to open your door and walk around it. What's also great is that they are super versatile with what you can store on them. Basically anything that you can hang, you can store on a utility track! There are multiple hook options to hold a variety of items like bikes, chairs, ladders, yard tools, skateboards, and even cornhole – just to name a few! They're easy to install and you can double stack them to alternate hanging items.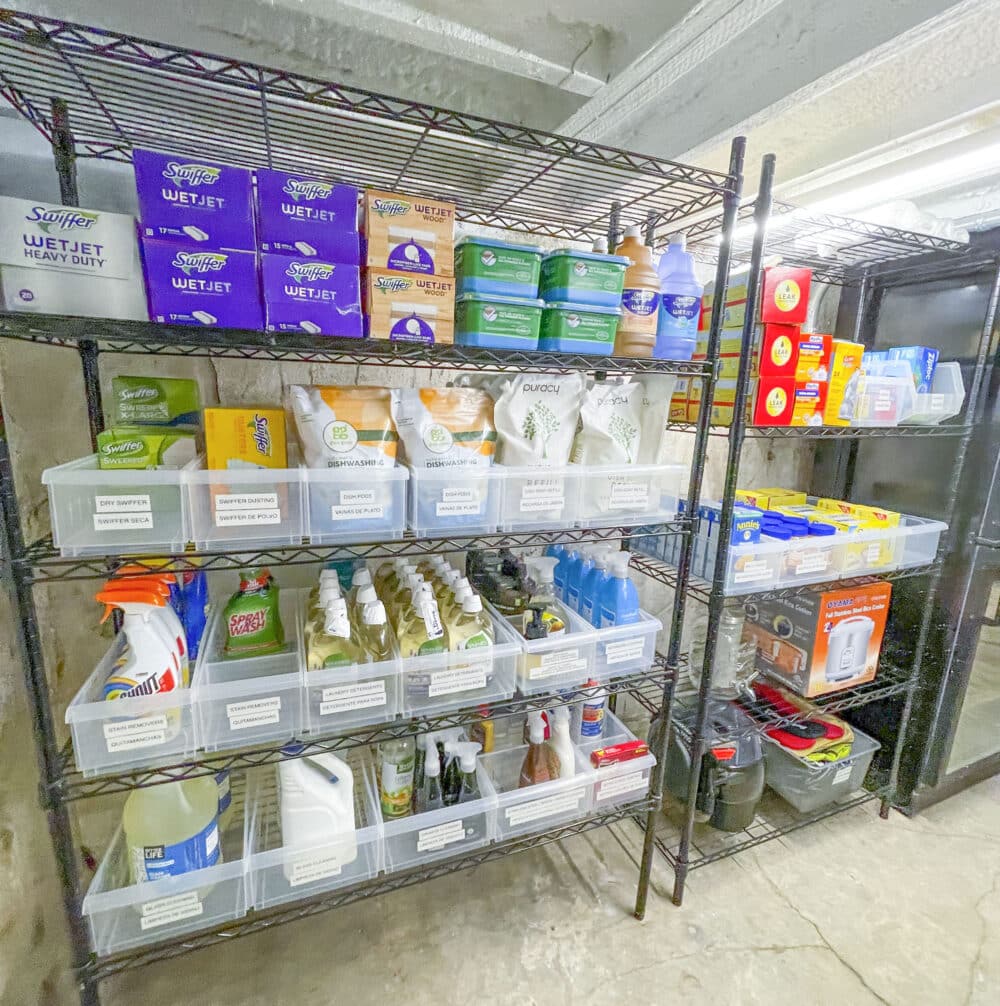 We are constantly talking about and introducing metro shelves to our clients. These shelves are both speedy to assemble and a lifetime solution. They are super easy to put together and create the function that every space needs. You can order these in almost any size (here are starter units for black and industrial) and they will maximize your space and keep everything up off the floor (which is always a Horderly goal!). Metro shelves come in different colors, are rust proof, and have the option of being on wheels. If you have a space where you can't install shelving onto the wall, metro shelves are your answer!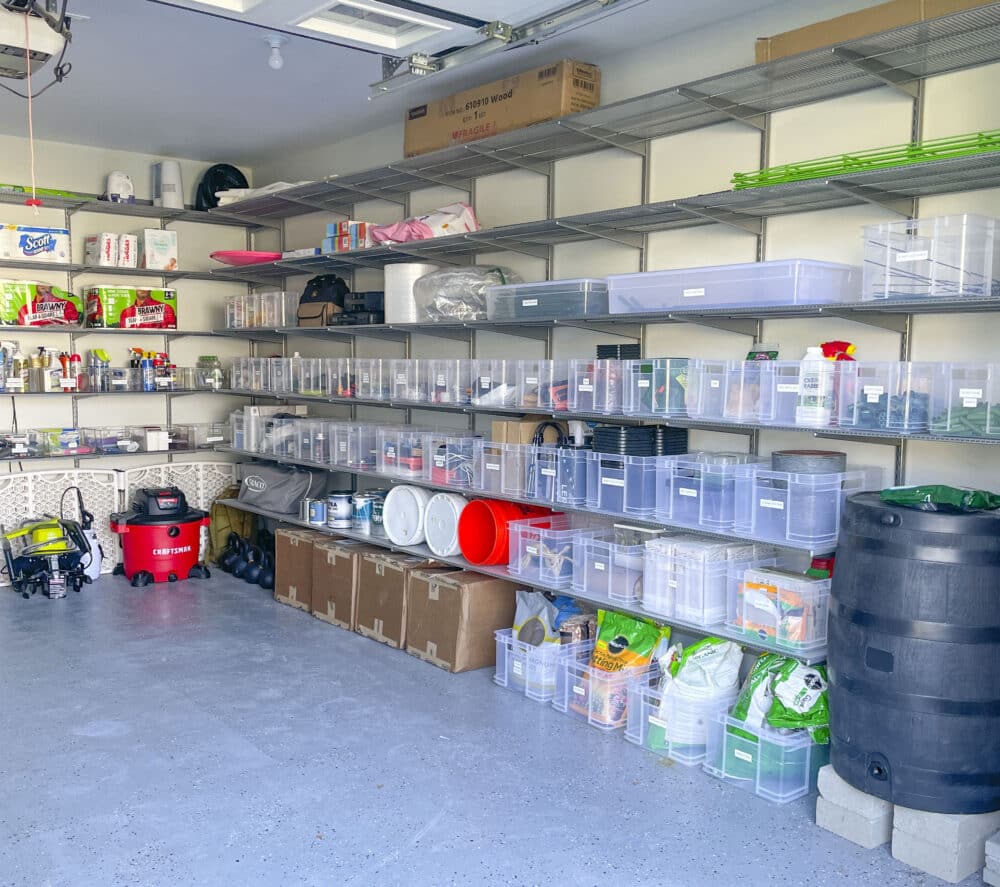 There's a significant difference between an open bin and a closed bin. If you're storing items in a closed bin and always find yourself huffing and puffing when you need something out of it or wondering why the items aren't making it back into the closed bin this is a sign that you should try open bins. Opening and closing a bin to put something away is an added step that some people don't care to spend time on. An open bin creates easy accessibility. So, items that you are grabbing more frequently should live in open bins and in prime real estate. For example, use them to store items like sports gear, kids' toys, gardening, or cleaning supplies.
Here are some other open bins that we love: Modular Grey Stacking Crate, Silver Stacking Mesh Bins, Grey Chancellor Baskets, Stackable Clear Bins, Translucent Basketweave, Grey Basketweave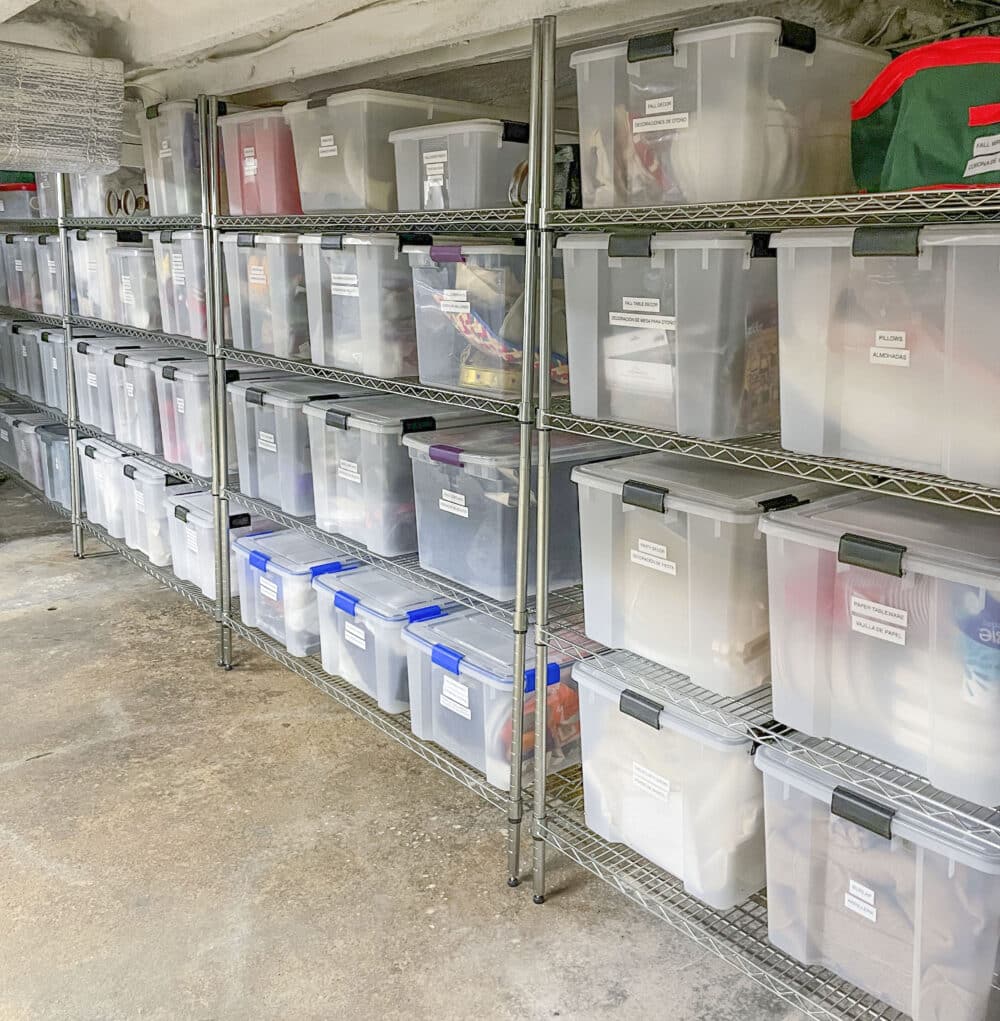 On the contrary, if you only access something once a year or you don't want something to potentially get dusty or dirty – a weathertight bin is a must in a garage or basement! Opposed to open bins, weathertight bins are great for high-up areas or down-low areas and will keep items in prime condition and away from anything like debris, water and bugs. We recommend these weathertight bins over alternative products because they are the best quality weathertight bins we have ever used. Keep in mind the atmosphere of your basement and garage and note what might be better to live in a weathertight bin – they make a world of a difference in keeping your items prestine for longer!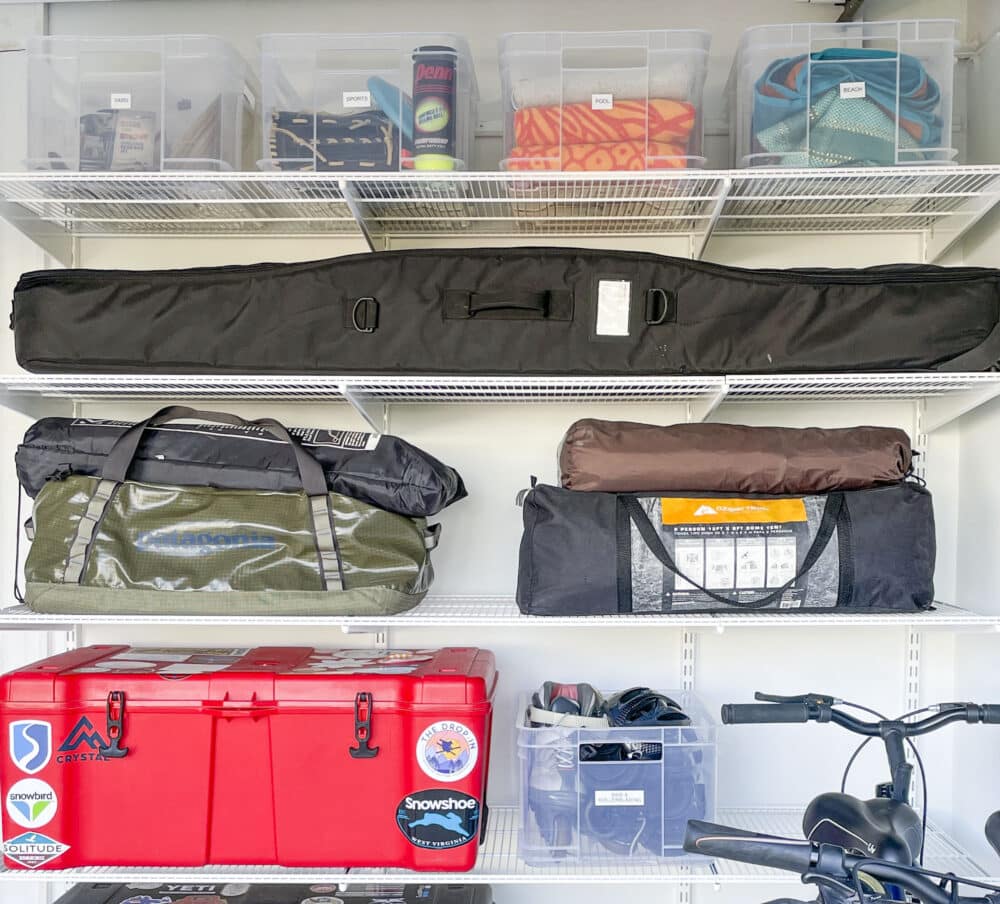 You already know we are big advocates of labeling. But, what we don't talk about as often are large labels! Large labels are especially great on larger bins that you're likely to use in a garage or basement. They are easier to see on the larger surface and are great in spaces that multiple people are accessing – like spouses, grandparents, nannies, and kids! These labels are made by the Brother P-Touch Cube Plus and come in a variety of colors. They are waterproof and can easily be removed, and put back on!

P.S. We also suggest using these label holders to label the front of your new metro shelves!
If you need some extra help but aren't sure where to start, reach out to Horderly to schedule an in-home or virtual organizing session.
For more information on all things Horderly – including lots of great tips, tricks, and other #HorderlyHabits – check out our blog or reach out for more information!
This content is independently curated by Horderly and may earn us a commission.